Central among foraging Galloway cows, pregnant Katahdin sheep and a flock of egg-laying hens is Tracy Strissel's home, hobby farm and art studio. Here she creates her hand sculpted chickens for coop ornaments, photo holders, earrings and wine glass charms to be sold through her Etsy business, A Piece of the Farm.
Tracy's original chicken coop ornament idea was born out of friendship. Close friends throughout high school and wanting to continue sharing in each other's lives, the group of four vowed to get together at a cabin every year around Christmastime.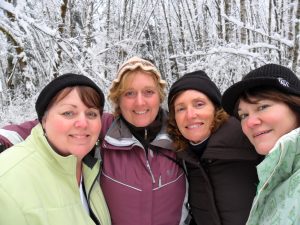 At one point it was decided they would each hand make ornaments for each other. "One year I walked around my farm and I said 'What can I make for the girls?'" Tracy shares. "They all live in the city, so I said 'I'm going to make them a chicken coop for the tree.'" Tracy's friends, upon opening the coops, told her, "You should sell these!"
Handcrafting art isn't really the type of work Tracy thought she would ever get into. With a background in heavy equipment operating, Tracy boldly went headfirst into the kind of hard labor that would make many of us pause. Demonstrating her work and techniques in her art studio, however, she seems to be a natural.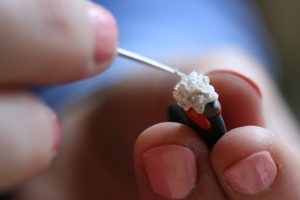 Admiring her techniques with clay, I am impressed by the level of handmade artwork that goes into every chicken. From the delicate shaping of the eyes to the hand carving of the wings, each component is shaped and pressed into place by Tracy's hands.
Laid out on countertops are custom tools created by her husband Rick for the rolling of the clay and the shaping of the chicken coops. On her worktable is a book on chicken breeds. Tracy studies each breed in detail, even reading what qualifies and disqualifies a breed from competition. These are the features she likes to include in her finely sculpted work. She worries and frets like a natural artist too, seeking the perfection that only her mind can envision. Meanwhile, her customers marvel at the quality of her products compared to the photographic representation.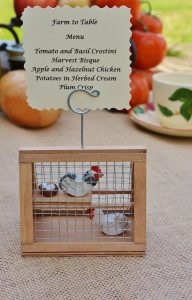 Tracy currently sculpts 12 different breeds regularly for her Etsy shop. She also sculpts custom chickens for customers who send her photos of their own flocks. When she endeavors to add a new breed to her online roost, she loves to not only research the breed but to see it in person too. This is something Tracy accomplishes at chicken shows or the Lynden County Fair where her daughters Rose and Ava participate each year through the Critter and Company 4H club.
The girls bring Suffolk Hampshire cross sheep for the fair's junior livestock auction in addition to raising their own Katahdin lambs for fitting and showing. "I really enjoy it," Ava shares. "I like when we have all the showing. It's super fun just to be there." The family even camps at the fair all week.
Tracy's hobby farm started with chicks. Helping out neighbors with their chickens and cows gave Tracy and her family some experience and idea of what animals they would want to raise themselves. Tracy selected Galloway cows due to their foraging skills and ability to do well in the Pacific NW climate. The Katahdin sheep were selected for their gentle temperament and their easy to care for hair as opposed to wool that needs to be sheared. Neither sheep nor cows grow horns, which makes interacting with them feel safer.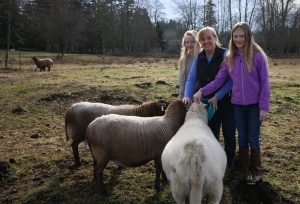 Over the years chickens, turkeys, cows, sheep and pigs have supplied meals for the family who have grown to enjoy the process more and more. "It's very nice just to know that your food is happy and well cared for," Tracy shares.
There is also a lot of community surrounding farming in Ferndale. Tracy's neighbors help eachother out, borrow tools from eachother and check on their homes in a pinch. Students in Ava and Rose's school also participates in 4H and the friends help each other out with their lambs.
Just as the interview is about to wind up, Tracy's girls pop into the studio to announce that one of the lambs has been born. I gather up my camera while the girls put on boots and we head out to the pasture. When I first arrived at the farm, I had passed the four ewes standing in the field with rounded bellies. Now we can see two twin newborn lambs being gently licked clean.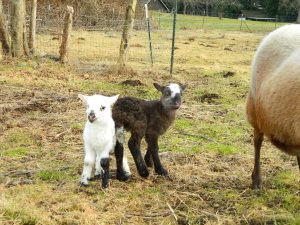 One is strong-legged and black while the other, a white one, is still rising on wobbly legs. The girls note that their ram, named Tuesday, often ended up with lambs being born on Tuesday. They smile and remark that they were born just for our Saturday interview.
To find Tracy's handmade chicken earrings, wine glass charms and coops, visit her Etsy shop, A Piece of the Farm. You can also find her on Facebook at https://www.facebook.com/APieceOfTheFarm/