Poetry is among the most venerated, but also underappreciated, art forms. Because of the hard work of area poets, Whatcom County has an array of opportunities to enjoy and share this art form. With award-winning locals, literary publications, clubs, open mic nights, slams and visiting poet readings, you can get your poetry fix all year long.

One can only speculate as to why so many successful poets call Bellingham home. Perhaps it's the active community of writers that has blessed us with such an abundance of Whatcom County poetry.
Perhaps poets choose Whatcom County because they were influenced by the esteemed professors and alumni of Western Washington University (WWU). Professor of English, Bruce Beasley has won fellowships from the National Endowment for the Arts and the Artist Trust of Washington as well as three Pushcart Prizes in poetry. Senior Instructor Christopher Patton is a three-time nominee for the Pushcart Prize.
Whatever the reason, Bellingham is home to award-winning poets like 2016 Jack Straw Fellow, Artist Trust Fellow, and 2016 nominee for the Stranger Genius Award in Literature, Robert Lashley. Although he grew up in Tacoma's Hilltop neighborhood, when he's not touring the country sharing his art, he calls Whatcom County home.
This thriving community of poets works together to share and collaborate. Below are some opportunities to appreciate the art form and share your own work.
Local Publications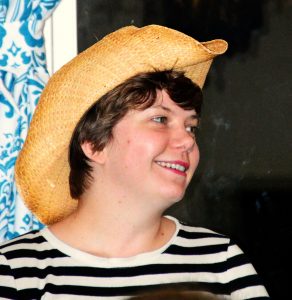 WWU's Jeopardy Magazine, founded in 1963, has served as an annual platform for generations of artists to publish work inspired by current culture. Since 2003, the publication has accepted submission exclusively from WWU students, faculty, staff, and alumni. The magazine also hosts one or two creative writing faculty showcases and an annual release party in May.
The anthology, Noisy Water: Poetry from Whatcom County was released in late 2015. Edited by locals Luther Allen and Judy Kleinberg, the collection includes the work of more than 100 poets that live and create in the area. The pair also host the Speakeasy poetry reading series.
Dead Cat Anthology includes many genres and will be roughly fifty percent poetry when it arrives around February 2016. This work, edited by local writer and poet Dee Dee Chapman, is a collection of pieces inspired by the theme 'dead cat.' Many locals know Chapman for her encyclopedic knowledge of film and her many years as the former manager of local video store Film is Truth 24 Times a Second.
Clover, A Literary Rag is a biannual print publication that includes poetry, short fiction, and creative non-fiction. It began in 2010 as a result of Bellingham's Independent Writer's Studio. About half of the content is from Northwest writers.
Open Mic Nights
Poets brave the open mic to share their work, gain feedback, friends and followers, and to feel the reaction from a live audience. For poetry fans, it's the perfect way to discover your new favorite touring and local poet and also get a feel for the sheer variety that makes up the art form. Below is a quick list of free, all-ages events around Whatcom County.
poetrynight at Bellingham Public Library
Every Monday night at 8 p.m. for over 15 years, poetrynight has combined touring poets with new and established locals. Sign-up is in-person at 7:45 p.m. If it's a full house, sets are limited to three minutes, with time reserved at the end to showcase two featured poets. The non-profit program of the Whatcom Poetry Series also provides over 100 podcasts of past events on their web site.
Bellingham Public Library
210 Central Avenue
Bellingham, WA
360-778-7323
WWU's Underground Coffeehouse
This campus coffee house offers poetry on the second and fourth Mondays each month. Cozy couches make for a super casual atmosphere. Sign up by 6:30 p.m. for the 5-minute performances that begin at 7 p.m.
Underground Coffeehouse
Third Floor of Viking Union Building
516 High Street
Bellingham, WA 98225
360-650-3263
Open Mic with Laurel Leigh
Open mic with Laurel Leigh takes place in the Readings Gallery the last day of every month at 7 p.m. Enjoy 7-minute sets of spoken word from 12 participants. Sign up at the book store's main counter on the first floor or call for your spot.
Village Books
1200 11th St.
Bellingham, WA 98225
360-671-2626
Honey Moon Mead and Cider
Owners of Honeymoon Mead and Cider, Murphy and Anna Evans, are as committed to the literary art form as they are to local music. Their support of the local poetry scene comes in the form of special events. They've hosted the complete reading of Beowulf and the appreciation of the sonnet, as well as parties for local literary magazines, readings, and poetry slams. Server and poet Erica Reed is deeply involved in the Whatcom County poetry community, who also spend time at the Honey Moon.
One of the longest running open mic events in town, Wednesday night's Open Mic with Scot Casey includes both music and spoken word and draws in some the area's best talent. Sign up for one of the 12 available slots no later than 5 p.m. on Wednesday. Participants are selected at random and sets are up to 15 minutes long beginning at 6 p.m.
Honey Moon Mead and Cider
1053 N State Street
Bellingham, WA 98225
360-734-0728
Colophone Cafe

Chuckanut Sandstone Writer's Theater Open Mic, hosted by Carla Shafer, gives local writers the opportunity to share their original poems, prose, plays and memoirs on the second Wednesday of each month. Sign up for a seven-minute slot at 6:30 p.m. to participate in the 6:50 p.m. event that goes until about 9 p.m.
Colophone Cafe
1208 11th Street
Bellingham, WA 98225
360-647-0092
Write Riot Poetry Slam, a weekly event hosted and coordinated by Jessica Lohafer, has been looking for a new regular home for their event. Their hope is to find a local venue and sponsor that might be the right fit—ones that can help host both touring poets and locals.
Community Odds and Ends
There are a few poetry-related events that are delightfully outside-the-box. They are also part of what makes our community great.
Since 2006, two respected judges choose 25 winning poems from those submitted by Whatcom County residents. Walk Award winning poems are displayed on a permanent poetry installation in front of Bellingham Public Library. Both Walk and Merit Award winning poems are displayed for a year inside Whatcom Transportation Authority busses.
Poets Shannon Laws and Summer Starr teamed up with a local painter to launch a successful Kickstarter campaign. An abandoned phone booth on Forest Street in front of the Community Food Coop will be transformed into a work of art. New poems will be chosen to be displayed in the booth from among those submitted each quarter.
The Poem Store is a writer-trio composed of Savanah Jordan, Natalie Fedak, and Erica Reed. These women write unique and custom poems on the spot on any subject on their vintage typewriter. They're often found at the Bellingham Farmers Market and are hired for other local events.
Incredibly, there are even more poetry-related opportunities in Whatcom County than we could mention here. What did we miss? Please email suggestions to Submit@WhatcomTalk.com.
Here are a few suggestions we've gotten so far:
SpeakEasy – an ongoing poetry reading series co-produced by Luther Allen and Judy Kleinberg. Each SpeakEasy is themed and one of the unique features of these readings is that the poets' words are projected on the wall behind them so the audience can read along. SpeakEasy is held in the Encore Room at Mount Baker Theatre and admission is free.
The Poetry Department – a near-daily blog on poetry. The focus is generally Cascadia, but the material ranges far and wide at whim. It includes a 12-month calendar of poetry-related events.