In 2015 local artist & activist Christen Mattix planned a performance at a downtown phone booth. She set a date, took photos, sent invitations, and waited for the day to come. But in the final weeks leading up to the project she discovered that the booth had been torn out. "I grieved it," she explained. "I had invested so much energy into that little piece of space, and then it was gone."
Across our country phone booths are being abandoned. Most people now carry phones in their pockets, so the once necessary lines of communication that dotted urban and rural landscapes have begun to disappear. Phone companies pluck the booths and leave the remaining structure for the local residents to deal with. They are often discarded.
"What do we do with public structures once the function for which they were built no longer exists?" said Mattix. "I'm really interested in reclaiming those spaces and making them into something else."
During her project research Mattix had seen many different examples from around the country of booths that had been reimagined, but it was the idea of a poem booth that stuck with her. When she found another downtown booth just outside of the Community Food Co-op she knew she had to jump at the chance to change the space. That's when she reached out for help.
"Christen emailed about this project last August and it was an immediate yes from me," shared local writer & radio producer, Shannon Laws. She and artist & nonprofiteer Summer Starr joined forces with Mattix, each bringing their unique skills to the table.
"What draws us together is both the ability to touch community, as well as each having our own abilities to make things happen," Starr said. "We're makers in different spaces."
"We energize each other," added Mattix. "I think it's only right that a community-based art project starts with a community. The project is absolutely enriched and taken to a whole new level because I'm with these amazing women."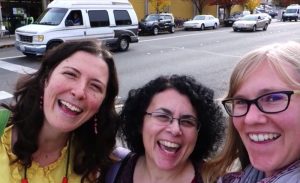 Together they developed a Kickstarter project that aimed to turn the empty, graffitied booth into a place to display local poems. Their goal was simple: To create something that enhances and promotes community. The project launched and funded within a week. It had raised $360 by the time it ran its course.
"The Kickstarter project was about getting as many people involved and plugged in to the project as possible," Mattix said. "Instead of just having it be an inside conversation, we're expanding the conversation to everyone who wants to be a part of it. That means investment from the community from the get-go."
The group wanted to be sure that the adoption of the phone booth was as respectful as possible to the community, knowing that it could be seen as a coopting of space. "There is a communication happening on the booth currently through graffiti and stickers, so we want to be aware of that," shared Starr. "There is a sense that we're colonizing it and taking it over. We're going into this with awareness that we want to respect that it is a place for public discourse right now and we're going to be modifying that discourse."
"We want to make the conversation more intentional, more focused and more powerful," added Mattix. "Honestly most people don't even see it. It's basically camouflaging into the bulletin board right now. We want to give it more presence and allow it to really occupy space again."
But they also want to encourage new and emerging writers, especially those not often represented in the local arts scene, to submit their work to the contest. They're doing this by keeping a very low participation barrier. The only thing poets have to do to submit their work is to email it to the organizers during their open call for submissions.
"Hopefully it's a really low-risk way for emerging poets to participate in a dialogue," shared Christen. "They don't have to pay a submission fee, they don't have to pay for stamps, and it's local. Hopefully that is less intimidating."
The group will display a new poem every three months starting in March. Poems will be chosen by the organizers via a poetry contest for writers living in Whatcom County. They all agreed that it's going to be very difficult to pick a winner, so they will be publishing runners-up on the website to help give them exposure. "There's just so much great talent here in town," shared Laws.
The group wants the booth to be a space for brightness and positivity. The idea that someone running errands downtown might find a glimmer of hope there excites them. They understand that artists have an important role in an ever-changing world to help us tend to our culture.
"We're actually tending to our community through this project," shared Summer. "This is creating some safe space to express who we are."
"Somebody could just walk by one day and have the words touch them," added Laws. "Maybe not the whole poem, maybe just a line. If that happens one time it's worth it." When asked what fellow artists can do to help tend to culture, Laws had a simple answer, "Whatever your art is, you need to turn up the volume."
If you're interested in submitting poetry, or just want to keep up with the project, the group strongly encourages you to sign-up for the Poem Booth Newsletter on their website so you don't miss a thing. If you missed the Kickstarter but want to support their ongoing efforts, you can donate to the Poem Booth project anytime.