Video fosters connections. "We're inviting the viewer into the conversation," says Josh Burdick, owner of Veritas Media Productions. "That's what creates relationships."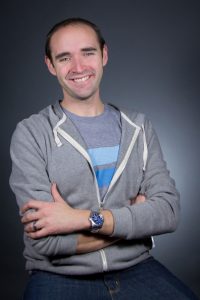 In a world where people forge relationships online before meeting for the first time, video has become a powerful tool to create those connections. "I love seeing the impact of a story unfolding on a video in a room full of people," Burdick says. "I love seeing the emotions invoked by these videos."
Josh Burdick began his multimedia work in high school with award-winning student projects and leadership roles in his media class. "Every day I would come in and literally produce a show," he says of his early experience. "I really liked creating something and having it shown in front of an audience."
While studying at Trinity Western, Burdick interned at CPAC television where he successfully produced a short documentary called "Telling Times—The Pacific Canadian Railway."
Burdick has a passion for history. He is especially interested in finding the narrative in that history. "Getting that chance to tell an impactful and sometimes emotional story from a different perspective is something I really like to do," he says.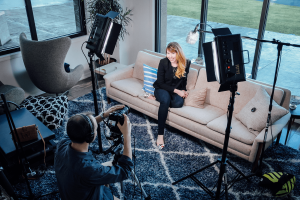 Burdick knew he wanted to have a career in media, and that he wanted that career to happen in Bellingham. "This is home," he says. "This is my community."
Burdick went on to study at In Focus Vancouver, a nonprofit film school aimed at creating documentaries. His documentary, "Kids on the Block," tells the story of a family moving into an eastside Vancouver neighborhood where homelessness is an issue in order to create a positive impact. This film won first place at the Northwest Projections Film Festival in 2011. "It was my first really polished project," says Burdick. "It gave me the opportunity to tell a story that may not have gotten told otherwise."
Burdick describes his three and a half years of employment as a Faithlife Video Team Lead as the time when he got the best hands on experience in project management and production. He continues to apply this experience to his own business, Veritas Media Productions, today.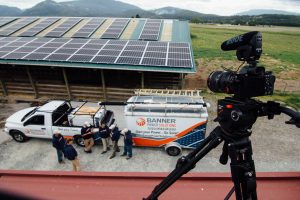 Veritas, which means truth, operates from a strong guiding principle of telling people's stories in meaningful ways through the medium of video. "I knew I wanted to tell other people's stories authentically and do it well," says Burdick as he describes the evolution of Veritas. "I wanted to make a difference and use video to do that."
Working with the business community Burdick tells the story of business in an authentic way that connects with customers and the community. He describes the value of video as a highly engaging way for businesses to increase reach and connection with their customer base by creating a conversation. "It's cool to see clients have successful connection because of a video," he says. "Ultimately it's about getting the story out there and becoming a part of the conversation."
In that same manner, Burdick continues to become more involved in the Bellingham community and a part of those connections. "I see the opportunity here," he says. "My responsibility is to step up and become a part of that bigger conversation. If there are ways to use multimedia tools to tell the story of the community, I want to be a part of that."
By working with local organizations such as the Bellingham/Whatcom Chamber of Commerce, Lydia Place and Lighthouse Mission, Veritas Media Productions has successfully made those stories a part of the conversation in our community. They create the connection between the mission of the organization and the needs of the community and its residents.
With an office and studio in the historic Bellingham National Bank building, Veritas Media Productions is in the heart of the community. "This is the center of where it all happens," says Burdick of his business location. "I like being here."
When asked what he sees for the future of Veritas Media Productions, Burdick describes his excitement about working with clients to take their businesses to a whole new level with video integration. Partnering with Wistia.com, a video hosting company, has given him a resource to help his clients leverage those videos and their business brand even more. "Getting the story out as many ways as possible is exciting," he says. "I want to continue to be a part of that strategy building with clients."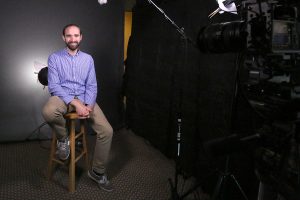 Burdick and Veritas Media Productions continue to find innovative ways to use video to help businesses create conversations. This can involve opportunities such as two unique businesses promoting what they have done for each other as is the case with Banner Power Solutions and Smith and Vallee.
"It's fun," Burdick says of his business. "I like working with people and making them comfortable in front of the camera. 'It's just a conversation,' is what I tell them."
Take a look at Veritas Media Productions' recent work and see how video can truly make a difference in creating connections and building relationships.