Submitted by: Scratch and Peck Feeds
Black Soldier Fly Larvae. Sounds like something pretty powerful, doesn't it? Bugs with a mission. And really, that's how Scratch and Peck Feeds sees these little protein-packed buggers. It's one of the many reasons the Certified Organic, Non-GMO Project Verified animal feed manufacturer brought them on as part of their Cluckin' Good product line of chicken supplements and treats.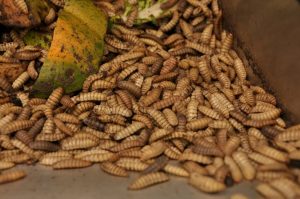 When Diana Ambauen-Meade, Founder and President of Scratch and Peck Feeds, first started researching ways to supplement the diets of chickens and ducks, she considered mealworms. Birds love mealworms, and they are a good source of protein. At first glance, it made sense to consider those insects as something the company wanted to offer to customers. What Ambauen-Meade learned, though, is that the common means of obtaining mealworms didn't fit with part of the mission at Scratch and Peck Feeds – to offer sustainably produced and sourced ingredients. Most mealworms come from China, which means not only was the company not supporting their regional economy, they were also sourcing a product that requires overseas transport … and a lot of fuel along the way. Ambauen-Meade's quest for a sustainable protein product continued.
Further investigating took Ambauen-Meade to Enterra, a sustainable insect farm in the Pacific Northwest, just north of the Scratch and Peck Feeds mill. The proximity of Enterra to Scratch and Peck's mill fit in line with their goal to source ingredients as close to home as possible. Even more cheer-worthy was that the insect farm sustainably produces dried Black Soldier Fly Larvae, a source of protein and oil that is ideal for the animal feed industry.
To raise Black Soldier Flies, Enterra uses pre-consumer waste food that would otherwise be sent to landfills. The  flies consume spoiled or unused fruits, vegetables and grains sourced from regional farms, bakeries, greenhouses and other businesses in the region. The larvae are then harvested and the result is a protein-rich ingredient that chickens and ducks love (while sneaking in a dose of healthy calcium and fatty amino acids that gives a nutritional boost to their eggs!) Essentially, Enterra takes nutrient-rich food that would otherwise be removed from the food chain and puts it back into the system so farmers of all sizes can produce more food. As they put it, they're closing the loop on food waste.
The more Ambauen-Meade learned about Black Soldier Flies and the benefits they have for poultry, the more confident she became at incorporating them into the poultry product line. The dried larvae are upwards of 40% crude protein. Because chicken feathers are about 90% protein, increasing chickens' protein during molting aids in feather growth. The combination of Enterra's sustainable practices with the benefits of Dried Black Soldier Flies for poultry led to Ambauen-Meade working out a partnership with insect farm. Now Scratch and Peck Feeds is able to offer their Cluckin' Good Grubs to backyard chicken keepers all over the U.S.
The company's goals of sustainability and animal welfare have led to forming enriching partnerships with regional farmers and local animal organizations and nonprofits.  Now they can add insect farm to their circle. Who knows where the road will take them next!