Most people in Whatcom County haven't yet heard of Brist. While that may be the case, most people are likely already familiar with much of their work.
Brist is a local manufacturing agency that creates and designs custom apparel and accessories. They offer quality service for everything from graphic design and screen-printing to marketing and consulting.
"Brist has flown under the radar over the last couple of years," says CEO and Co-Founder, Brendan Pape. "Our work can be seen throughout Bellingham due to the incredible support of the local community but the business may not be known to many, other than our customer base."
Before smaller sized companies had an option like Brist, they faced many obstacles when it came to creating truly original apparel. Most small and medium size companies have a tough time ordering the dauntingly high minimums that a lot of overseas manufacturers set. High volumes can make it nearly impossible for small and medium size companies to even consider creating custom apparel.
That's where Brist comes in. They strive to offer lower minimum order sizes, allowing businesses of any magnitude the ability to freely create something unique without having to worry about unbearable inventory and high upfront costs.
The story of Brist's start-up and growth is inspiring. While still attending Western Washington University, Pape and fellow Co-Founder Christian Harkson began a clothing line called "Disidual" as a hobby. At first, they worked from Pape's bedroom, then relocated to a garage before finally moving the operation into the warehouse they're still located at today
Two years ago came "the pivot" that launched what is now Brist. This change of direction occurred when they asked themselves, "What if we could break down these restraints within the apparel industry and really allow small to mid-size businesses the ability to freely create anything that they want?" This is what Brist set out to do, and have done so rather successfully.
By removing the restrictions of high minimums that also equate to high costs, they introduced another viable merchandise option rather than just screen-printed or embroidered items. Now customers can create truly private labeled lines with minimal risks.
To make this vision a reality, Pape found himself traveling to China to meet with factories hoping they might buy into the idea of allowing them to create smaller runs. This would allow them to do the same for smaller businesses so they could create custom goods. This wasn't an easy task. At one point, a supplier told Pape he was insane, the idea was nuts and that nobody was going to do such a thing.
Eventually, a couple places did buy in giving Pape and Harkson a short leash to test it out, six months to prove this idea could work. Two years later, those buyers that took a chance on them continue to work with Brist today.
In 2015, Brist grew 116%. For 2016, Pape speculates they'll end up over 135% growth at years end. Brist's goal is to grow another 100% or more in 2017.
Experiencing so much growth has created opportunities for them to open more positions on their team. At a recent team meeting, they had everyone raise their hand if they'd been with Brist for less than a year. It was about 75% of the team.
Pape is quick to praise this team that has been assembled over the last two years for the accomplishments and progress they've experienced. "There are many factors that have contributed to the success of our organization but the underlining key to our growth and success can be credited to the entire Brist team. Not one member can be credited for the success of Brist. We do not succeed on an individual level but on an organization level, which is made up of the combined successes of everyone. The team is incredibly inspiring, composed of driven and motivated individuals willing to work together to achieve a common goal. These people inspire a fun, progressive and creative culture."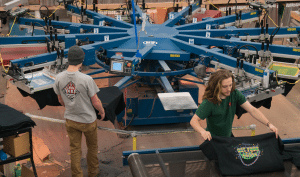 While some of this growth comes from working with larger clients such as the Seattle Mariners or Teton Gravity Research, about 30-40% of their work comes from local clients.
Pape enjoys seeing their team's creations all over Whatcom County. Brist has created merchandise for local businesses such as Aslan Brewing, Western Washington University, Elizabeth Station, Wander Brewing and Overflow Taps … just to name a few!
He appreciates how much they've been able to partner with local businesses and others in the Bellingham and Whatcom County area. "It's the local support that has really helped us achieve our goals and made us who we are today," Pape says. "It's something we never take for granted."
While it's obvious Pape is pleased and excited about what they are currently accomplishing, he knows what this team is offering is something unique and desirable for many businesses out there. He envisions big things for Brist in the future.
"We would definitely love to be the go-to company in the nation in terms of creating, designing and manufacturing soft goods and merchandise," Pape says. "That would be incredible. We want to create the opportunity for everyone to freely create apparel."
It is a lofty goal. However, after hearing about Brist's values, how they operate and sensing the passion that drives Pape and the team, it wouldn't be surprising to see Brist reach that goal in the near future.
To learn more check out the Brist website.