Shannon Fuller, co-owner of Bellingham's Still Life Massage and Float, knows the importance of her clients' self-care time during their treatments. "We see their visit here as their time to turn everything off," she says. "We are constantly bombarded with ongoing stimulation around us all the time. Sometimes we just need a mental reboot."
November 30 marked the one-year anniversary of Still Life Massage and Float's location on Bellwether in Bellingham by the marina. This serene location has provided an incredible opportunity for more accessibility along with a beautiful view of the boats in the marina. This location has also provided the opportunity to add float sessions to their menu of services.
Shannon and her husband Tim, also co-owner, discovered float therapy on their own and immediately were attracted to the mental and physical benefits of the floating session. They were excited about offering this service to their massage clients and the rest of the community.
At seven and a half feet long and five feet wide, this space age looking float tank has rotating soft lights and is one of the largest float tanks on the market. Tim and Shannon felt that this would be most comfortable for their clients to mentally and physically relax.
"It's euphorically relaxing," says Tim of the floating experience.
Presenting a spa-like environment with the mantra of, "heal and help yourself," Tim and Shannon are passionate about the interactions they have with every person that steps through the door. Shannon describes Still Life Massage and Float as a wellness place that's both comfortable and safe.
"The biggest joy I get is seeing the look on people's faces after a massage or a float session," says Tim of his passion for creating customer warmth. "I want people to carry that feeling with them and hang around, not be in a hurry to leave."
Still Life Massage and Float cares for clients from all walks of life, each with a purpose related to their own self-care goals. The connection with clients is what drives Shannon and Tim to provide the best environment and services possible. And that includes bringing on the service of float therapy.
While the idea and practice of floating has been around for awhile, it has made a resurgence in the area of self-care with the annual world conference held in Portland, Oregon. Beyond the mental benefits that floating can provide, there are also the physical aspects that one experiences as a result of floating. With tension melting away as you float on a virtual water pillow, it sets the stage for the healing of tired muscles, soreness and even muscle injuries. "Everyone experiences something completely different," says Tim of the floating experience.
In fact, Tim and Shannon explain that research is continuously being conducted on the benefits of floating. Some of the latest research has shown a positive effect on those suffering from PTSD and even Fibromyalgia.
Research from the Laureate Institute of Brain Research in Tulsa, Oklahoma, under Clinical Neuropsychologist Justin Feinstein, PhD, has also indicated that floatation therapy can play a positive role in treating anxiety and addiction. According to his research, floating can help people disconnect from the outside world and get rid of distractions. Floating allows individuals to enter a state of relaxation while connecting with their internal self.
"It's exciting to see that everything people are experiencing is being scientifically proven to be true," Shannon says. "And the residual effects of floating are amazing."
Beyond the float sessions, Still Life Massage and Float also offers a unique approach to massage services. "Shannon is our matchmaker," says Tim of Shannon's ability to match the right massage therapist with the needs of each individual client.
"Every client is different and is looking for something different," she says. "From therapeutic treatment work to relaxation massage, we do it all." Shannon says she even takes into account the personalities of the therapists and the clients. It's that connection with the client that is so important in each treatment plan.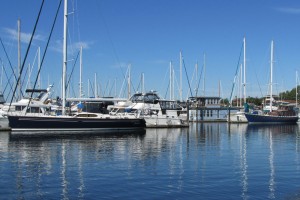 Shannon and Tim, both from Bellingham, plan to keep it simple when it comes to business and growth. "I always want to work here," says Tim of Still Life Massage and Float.
Shannon describes how she's never wavered from her core mission statement. She wants to continue to connect with her clients in a meaningful way. It's because of that mission statement that she intends to grow the business locally and with purpose. "We've grown organically," she says. "I want to continue to make sure that clients feel welcome and are like family."
Tim says he wants to take that feeling of peace and calm and keep it going. "Life is outside the door," he says. "When our clients are here, we want them to be comfortable."
With two small children at home while building a business, time has been at a premium for these two Bellingham locals. But this only adds to their resolve to add value to the community and their clients. "Our kids get to see this business grow right along with us," says Tim.
As Tim and Shannon say to their clients, take the time to reconnect with yourself, to heal and to practice self-care. You can find all this and more at Still Life Massage and Float. Appointments can be scheduled online.