The holiday season brings both stress and fun for humans and their animal companions. So why not get engaged in activities your pets find pleasurable? From posing with Santa, to practicing compassion, to noshing on a peanut butter treat, to staying in a cat hotel, now Fido and Fluffy can anticipate a month of Whatcom county pet fun in December and throughout the New Year.
Most dogs enjoy a walk on the beach, a stop at an off-leash area, time to network with other canines and specialty treats. So why not head to Marine Park and then head to Fairhaven's off-leash park (1717 4th Street, near Marine Park)? Or stop by Paws for a Beer where you can buy your dog a one-day pass for $5. If your dog enjoys running around in a 12,000 square foot space with other canines, consider purchasing a monthly or year long membership.
Follow up with a trip to Village Green Pet Supply where Fido can pick out a new toy. Then end the excursion at Village Books where employees fawn over the dog and hand out treats. Don't forget to purchase an animal-related book for yourself.
Rylan Schoen, owner of Paws for a Beer emphasizes the importance of playtime for a dog. He recommended the Fairhaven Dog Park and Arroyo Park since it is off-leash. As far as humans go, Schoen says, "Dog-less people can come and play with the dogs here."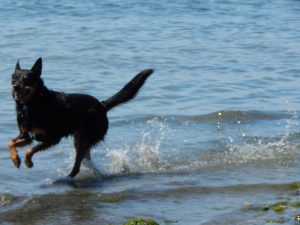 Spruce up your pets and get a portrait with Santa. Whatcom Humane Society hosts their third annual Portrait with Santa Paws at Mud Bay (Lakeway Shopping Center next to Whole Foods). The event takes place on Saturday, December 3 and Sunday, December 4 from 11:00 a.m. to 3:00 p.m. All pets are welcome but dogs must be on-leash and other animals must be transported in carriers. Portraits are available for a $20 donation.
Whatcom Humane Society Event Coordinator Dana Browne says that they expect 60 pets this year and have set a goal of raising $2,000. Browne encourages pet owners to attend. "We love it when families come to pose with their pets. After all, pets are part of the family too – all pets, including dogs, cats, bunnies, ferrets and even chickens."
If philanthropy is your pet's passion, consider donating pet food to the Whatcom Pet Care Network food drive. Drop off barrels are located at several businesses around town including Village Green Pet Supply. Proceeds are given to the Whatcom Humane Society. Or purchase a Whatcom Humane Society calendar sold at Village Green Pet Supply. The much needed funds go towards keeping our local animals healthy while they wait for their permanent home.
Also on Sunday, December 4, from 2:00 to 6:00 p.m., Paws for a Beer will donate a $1.00 from every beer purchased to the Sergey Foundation This will give you and your pet warm fuzzies knowing your donation is going to help other animals and their companions.
For folks who miss Santa's visit to Mud Bay on the first weekend, Santa will also make an appearance at PetSmart on December 10 and 11 from 10:00 a.m. to 4:00 p.m. Pictures are free.
But before picture time, comes grooming time. While some groomers have reached capacity for December, consider booking your pets for the New Year. Currently, self-service options are available in some locations. Try Shake & Shine or City Dogs, both in downtown Bellingham. Shake and Shine also offers a dog deli with plenty of gift choices.
For cat grooming head to My Pet Place in the Lettered Streets Neighborhood. If you can't get a booking in time, try PetSmart in Bellingham. In Lynden, check out Happy Pooch Styling and Spa and in Birch Bay check out Canine Divine Pet Grooming Spa. And in Ferndale, check out the Pooch Palace and Kitty Kastle which offers luxurious animal boarding and grooming.
If you don't have a pet, or have room for another, adopt one at Hohl Garden and Pet on Railroad Avenue across the street from the bus station. This one-stop mom and pop store has birds, rodents and cats for adoption. If tropical fish strike your fancy, go right next door to Clark Feed and Seed which offers a diverse selection of fish, aquariums and other pet products. They sell dog Christmas cookies too.
This holiday season go beyond buying your pet the usual toy or treat. Find the nearest off-leash trail and combine the run with other activities. Take Fluffy or Fido to get their hair and nails done. Or give to an animal-related charity in your pet's name. Be sure to do all of these activities with your animals' preferences in mind, especially if you are dressing your pooch like Santa's elf. And then remember to stop by Shake and Shine Canine Wash and Deli for reinforcements. Happy paw-lidays.