The holidays seem to creep up earlier every year. Halloween was still weeks away when I noticed the first Christmas decorations popping-up in chain stores around town. Don't get me wrong: I love the kitschy, glittery goodness of the Christmas season, but I like to wait until after Thanksgiving to deck my halls.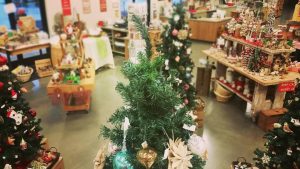 The folks at BelleWood Acres spend lots of time preparing for the holidays, but they hold-off on rolling out the holiday spirit until after Thanksgiving. While many of us know that day by the ominous Black Friday, BelleWood lightens the mood by letting shoppers ease into the holiday spirit without the huge crowds and long lines. With their focus on gifts made in the area, you can discover treasures at BelleWood that you simply can't find at places that end in Mart.
"We carry lots of locally made goods not found in big box stores," shared events specialist, Pamela Felke. Unique, lovingly crafted items abound at BelleWood where they take great care to curate special gifts for everyone on your list. With an in-house distillery and Country Café, BelleWood may be one of the few places in town where you can enjoy hot cider with brandy while you shop during their Shop and Sip weekends. Their craft-made spirits also make excellent gifts for the cocktail aficionados in your life.
You can take home fresh cut trees and handcrafted wreaths, enjoy ornament and cookie crafting with the kids, or cozy-up to the bonfire with their s'mores packages. Love Christmas carols? BelleWood offers plenty of opportunities to keep your spirits bright. "Every Sunday in December we host community sing-alongs featuring local choirs," shared Pamela. Sleigh rides and visits with Santa are offered during the two weekends leading up to Christmas, December 10-11 and 17-18.
You can also celebrate the holiday season by hosting special events in facilities at BelleWood Acres. Family and work holiday parties are a snap in interesting spaces, with distillery or Mount Baker views.
"We host many holiday parties," said Pamela. "Saturdays are booked early through the holidays, but we're still booking for other days of the week."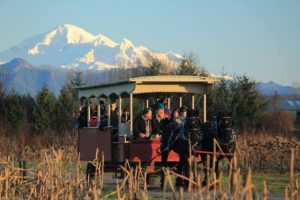 Pamela is also the owner of Crave Catering, the on-site caterer for BelleWood Acres. In addition to the parties and special occasions hosted in BelleWood's event spaces, Crave Catering serves Bellingham and the surrounding communities with custom designed presentations ranging from casual to sophisticated. From intricate canapes to Southern fried chicken, Crave Catering offers a wide variety of scratch-prepared, locally-sourced food with flavors that suit just about any culinary interest.
To learn more about catering or event rental options at BelleWood, contact Pamela Felke at pamela@bellewoodfarms.com or 360-318-7720.
If you're hosting your own DIY holiday party this year, you might try one of these easy cocktail recipes that are sure to delight your guests:
Slow Cooker Mulled Cider with Apple Brandy
What you'll need:
1 gallon BelleWood Acres fresh-pressed apple cider
1 medium orange, washed and sliced
1 (1 1/2-inch) piece fresh ginger, cut into ¼-inch slices (no need to peel)
5 cinnamon sticks
1 tablespoon whole cloves
BelleWood Distilling Eau de Vie apple brandy
What to do:
Pour apple cider into a 5-quart slow cooker.
Add orange slices and sliced ginger to cider.
Add the cinnamon sticks and cloves. You can use a tea ball (or gather the spices into a sachet of double-layer cheesecloth and tie it closed with kitchen twine) if you want the spices to be easier to take out later.
Cook cider on low for 4 hours. Keep warm until ready to serve.
Pour 1 oz of Eau de Vie into each serving mug and top with 6-8 oz of warm, mulled cider. Garnish with fresh orange slices or cinnamon sticks if desired.
Keep any leftover cider in your refrigerator for up to a week.
French 75
What you'll need:
1 oz BelleWood Distilling Eau de Vie apple brandy
1/2 oz simple syrup
1/2 oz fresh-squeezed lemon juice
Dry sparkling wine (such as a cava), well-chilled
What to do:
Fill cocktail shaker halfway with ice.
Add apple brandy, simple syrup, and lemon juice to the shaker and shake thoroughly until well chilled.
Strain cocktail into a champagne flute or coupe and top with sparkling wine. Garnish with a lemon twist if desired.
Sponsored