The Holiday Festival of the Arts is now in full swing at the Cordata Place Shopping Center. For Julia Moss, Assistant Manager at Allied Arts, it's an exciting time. She finally gets to meet the new artists she has been emailing back and forth with and reconnect with returning artists and friends from prior seasons.
While the holiday festival kicks off towards the end of November and continues through Christmas Eve, it's really the finale for a process that began all the way back in February. Applications go out early in the year. Then artists begin sending their completed applications back to Allied Arts with slides or photos of their booth, handmade products and price points for their work. In April, the artists' work is judged and participants are selected.
"We always have a good number of returning and new artists every year," Moss shares. "We like to have a good mix of painters, fiber artists, soap makers and food vendors. We try to have something there for everyone."
In addition to working out which artists will be attending the show, staff members also correspond with the musicians who will be performing live on the weekends. A schedule is worked out and a piano is even donated for the duration of the event.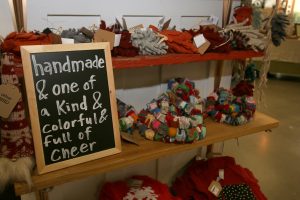 In addition to live music, weekends at the festival also include a free, drop-in kids' crafting room from 12:00 p.m. to 3:00 p.m. Here Allied Arts-connected art teachers provide a fun crafting lesson. Parents can feel free to peruse the festival while their children hand craft ornaments or engage in other projects. Kids can look forward to papermaking, beading, print making and origami. There's even a magical box making activity on Sunday, December 18.
With around 100 booths and artists contributing their work, there is a lot to see and enjoy. Think festive decorations, paintings, fiber art, wood working, handmade soaps and even food. "We have a fair amount of ornaments and holiday themed items as well as functional things," Moss shares. "We also have a lot of cards and wearable art, like jewelry and earrings." Here you will find one-of-a-kind presents for the whole family, ornaments for your tree, delicious holiday treats and plenty of stocking stuffers.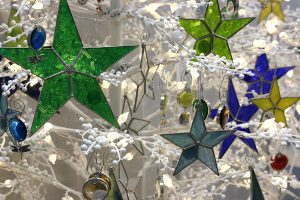 Prior to opening, the Holiday Festival of the Arts team thoughtfully works out artist placement, draws out a floor plan and sets up the building. Hand created items for sale are priced complete with bar codes that can be scanned for ease at check out. Staff are scheduled to work as cashiers. The artists work three-hour security shifts to keep an eye on things while the booths themselves remain unstaffed.
Moss's role in the festival is that of Onsite Assistant Manager. She works as a go-between for the artists, staff members and performers. She also opens the festival in the morning, helps answer participant questions and contributes to restocking when any display items are sold. It's a time of year she genuinely enjoys. Working so closely with artists cultivates bonds and friendships. She also enjoys seeing the artists' work going into appreciative hands. "We love our artists and we love people who love art," Moss shares.
When the festival ends at 3:00 p.m. on Christmas Eve, the work doesn't stop. For Allied Arts, the next step is looking over feedback forms. "It's important to us to see who we are drawing and what we're reflecting," Moss explains. Summaries also have to be written which are important for grants. Being a non-profit, grant work is vital. For Moss, moving from intern to an assistant manager position was made possible because of a grant. Although grants aren't the only influencing financial factor. Donations can dramatically impact operations as well.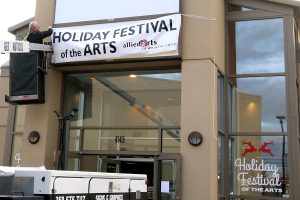 Being an Art History and Cultural Anthropology double major graduate from Western Washington University, Moss feels appreciative to work in an environment that connects artists and the community. "I feel so lucky," Moss shares. "It's exactly where I want to be in Bellingham."
Allied Arts' 37th Festival of the Arts is open now through December 24. Hours are 10:00 a.m. to 7:00 p.m. The festival will close at 3:00 p.m. on Christmas Eve. The festival is located at 4145 Meridian Street, at the Cordata Place Shopping Center next to the Burlington Coat Factory.