First observed in Massachusetts in 2010, Small Business Saturday was meant to encourage shoppers to support small, local businesses as opposed to big box stores and large online retailers celebrated during Black Friday and Cyber Monday. Small local retailers will celebrate with Shop Small Saturday, this Saturday, November 26.

This one-day promotion is a collaboration between Sustainable Connections and the Downtown Bellingham Partnership aimed at showing off Whatcom County's unique businesses and encouraging shoppers to support their local economy this holiday season.
Buying local is the perfect way to enjoy your holiday shopping without all of the stress. Small shops offer unique charm and holiday cheer, all without the long lines and early-morning hours. You can enjoy local retailers' welcoming spaces, take advantage of their expertise and passion, and have fun finding unique gifts with a hot cup of coffee from the shop across the street.
Investing in Your Community, One Dollar at a Time
According to the Downtown Bellingham Partnership, independent businesses invest three times more money back into our community, so  finding the perfect gift also means strengthening our local economy.
"Shop Small Saturday is always a special day for us," shared Kim DeCarlo, owner of State Street Thrift and Vintage. "It's a great way to meet new customers and keep our local economy thriving." Local retailers like DeCarlo live in the community where they do business, and are therefore invested in making it better.
"My favorite part is the connection I feel with people who are making a point to Shop Small and support their community," DeCarlo said. "It's clear that they care and that makes me happy."
"As an artist and small business owner I feel it is so important to support the local people and shops that make this town unique," shared Kat Houseman, owner of The Allery, a new downtown gallery accessible via the alleyway between the Cornwall Avenue and the Commercial Street Parking Garage. "A city thrives and gains its identity through local businesses. Shop Small Saturday is a way to bring awareness to all this community has to offer."
When shoppers spend money at a small business they are supporting someone's dreams and livelihood. A community where creative visions can turn into thriving businesses paves the way for more of the same.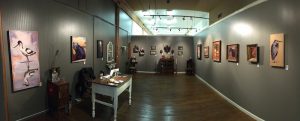 Gifts for Just About Anyone
Skipping the lines on Black Friday doesn't mean you have to skimp on your gifts. You can find countless unique gifts for everyone on your list, whether you prefer to find handmade goods or are looking to give the gift of a special experience.
You'll find fine art and unique gifts at places like The Allery – Fine Art, The Atomic Kitten, The Bureau, Ideal, Ormolulu, Quicksilver Photo Lab, Spruce, Third Planet Bellingham and Whatcom Museum Lightcatcher Building.
Looking for apparel, accessories or beauty related gifts? Try Downtown Emporium, Fringe Boutique, Heroine Clothing, Hilton's Shoes, Kids Northwest, Lisa Crosier Skincare, ModSock, Mi Shoes, Otion: The Soap Bar, Ragfinery, Social Fabric, State Street Thrift & Vintage, texture clothing, Wee Ones Reruns and Wise Buys.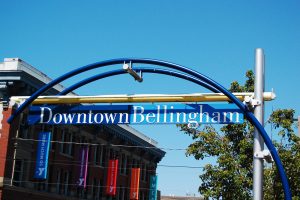 Find the perfect gifts for the active and outdoorsy folks on your list at Backcountry Essentials, Fairhaven Runners & Walkers and Fanatik Bike Co.
In need of special gifts for the home? Try Bellingham Pet Supply, Greenhouse and The RE Store.
Give the gift of something delicious (or take a tasty break from shopping) at Acme Farms + Kitchen Pop Up Shop, Bow Hill Blueberries at the Farmers Market, Pure Bliss Desserts, Seifert & Jones Wine Merchants and Vinostrology.
Win Prizes with the Shop Small Saturday Passport
Shop Small Saturday also makes holiday shopping more fun by offering prizes for participants. Shoppers can grab a Shop Small Saturday Passport and get stamps after checking out at participating businesses. Completed passports can be entered to win great local gift packages for just about anyone.
How to Participate:
Pick up your copy of the Shop Small Saturday Passport at any of the participating businesses on November 26.
Receive a stamp on your passport during checkout.
Get six stamps and submit your passport by November 28 for your chance to win. You can drop off your passport at a participating business or snap a photo and email to Becca@sustainableconnections.org to enter.

From music to roving Santas, downtown is full of charm during Shop Small Saturday. Photo courtesy: Downtown Bellingham Partnership.
Prize packages include The Wilderness Worshiper Prize Pack (including goodies from 3 Oms Yoga, Forget Me Not Salon & Spa and a Local Gift Basket from The Leopold), The Foodie Prize Pack (with special gifts from places like Acme Farms + Kitchen, The Cheese Shop at Appel Farms and The Bean Stop), The Fashionista Prize Pack (with gifts from businesses such as Pozie by Natalie and Ragfinery), and The Creative's Prize Pack (with goodies from Mindport, Tasca Del Tinto and more).
Get more information about the Passport, including a full list of participating businesses and details about Prize Packages, on the Facebook event page.