Walking into the Judd & Black location on James Street near downtown, it feels like they've been a part of Bellingham for longer than just three years. The front doors are flanked by a pair of antique washing machines, which spill over with flowers during the spring and summer. The James Street location is the northernmost of six locations for the company celebrating 76 years of providing Whatcom, Skagit, Snohomish, San Juan and Island families with household appliances.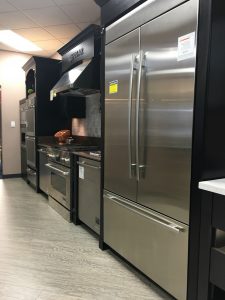 When Terry Lehmann, owner of Lehmann's Appliance, was ready to pass the torch three years ago he handpicked Judd & Black to carry on in the James Street space. "We are a family company, and it was important to us to carry on that feeling into a new location," states Rachael Sylte, marketing director for Judd & Black.
The Judd & Black James Street store feels like a family-owned establishment and they've seamlessly integrated their brand into the fabric of Bellingham.
Bellingham has embraced Judd & Black so fully, that they recently won "Best Appliance Store" in the Best of the Northwest 2016 by Bellingham Alive. As you walk through the showroom floor, you can tell they're very proud of this award, with banners boasting their win hung on several of the walls.
"We are just so flattered by this award," says Sylte. "We are really proud because it was voted on by the public. The fact we've only been here for three years speaks volumes to us about how we've been received in this community, and we are really proud of that."
Along with community, Judd & Black also puts a big emphasis on family. "This is a family-owned business. You can feel that in a lot of ways," Sylte says sharing that the company stays closed on Thanksgiving so Judd & Black employees can celebrate the holiday with their families. "That's one of the things I really respect about our company," she continues, "that it's not just talk. We actually walk the walk as far as community and family."
Another exciting development for Judd & Black is having Jermaine Kearse serve as a spokesperson. Having played football for Lakes High School in Lakewood, the University of Washington and now the Seattle Seahawks, Kearse embodies community ties.
"He's a local guy, and we're a local company so it was a natural fit," says Sylte. "We have been locally owned for the entire 76 years we've been in business and with third generation owners those ties are very important to us."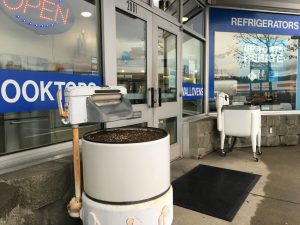 Kearse signed autographs at the Lynnwood location in early November. Over 200 Hawks fans showed up to check out Judd & Black's appliance selection and visit with Kearse. At that event, Judd & Black also collected donations for Kearse's charity, 15 to 1: Jermaine Kearse Foundation. This foundation supports kids in military families.
Judd & Black is planning at least one more signing event with Kearse, as well as some exciting giveaways. They'll have some game-worn gear and signed merchandise.
Watch Judd & Black's Facebook page for news and future events. To learn more about Judd & Black's line of appliances, visit your nearby store.
Sponsored