It's the time of year to bring nature inside and decorate it with all your favorite ornaments. From trees to wreaths, Whatcom County tree farms offer an abundance of Firs, Pines and Spruces for the taking. While it's easy to imagine going to a tree farm and selecting the best-looking tree suitable for the space you need, there are some additional valuable qualities to know when it comes to Christmas trees. In addition to beauty, you can consider how important fragrance, branch strength or longevity will be.
If you are reminiscing for that delectable forest scent, you might want a fragrant Christmas tree. In that case try one of the fir trees available. Canaan, Concolor, Fraser and Grand are known for their pleasant scents. Although not technically a fir, you can also count on the Douglas to provide a lovely aroma.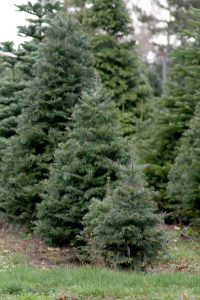 If your Christmas tree requires strong, stiff branches to hold up hefty ornaments, try taking home a Fraser Fir, Noble Fir or a Colorado Blue Spruce. Space between branches will show-off those bold ornaments and branch strength will be your best defense against bowing or hooks slipping off.
While you might not be ready for a Christmas tree the day after Thanksgiving, there are plenty of reasons to go ahead and get one anyway. Getting that early jump on picking out a tree means you will have a lot more choices. Some of the smaller tree farms sell out in a couple of weeks. If you are looking for a less common type of tree such as a white pine or a Spruce you are more likely to be able to get one sooner rather than later. If you have to wait before you get your tree, it's wise to call ahead and make sure the farm you plan to visit is still open and has the type of tree you want on site.
However, getting a tree early might mean you will need a longer lasting Christmas tree. Try a Concolor or Fraser Fir for needles that tend to stay on longer and remember to give your tree plenty of water. Now, if you want a tree that lasts forever, try getting the family a living tree. Plant it outside in the spring time for a landscaping focal point that can be decorated year after year.
Whether you are looking for a quick cut-and-go tree farm, or one that offers the whole experience from sipping hot cocoa to enjoying a hay ride, there's bound to be a suitable choice. Check out this list to see what local tree farms have to offer this year.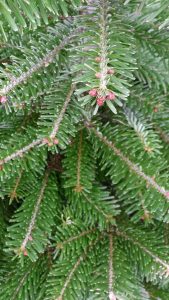 Alpine Meadows Tree Farm
3585 Valley Highway, Deming | 360-595-1019
Looking for that living tree? They have them here along with plenty of traditional fir trees. You'll find Noble firs, Nordmann firs, Grand firs, Fraser firs and Douglas firs.
Carl's Choose'n Cut
2220 Zell Road, Ferndale | 360-384-0799
Come early if you want one of the limited Nobles. Depend on plenty of Grands and lots of Douglas firs.
Fullner Christmas Tree Farm
3783 E. Hoff Road, Everson | 360-592-5820
Look forward to quite a selection of Christmas trees. Douglas, Grand, Fraser, Concolor and Nordmann firs as well as Colorado and Norway Spruces are available this year.
Joe and Cora's U-Cut Christmas Trees
1011 Telegraph Road, Bellingham | 360-734-3488
Closest to downtown Bellingham, you'll find a lot of good trees here. Top your visit off with a meandering drive through James Street Estates to enjoy a the neighborhood Christmas lights.
Kelley Road Christmas Tree Farm and Gift Shop
1129 E. Kelly Road, Bellingham | 360-510-9198
Take home a Fraser, Noble, Nordmann or Grand fir. They will provide the saw if you don't have one. You can also sip cocoa, munch on jerky and peruse the store for some additional holiday shopping fun.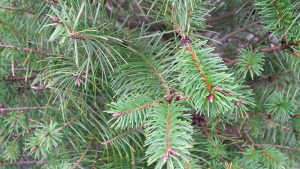 Manthey's Christmas Treeland
733 West Axton Road, Bellingham | 360-384-0522
You'll find your Christmas wreath as well as a tree here. Douglas firs, Nordman firs, Grand firs and Spruces are all available on this farm.
Misty Meadows Farm
6197 Everson Goshen Road, Everson | 360-312-3554
Enjoy looking for that perfect Noble Fir or Grand Fir. There is a chance you might hear a few clucks and few bleats while you search for a tree as well.
Noon Road Trees
7188 Noon Road, Everson | 360-354-8689
This farm has an incredible selection, but they really go fast. Come early for a chance at seeing Noble firs, Canaan firs, Blue Spruces, Fraser firs, Grand firs, Nordmann firs, Turkish firs, Douglas firs, Norway Spruces, White Pines and White Spruces.
River's Edge U-Cut Christmas Trees
4773 Deming Road, Deming | 360-592-5220
This farm boasts hay rides and free candy canes while you pick out a Noble fir, Fraser fir or Grand fir to take home.
Sister's Christmas Tree Farm
3771 Valley Highway, Deming | 360-739-4651
Looking for a really tall Christmas Tree? You can find 12' to 16' trees here.
Smalls Northwest Evergreens
6480 Northwest Drive, Ferndale | 360-384-0438
Enjoy a variety of wreaths, crosses and swags along with a selection of Douglas firs, Grand firs, Noble firs and Nordmann firs.
Tom's U-Cut Trees
4204 Hoff Road, Bellingham | 360-756-9473
Enjoy a good selection of Douglas firs, Grand firs and Canaan Firs.
Triple E Farm
5607 Elder Road, Ferndale | 360-380-4549
Look forward to Grand firs, Noble firs or come early for a smaller selection of Douglas firs.
Vedder's Edge Tree Farm
5569 Rock Road, Sumas | 360-510-9129 or 360-988-7416
Enjoy perusing the selection of Nordman firs, Fraser firs, Noble firs and Concolor firs on site.
However many tree farms you visit this year, there's bound to be a tree that will end up in your hearts and home. Enjoy the journey and Merry Christmas!