Alex Winstead's love of mushrooms began when he was a kid, discovering intriguing specimens on family hikes in the Olympic Peninsula. There were plenty of different types of fungi coloring the forest, and he became curious to learn more about them. A later introduction to mushroom hunting transformed this curiosity into the full-blown passion that eventually led to starting Cascadia Mushrooms.
What began as a tiny operation in Alex's basement has since grown into a full-time farming business. Cascadia Mushroom's 7,000 square feet of insulated growing space produces a variety of Certified Organic mushrooms, including Shiitake (their most popular variety), Blue Oyster, Gold Oyster, Lion's Mane, and Pioppino, among others.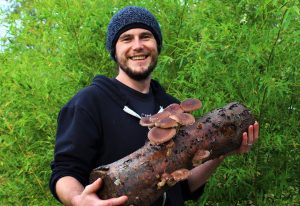 "We produce between 300 and 400 pounds of shiitake mushrooms each week, and probably another 100 to 150 pounds of other mushrooms in addition to that," Alex explained.
But in addition to their production operation, Cascadia Mushrooms produces kits for those who'd like to grow mushrooms at home. Because growing mushrooms is pretty different from those tomato plants we cross our fingers for every year, Cascadia Mushrooms is offering a special workshop for those who need a little extra guidance.
Learn to Grow Mushrooms (Saturday, October 22) is a half-day workshop focused on learning about mushroom cultivation. Garrett Bays will teach students how to grow delicious Oyster mushrooms and other species at their home, school or business. Attendees will learn practical growing techniques and get a behind-the-scenes view of the mushroom species Cascadia Mushrooms produces with a tour of the farm. The workshop will include plenty of time for questions, hands-on activities, and handy tips and tricks to help students start off on the right foot. This workshop is $75 and includes all supplies, a take-home growing project started in class, and light refreshments and tea.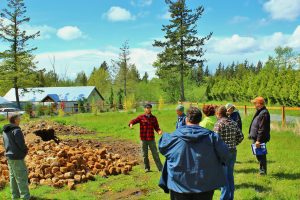 Like Alex, many people are curious about mushrooms, but not everyone knows how to get started exploring them. One of the first things we learn when we first see mushrooms in the wild is to be cautious. And while it's sound advice not to eat just any old mushroom, the thought of foraging for mushrooms at all can be intimidating if you are inexperienced.
Cascadia Mushroom's Wild Mushroom Foraging Adventure with owner Alex Winstead & Garrett Bays (Saturday, November 5) is a fun, informative way to learn how to safely hunt for mushrooms. This full-day workshop (10:00 a.m. – 5:00 p.m) will teach students about the fascinating and often delicious art of wild mushroom foraging. Alex and Garrett will teach the basics of hunting for common edible species of wild mushrooms in the foothills surrounding Mount Baker.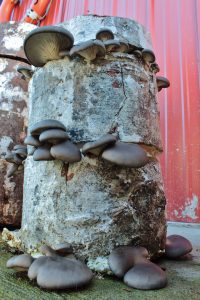 This class isn't an exhaustive course on wild mushroom foraging, but it is a thorough introduction for beginners. They will show participants where to look for common species, how to distinguish their identifying characteristics, and what their non-edible or poisonous look-alike species might be. Students will learn ethical harvesting techniques, the basic gear essential to mushroom hunting, and learn about a selection of fungi that are abundant this time of year.
"We'll take a group into the woods and teach them the basics of mushroom foraging," Alex shared. "And we'll potentially cook what we forage."
This workshop is $75, and includes instruction, foraging, and light refreshments & tea (students should bring a sack lunch). Students can also sign-up for the Fall 2016 Mushroom Masters program to take both $120 – a $30 discount!
Cascadia Mushrooms will also be exhibiting at the 1st Annual International Truffle Expo in Woodinville, November 18-20 at Columbia Winery.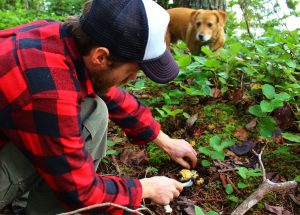 The Expo, presented by Truffle Dog Company, aims to cultivate and nurture a sustainable future for the truffle industry through education, community and respect for all life. The Expo will bring together truffle enthusiasts, food adventurers, dog lovers, wine connoisseurs, stewards of the land, scientists and innovators for a fun and informative truffle event. Alex and company are new to truffle foraging, but are excited to rub elbows with chefs, food enthusiasts, and fellow truffle hunters.
"Hunting for truffles has become a side hobby of mine," said Alex. "We all have dogs and are at beginning stages of training them to become truffle hounds."
Truffles are a type of fungi that grows in the wild underground, usually at the base of trees. Because they grow underground, truffle hunters use trained dogs to sniff out the lumpy morsels.
"The Expo is right at the beginning of the wild truffle hunting season in the Pacific Northwest," said Alex. "It's an exciting time of year, and we're looking forward to being introduced to a new community."
Cascadia Mushrooms is located in North Bellingham. Visit their website or give them a call at 360-714-8859 to arrange tour, apply for a wholesale account, or sign-up for one of their seasonal workshops.
Sponsored