23,681
This is the number of cigarette butts Bellingham residents Cal and Helen Swindell found in six months while out walking around their neighborhood.
The couple began walking daily as a way to keep fit while aging. "We like to walk. As you age if you don't get out and do anything you soon die. You can't keep yourself fit if you don't move," Helen explains. "As we walked along we'd see these piles of trash and we'd think that really makes the neighborhood look crummy in a hurry. If you can imagine, if every week we get stuff like this how Cordata Parkway, for instance, would look in no time at all if no one else picked it up."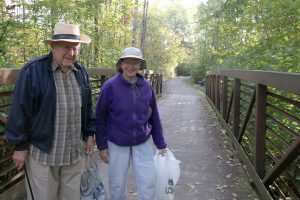 The couple began their walks in 2005 when they moved to Bellingham from Lake Chelan to retire and to be close to their daughter, a Western Washington University graduate. Around 2011 after finding such an array of objects, they began to log how many bags of trash, recyclables, cigarette butts and oddities they found each day. "We just couldn't believe all the stuff, all the different stuff, strange stuff that we picked up, including clothing people discard," Helen shares. "If it's in decent shape, I take it in, wash it and donate it."
On the day I arrived for an interview, Cal and Helen had returned with five bags of trash from their walk earlier that day. Three fourths of a bag consisted of recyclables and the number of cigarette butts they gathered totaled 285. The two go on several different walking routes in their neighborhood and end up covering the same ground about once a week. Yet during each walk, they still come home with several bags of trash that they have collected. "Always along highways you see stuff but somehow you would never think people in their own neighborhood, as they go through their own neighborhood, would toss stuff out. Most of us travel the same routes frequently but these people must be just inconsiderate I would say," Helen says. "They don't value the appearance of their neighborhood."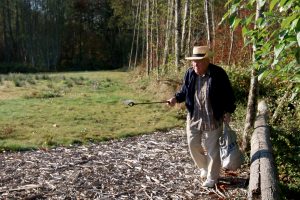 For Cal and Helen, Cordata Parkway has become a neighborhood they have grown to really appreciate. "You can see how beautiful it is because of the trees," Cal expresses. Health care facilities are within walking distance, a great convenience for the two in their aging years. The Cordata Park trail is a favored walk for the pair. On the way there, Cal takes one side of the street and Helen the other. She tends to walk faster and often waits on one of the park benches until Cal catches up. They even have a personally dedicated bench that their daughter contributed toward that they sit at along their walks. Cal hands out dog treats to the furry friends they meet along the trail. To keep track of cigarette butts, he sings a little tune depending on the number "four shut the door, seven go to heaven, Seahawks twelve."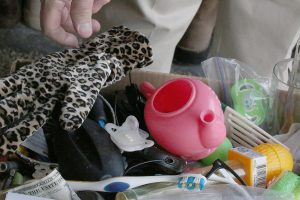 When it comes to the trash they collect each walk, Cal enjoys trying to identify some of the more curious objects. One item he tends to find often appears to be a long, thin, pointy metal object. He still isn't sure what it is. Helen is amazed at the variety of objects they find that aren't really trash items at all. "I've found sweaters and jackets, all kinds of like T-shirts and undershirts and panties and men's undergarments too," Helen shares. "What astonishes me is one time I found a pair of corduroy trousers. Turned out they were just my size too so I wore them for a long time for our walks. They were brand new and the labels were still on them. And why they got thrown away was just a puzzle to me."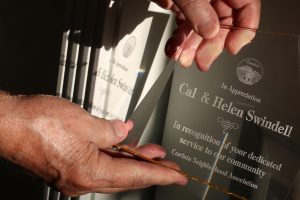 In addition to finding unwanted items, Cal and Helen have also found valuable missing items and united them with their owners. Once they located a passport belonging to a neighbor who was going to need it for a trip she was taking out of country later that week. Another was a wallet a man from Mt. Vernon had accidently dropped getting into his car before driving off. Helen also found a stolen purse that she and Cal were able to reunite with the owner. "On Tremont one day I spied this object off the path so I went over to investigate," Helen recalls. "It was a handbag. It had a bunch of keys in it, a wallet and a checkbook and things like that so I could identify who it belonged to. Someone had stolen it at the mall food court. They were probably taking a credit card or something out of it and that's all they wanted out of it and so they threw the evidence away." Helen called the credit union and informed them of the found handbag. "I was sure somebody would like to have it back and to know what was still there. She had had to change all her locks because her keys were there and everything. You know that's an expensive proposition and so she was thrilled to get it [back]."
When it comes to items that can be connected to an owner the two do whatever they can to find them. "We try to get everything that we can back to the rightful owner," Helen says. Cal adds "It's kind of fun being detectives."
Wave a thank you to Helen and Cal as you see them walking.