Submitted by Sustainable Connections
The Bellingham Food Bank has just received its new 48 panel solar array after the successful Solarize Whatcom campaign. Representatives from Sustainable Connections, Puget Sound Cooperative Credit Union, Ecotech Solar, Western Solar, and Itek Energy celebrated the donation and installation at the Food Bank last week.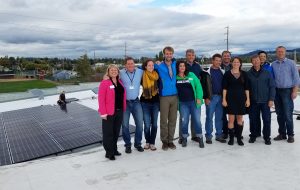 The Solarize Whatcom campaign brought residents and business owners together, helping them navigate solar installation through free workshops, site assessments, low interest rate loans, and assisting with the contract and installation process. For every completed contract signed Solarize partners Itek Energy, Ecotech Solar, and Western Solar donated a panel and installation. In the end 47 contracts were signed, with Itek generously giving one additional panel to round out the array and Hertz Equipment Rental donating the lift for installation.
"For every $10 saved the Food Bank can provide another 100 lbs. of food for families and individuals in our community," said Mike Cohen, Executive Director of the Bellingham Food Bank, "as such, savings from the solar array will help many more Whatcom residents." Early estimates predict an annual savings of $1,300 for the Food Bank, plus additional cash acquired via production incentives from the State of $13,000 over 4 years.
In addition, The Opportunity Council and Cascade Natural Gas assisted representatives from the Bellingham Energy Prize at the food bank last week by handing out LED lightbulbs and providing information about energy assistance for low income residents. The group handed out over 300 free lightbulbs and talked to many families about weatherizing their home for the winter. "Our community is so fortunate to have organizations who work together and provide assistance to low income families," explained Amy Vergillo from The Bellingham Energy Prize. "Many of the food bank clients had questions about energy assistance programs and weren't aware of the energy or money they could save by using the LED bulbs we handed out."
Solarize Whatcom and Bellingham Energy Prize are a reflection of the incredible local businesses and organizations in Bellingham that are committed to strengthening not only our local economy, but also our community. Visit SustainableConnections.org or BellinghamEnergyPrize.org to learn more about these programs.