The humble brick building at the corner of 12th and Harris in historic Fairhaven has been many things since it was built in 1929. What started out as a home for Fairhaven Pharmacy, The Strand (which offered everything from dry-goods to menswear), and the Washington Meat Market eventually just housed the pharmacy. When Fairhaven Pharmacy owner George Finnegan passed away in 1939, his former delivery boy Rene LaCasse took over the business.
"In 1962, LaCasse continued the tradition of passing the business down to former delivery boys," said local historical researcher and tour guide, Kolby Labree. "He sold the pharmacy to Gordon 'Gordy' Tweit, who had started working as a delivery boy when he was 15." Tweit sold the pharmacy to former delivery boy Robin Johansen in 1991, but continued to house his historic collections in the pharmacy's basement.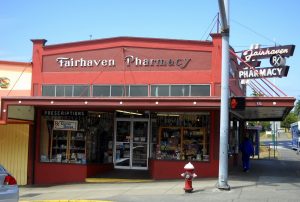 "The building itself seems pretty non-descript, particularly when contrasted with the grand and ambitious brick buildings from the boom-period of the 1890s," said LaBree. But she thinks it's representative of what kind of buildings went up during what she calls Fairhaven's "tough years."
"Those big brick buildings from the 1890s never really ended up serving the grand purposes they were envisioned for, and for most of Fairhaven's history ended up sitting largely neglected, vacant, boarded up, or demolished," Kolby said.
It was the more practical buildings like the one George Finnegan built at the corner of 12th and Harris that stood the test of time because they were less lavish and more useful. The South Side Shopping Tower wasn't much of a tower at all in its single-story stature, but what it lacked in height it made up for in humor:
"Being 50 feet high, 50 feet wide and 50 feet deep, if it ever blows over it will still be straight up… It may be interesting to know that the new Community Hotel is to be the highest hotel west of Chicago and that ours is the shortest Shopping Tower south of Alaska. Nearly all of your earthly needs can be supplied within this towering edifice."
South Side Shopping Tower advertisement, Bellingham Herald, Friday, July 19, 1929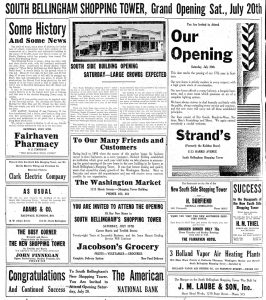 When the historic Fairhaven Pharmacy closed last October after 126 years, many in the community asked how they could help preserve the iconic feel of the historic building. Co-owner and Founder of Signs Plus, Jim Sutterfield, reached out to the new tenants to make sure the neon Fairhaven Pharmacy sign lived on in some fashion.
"You see a lot of these classic, iconic signs that get taken down and destroyed," said Sutterfield. "I have a passion to see those things restored and maintained."
Sutterfield started Signs Plus in 1992 after his service in the Marine Corps. His family had moved to Bellingham, and he started working at the window tinting shop his father had recently opened on State Street where a sign shop had just closed.
His fine art experience was a perfect match for sign making in the days before digital renderings.
"The digital age has allowed a lot of people to enter into the industry who aren't trained designers, so the quality of design has deteriorated a bit," said Sutterfield. Until the mid-90s, hand lettered and crafted signs were the norm, which required a fair amount of training and artistic skill. "For me, signs are both art and advertising. We love making impressionable signs, and many historic signs were very impressionable."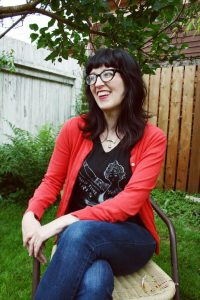 With a 20,000+ square foot facility and 28 full-time employees, Signs Plus is one of the largest sign companies in the state, with projects ranging from sandwich boards and vehicle wraps, to custom electric signs for grocery stores and banks.
"Our strength is our ability to service not only the small business owner's needs, but also the needs of large regional and national clientele," said Sutterfield. "Our roots are in well designed signs, quality craftsmanship, and exceeding the customers expectations. Still today we love doing the small jobs just as much as the big ones."
Current and Furbish is the newest retail inhabitant of George Finnegan's "tower" at the corner of 12th and Harris. They just celebrated their grand opening in late August after moving their business to the Historic Fairhaven District from Seattle, and Sutterfield said that they––along with many other community stakeholders—were interested in maintaining the integrity of the iconic Fairhaven Pharmacy sign.
"The city was enthusiastic about maintaining the historic feel of the sign, and so were the new building owners. Bill Miller with the Historic Fairhaven Association donated $1,800 to the cause and Signs Plus matched that. It's been a real group effort."
The new Fairhaven Pharmacy sign will now read "Fairhaven Historic Village," but it will maintain the integrity of the iconic beacon at the corner of 12th and Harris.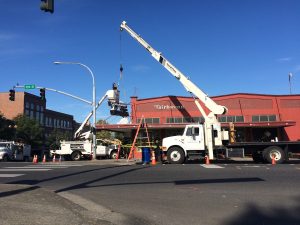 "We're restoring it back to the original hand painting, with as close as we can get to the original colors of neon," said Sutterfield, who has the unique opportunity to be a steward of historic relics while still looking to the future. "It's important to maintain our history, but we have to be progressive as things change."
The refurbished Fairhaven Historic Village sign is expected to be finished by the end of October. Keep up with their progress on this and many other fun projects by following Signs Plus on Facebook and Twitter.
Sponsored