In the past, shoppers found high-end recycled clothing at consignment shops. Only true bargain hunters braved outdated or worn-out clothing at thrift stores. However, Wise Buys, a thrift store tucked along North State Street near Rudy's Pizza, Old World Deli and the Y, resembles a consignment shop without the high price tags.
With recent renovations and the re-opening of Wise Buys last April, shoppers ranging from teens to sage elders find fashion at reasonable prices. And in the thrift store tradition, a shopper can take an additional 50 percent off the item with the right color tag. The other advantage of finding gently-worn treasures at Wise Buys is that proceeds support Lydia Place, a local organization providing transitional housing for homeless families.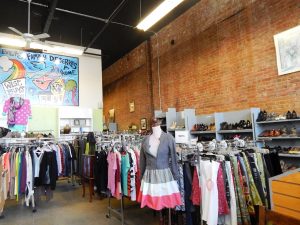 The store now resembles a boutique with easy access to women's and men's clothing as well as household items. Store Manager Nancy Long describes Wise Buys' mission as revolving around diversity. That includes diversity of the treasures available in the shop, the customers, and the shop's volunteers. "In addition to diversity, we recycle everything. Zero waste is part of our mission," Long says. This allows shoppers to buy local and keep clothing out of the waste stream.
The zero waste mission includes recycling paper and bottles as well as donating hard-to-sell goods to ARC, Goodwill, Ragfinery and furnishings to the Re-Store. Nancy is meticulous about recycling everything, and she shares that passion through education with her volunteers.
Taking a tour through the back of the store, we walked past winter boots, coats, and piles of donations. However, the store does not accept every donation. Unacceptable donations include large furnishing, children's clothing, and computer electronics.
However, the store sells children's clothing to Little Bugs Consignment then turns the proceeds into vouchers for children's clothing to help families in need. And as far as used beds, while the store itself doesn't accept them, it will donate gently used beds to families.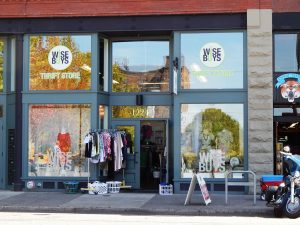 The store concentrates on the biggest sellers — women's and men's clothing. Nancy describes the contemporary thrift shop consumer while bringing Wise Buys up to speed with the current trends. "People buy at thrift stores for fun. Younger customers, [under the age 50], buy the most from the store."
She goes on, "We corner in on high-end brands and fashion that would cost more. And active-wear sells ridiculously quickly." A big seller is sports bras, which according to Nancy, fly out of the store as soon as they arrive.
Besides selling gently used brand name clothing and working towards zero waste, Wise Buys connects with the community in providing job training with Opportunity Council, Work Source, Work First and other similar programs. The non-profit organizations pay the wages of the workers-in-training.
Reaching further out in the community, Wise Buys teamed up with Western Washington University's Center for Service Learning, which connects professors and students to non-profits.
"The non-profit gives them a problem pertaining to organizational change and they work in teams to solve the issue. They have helped me with training outlines, identifying our target customer and communication between volunteers," explains Nancy.
And speaking of school programs, Nancy mentioned a teacher from Nooksack Valley High School who reached out to her. "She was setting up a class similar to the one at the college for high school students as a way to learn about something they were interested in and help the community at the same time."
So far the project reaped beautiful results. "After a few trials of various ideas, the one that has worked the best is jewelry making. I send them all our broken jewelry and miscellaneous beads and they make jewelry for us to sell. I had a full display out of their work in July with the names of each artist. They really did some amazing work!"
Wise Buys landed at its current location in recent years and was purchased by Lydia Place from the YWCA in the late 1980s. With sales from the shop, Lydia Place paid off the mortgage in its first year of the store's operation. The store brings in $80,000 a year, which accounts for 10 percent of Lydia Place's budget. In addition, the store includes four case worker offices upstairs.
Originally, the YWCA opened the thrift store in 1967. At that time the store was called Y's Buys and opened on Champion Street. At one point the store moved to Commercial Street, then later to Holly Street and, after a fire, moved to its current location at 1224 North State Street.
Together with Buffalo Exchange and the hospice thrift store, North State Street acts as a hub for bargain and vintage shoppers. This bodes well for quirky fashionistas searching for blue tag finds. And let's toss in a few good deeds revolving around recycled goods while we're at it.