When asked about his father's company, Moceri Construction, Tony Moceri offered up the business' definition of sustainable design. "Our idea of sustainable building is building homes that last."
Whether Moceri Construction builds palatial homes overlooking Mother Nature or tiny homes constructed to reflect changes in the way people live, the building team offers the best possible service. Customer service is the key to success and it differs with each client, explained Tony.
"We give the best value possible, which includes fine woodworking, well-built homes, houses that stay within budget, and energy efficiency." The company's management style revolves around clear communication and staying on schedule — everything a client asks for when employing a construction company to build or renovate a home.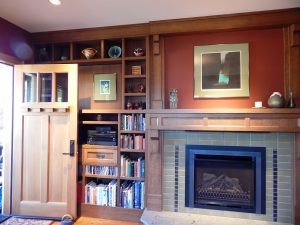 Paul Moceri started the construction company 42 years ago and even at that time, Moceri committed himself to building green with a focus on alternative energy. He built his first passive solar house on his property in the Mount Baker foothills in 1984.
Paul Moceri also built a business centered on community. "One of father's first projects was renovating a home on Mosquito Lake Road." The family who hired Paul befriended him and now they enjoy a multigenerational friendship. That's not surprising since Moceri Construction represents a family business. Paul and his wife co-own the business. Their son Dominic handles the role of project manager, while Tony handles office management. Employees include long-time family friends, and long-time project managers and crew members have also come on board as surrogate family members.
This familial warmth comes through during a visit to the Moceri Construction headquarters. Often a small pack of dogs wander through the offices located in an Arts and Crafts house in the heart of Old Fairhaven. A sense of community lingers, too, since Moceri Construction employed 30 Mount Baker High School grads during its 42 years in business. It currently employs eight Mount Baker High School grads. The construction company focuses on local clients in Island, Whatcom, and Skagit counties and serves residential, non-profit and commercial clients. Look no further than La Fiamma Wood Fire Pizza, Fiamma Burger, Mambo Italiana Café, Yorky's Market on Alabama, and Pickford Cinema for examples.
While we could describe most of the Moceri constructed homes as modern craftsman in natural settings, the company constructed its first tiny house in 2015. In fact, the square footage ranges from 180- to 19,000-square-feet with a 40,000-square-foot synagogue in the works. According to Tony, the company built the tiny home in two months using Forest Sustainable Certified wood products. They bought the blueprint from Tumbleweed Homes (famous among tiny house builders).
Since that time, Tony has developed an interest in tiny houses. He and his brother Dominic teamed up to design and build a second tiny home for the same client located in the Mount Baker foothills. While Whatcom County zoning laws and building codes frown upon off-grid living and tiny houses (the current minimum size is 600 square feet), the tiny house client plans to create models to promote tiny houses and she plans to rent them out with AirBnB.
The first tiny house appeared in Sustainable Connections Sustainable Design Conference during the fall of 2015 where it turned heads. Beautifully crafted woodwork, a fully functional kitchen and bathroom along with a sleeping loft dispelled the classic images of the off-grid models with bucket toilets filled with peat moss. Set on a trailer (wheels), the house sports a covered porch among its many enticing features. When walking into it, the scent of freshly cut wood greeted my nose, and images of classic tiny homes tumbled from my brain as I imagined the possibilities.
Moceri Construction has served diverse clients over the decades including retired school teachers, high-level professionals, authors, and young families. The current trend revolves around clients looking for age-in-place sensitive builders. Moceri can also boast returning clients with La Fiamma Fire Wood Pizza and Fiamma Burger coming to mind. And what's not to love about this local family-owned business that takes pride in their work and offers the best value for the buck?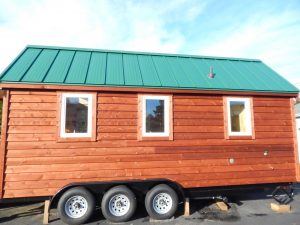 Tony's sense of community doesn't end at the office. He coaches team sports at Mount Baker High School. And he boasts a diverse list of sports including track, cross-country, basketball and baseball. His past employment ventures include co-owning a salon with his wife, real estate investing, and a screen printing business. Not bad for a man who earned a history degree.
In the end, it's about taking pride in one's work. "I find happy customers, happy team members — extremely talented people taking pride in their work — and repeat clients  most gratifying."
Tiny or palatial, Moceri built homes are made to last.