In 1999, Diana Ambauen-Meade went in search of chicken feed for her new chicks and was surprised by what she found at her local feed store.
"I looked at it and said, 'What is that? It looks horrible. And it has what in it?" she says, eyes widening at the memory.
The thought of eating eggs provided by chickens living on such unhealthy feed would not do — so Diana created a high quality, organic recipe of her own.
Little did she know that she had planted a seed for Scratch and Peck Feeds, which would one day offer the first Certified Organic and Non-GMO Verified feed in the United States, a careful mixture of natural grains from Pacific Northwest farmers, processed as little as possible to retain maximum nutrition.
Today, Scratch and Peck Feeds is sold across the country, via its own website, Amazon, Azure Standard, other distributors, retail stores and small farms
Becoming Scratch and Peck Feeds
Diana grew up in Kitsap County and moved to California in the mid-80s, where she and her husband, Dennis, raised their two children.
When their son Bryon was 14, they sold everything — including Dennis' electrical contracting business — and traveled the country in a motor home. (Their oldest, daughter stayed in California.)
At the end of their eight-month adventure, the couple knew they were ready to move on from California.
"We had closed up that particular phase of our life," says Diana. "Part of the trip's goal was to see if there was another part of the country where we wanted to land."
In 2002, they moved to Bremerton to be closer to family. At the same time, Dennis was offered a job in Sacramento, which he accepted.
"It was kind of a crazy time," Diana admits. "Dennis was commuting back and forth, Bryon finished high school, and then followed his cousin to Western Washington University."
In 2009 Diana was slowly building the business. She reached out to local farmers who would all ask, "Now, who are you again? What are you doing?"
"But they were so kind to me," Diana says, laughing. Unable to find a small mill in Washington to help create her recipe, she had the work done in Oregon and sold feed via Craigslist.
Diana talked to nutritionists who helped her fine-tune her recipe. Ideas — and the business — grew.
She did all the legwork necessary to find customers in Seattle, Tacoma and Olympia.
"I was delivering bags of feed and spending lots of time on the road," she says. "But I just had this feeling of paying my dues; I knew something was going to break."
And break, it did.
Diana had visited her sister when she was a Western student and knew she liked the area, but trips to see Bryon sealed the deal: She wanted to live in Bellingham and leap to the next level with Scratch and Peck Feeds.
The first step was to build a mill. Diana, Dennis and Bryon found a 5,000-square-foot space in Bellingham's Irongate area that checked all the boxes.
"When you're first starting out, that seems absolutely huge, and we were like, 'We're never going to fill up this whole thing!'"
Diana lived in the motor home on a friend's property for nearly a year while she and Bryon got the business up and running. Dennis visited on weekends.
At the end of 2010, the couple officially moved to Whatcom County. And within months, Scratch and Peck Feeds had grown enough to expand into a second building next door.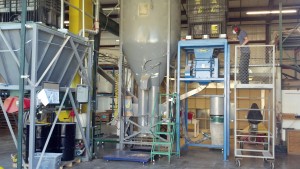 "This family works well together because we all have our separate areas of expertise," says Diana, who is the CEO; Bryon is the operations officer, in charge of the production side; and Dennis is the facilities manager, handling all of the equipment.
And with two buildings, 15,000 square feet, and 26 employees, the company is busting at the seams, both literally and figuratively. They now also sell turkey, pig and goat feed, plus a variety of treats and supplements.
Why Organic?
Scratch and Peck Feed's tagline says it all: You are what your animals eat.
"Once we were able to communicate that to people, they were like, 'Oh, I'm eating my chickens' eggs, but I'm giving them questionable food. Maybe that's not so good.'"
Organic and non-GMO eating are a long-held personal belief of Diana's. "It's the way I've lived my life for a really long time," she says. "That was how I raised my own animals and that mission was important — otherwise, I wouldn't have done it."
Scratch and Peck Feeds became the first feed company in America to become Non-GMO-verified in 2012. In fact, the Non-GMO Project is based right here in Bellingham.
"It was a long process, but we got there," Diana says.
Awards
In 2015, Scratch and Peck Feeds was one of 20 recipients of a $100,000 Mission Main Street Grant from Chase, chosen from more than 35,000 applicants.
Those funds allowed them to purchase new machinery, increase efficiency and productivity, and make it faster and easier to get their products to a growing customer base.
They were also awarded the 2015 Sustainability Champion Award, from Sustainable Connections, for being a leader in promoting Meaningful Employment. And in 2016, they won the US Chamber of Commerce Small Business of the Year Award for the Northwest Region.
Company Culture
Spend a few minutes at Scratch and Peck Feeds facility, and you feel the camaraderie; friendly faces smile as you walk through the warehouse and co-workers are quick to joke and laugh with one another. A spacious break room even holds a drum set and guitars, for spontaneous jamming by the crew.
Just as it was deeply important to Diana that the company be organic and non-GMO, it was equally crucial that employees feel valued, appreciated, and content in their work.
"We, the family, are very much people people," she says. "We care deeply about others; that's just who we are."
And although, when they launched the company, they never imagined it would grow to the size it is now, once it became clear they were going to have a sizable staff, they did all they could to make sure their employees were happy.
Early on, we couldn't afford to pay people very much and we didn't have any money to give them benefits," says Diana.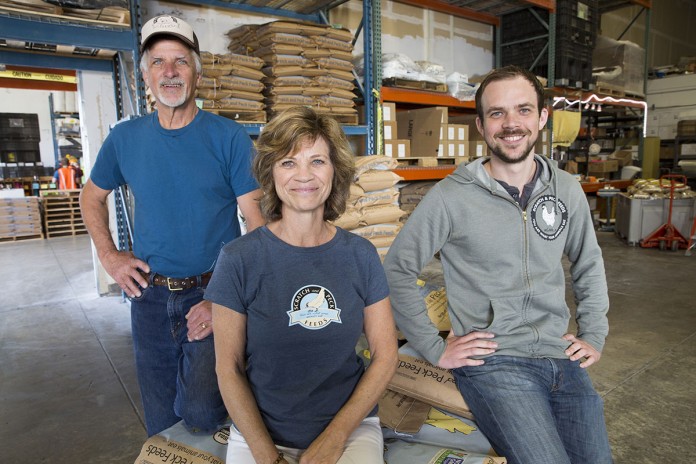 But when the company began to make money, in its second year, employees received fully paid benefits and began to receive more paid time off.
"Early on, we didn't even think of it as "culture," we weren't quite there yet with our management level," Diana says. "But we wanted to be sure we were all treating each other right."
Monthly birthday lunches — organic, of course — are something Scratch and Peck Feeds has long provided for its employees.
"To this day, we try to make a place where we want to work," says Diana. "We really do listen to what they want and what they need."
To that end, Scratch and Peck Feeds is currently in the process of earning its B-Corp status, meaning if anyone else ever buys the company, they must abide by the values put in place by Diana, Dennis and Bryon.
"Scratch and Peck Feeds will always be focused very much on retaining that people/planet/profit model," Diana says. "We're not about the money — that's not why we're here."
Sponsored