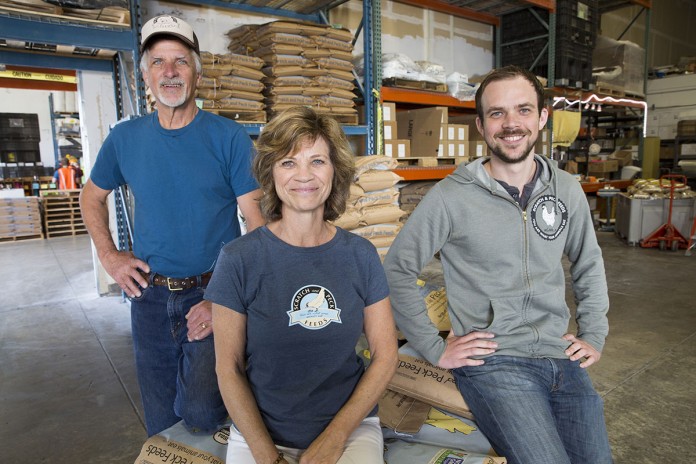 Submitted by Scratch and Peck Feeds
Bellingham's Scratch and Peck Feeds, a Certified Organic and Non-GMO Project Verified animal feed manufacturer, has had quite a year. Last September they won a $100,000 Mission Main Street grant from Chase Bank, which they used to purchase a new robotic arm that will stack feed bags onto pallets and alleviate physical strain on their production crew. That grant was an incredible honor, and now they have been chosen as the Northwest Regional Finalist for the US Chamber of Commerce's annual DREAM BIG Small Business of the Year Award.
The US Chamber of Commerce received a record number of applicants from across the country for the award this year and only seven finalists were chosen. Applications were judged on four key areas — business strategy, staff training and motivation, customer service, and community involvement.
When Scratch and Peck Feeds founder and owner, Diana Ambauen-Meade, learned that they were the Northwest Regional Finalist, she said she was "grateful for the recognition, especially for the emphasis placed on our innovation in the animal feed industry. Knowing where our food comes from is important to all of us at Scratch and Peck, so it's wonderful to know that the US Chamber of Commerce sees the value too."
As a regional finalist, Scratch and Peck will be recognized at the awards luncheon on June 14 during America's Small Business Summit in Washington, D.C. The winner of the DREAM BIG Small Business of the Year Award will also be announced and presented with a $10,000 prize. If Scratch and Peck wins, the money will be put toward new machinery to further increase productivity and turnaround times.
Congrats to everyone at Scratch and Peck Feeds and best of luck on June 14.