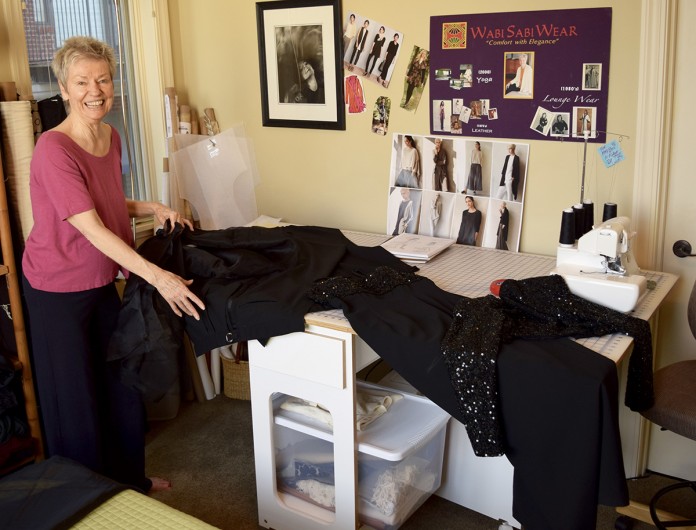 Submitted by Ragfinery
Local job-training and creative-reuse textile nonprofit Ragfinery (ragfinery.com) is drawing on the success of last year's Wedding Dress Challenge with a new up-cycle themed runway show. The Fancy Pants Runway Challenge tasks contestants with transforming one pair of tuxedo pants and one cocktail dress into a single creative wearable item which they'll wear on the runway at the Leopold Crystal Ballroom at 7:00 p.m. on Friday, May 20.
Attendees at the event can expect a highly entertaining and inspiring show, as all levels and ages of textile artists walk the runway showcasing endless creative possibilities for transforming old clothes into new designs.
"There was so much good energy at last year's runway event," said Shan Sparling, manager at Ragfinery. "The participants were into it, the audience was very supportive, and everyone had so much fun. The whole thing really took on a life of its own that we never anticipated and showed us there was a community of artists in Bellingham hungry for this type of creative outlet."
Ragfinery limited the number of contestants to 25 and met that capacity shortly after opening registration. Those contestants have had over two months to work on their creations. Judges will evaluate each of them in three separate categories and cash and gift prizes will be awarded for each: Fanciest, Creative Transformation, and Presentation.
DJ Alternate Fields will provide the musical backdrop for the event while beer from Stones Throw Brewery, wine, and refreshments will be available.
Entry to the event is by suggested donation of $10 at the door, or advance tickets can be purchased for $10 at Ragfinery.com. Additional information about the event can be found at Ragfinery.com.
Ragfinery is a Bellingham nonprofit organization that diverts unwanted textiles from the waste stream and upcycles them in a training business that provides transitional jobs for low-income clients of our partner social service agencies and schools. We collaborate with local artisans and community volunteers to repurpose unwanted garments and textiles into a variety of upcycled goods that showcase the skills and talent of our collective.