Tucked into the lobby of the Four Points by Sheraton Hotel and Conference Center on Lakeway, Chinuk Restaurant's tall, cascading waterfall and dark wood furnishings create an immediately relaxing space. I sank into my cushioned chair and enjoyed the sounds of the falling water mingling with the late evening comings and goings of the hotel lobby.
Chinuk opened in early 2015 following a large renovation. From the beginning, the restaurant has prided itself on its selective partnerships with local and regional producers, sourcing food and beverages from within 360-miles of Bellingham.
"Farm-to-table has become pretty trendy in recent years," said Director of Food and Beverage, Doug Metzger. "We put that slogan to practice."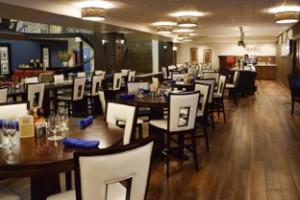 Chinuk's Pacific Northwest inspired casual dining menu boasts locally and regionally sourced ingredients, from breads and pastries baked by Avenue Bread, to Kulshan IPA dipped fish and chips. Their drink menu offers a selection of Washington State beers and wines, as well as cocktails from the adjoining bar at Poppe's 360 Neighborhood Pub. In addition to espresso classics, Chinuk offers Fidalgo Bay Coffee Roaster's cold-brew on nitro tap.
"We're blessed to have access to great quality ingredients," explained Chinuk Manager, Toby Varick. Chinuk takes full advantage of the region's bounty on the menu, and according to hotel General Manager, Larry MacDonald, it's one of the only restaurants in town offering farm-to-table dining during all three meal periods, utilizing the regional seafood, ranches and farm products, breakfast, lunch and dinner.
I decided to take my mom out for dinner and put their menu to the test. We began the way a good meal should always start: With craft cocktails. Poppe's 360 is conveniently located in the same hotel, so the restaurant serves libations from their bar. My mom tried the light and slinky Breakfast at Tiffany's (gin, egg white, POM liqueur and lemon), and I had the sophisticated Walnut Rye Old Fashioned (Rittenhouse rye, walnut nocino, orange and raw sugar).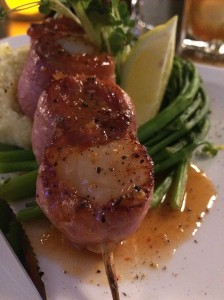 Thirsts appropriately slaked, we began our meal by sharing a large bowl of Penn Cove Mussels. The shellfish was steamed to perfection in a deeply flavored, savory broth of roasted plum tomatoes, chorizo, and pale ale. My mom doesn't venture beyond mild salsa, but — while the broth had a bit of kick from the chorizo — it wasn't too spicy for her to enjoy. We sopped up as much of the broth as we could with the bread that accompanied the meal.
My mom's pan-roasted half chicken from Draper Valley was full of flavor thanks to the herb-filled chermoula marinade. My prosciutto wrapped scallops were perfectly cooked, sumptuous, cured meat wrapped morsels that paired surprisingly well with the sweet chili glaze. Both entrees were served with creamy mashed potatoes and seasonal vegetables (broccolini this time of year).
Chef de Cuisine Jacobb Hodgson had been experimenting with ice cream and asked if we would like to try what he'd been working on. We were feeling pretty full, but being firm believers in the scientific process, we thought we should test his creations, for science's sake. The chipotle peach was lightly sweet and fruity on the tongue. Just when I thought I couldn't taste any spice, it surprised my senses with a pleasant shock to the back of my palate.
"It's like a roller coaster for your taste buds," said Hodgson before we tried the ice cream — and boy was he right. The anise-kissed Chinese five spice ice cream was the perfect cool splash after the chipotle roller coaster. When you stop in for dinner, make sure to ask if there are any ice cream experiments you can be a part of.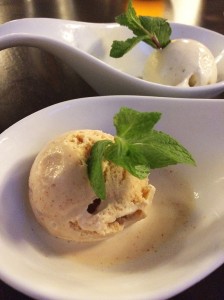 And because we would be remiss not to sample a regularly featured dessert, we did the hard work of finishing our meal with the vanilla crème brulée. Its flame-kissed, sugar top cracked under my spoon and revealed a silky custard beneath. Heavenly.
Chinuk Restaurant is open daily from 6:00 a.m. to 10:00 p.m. (including holidays). You can go all-out and spring for a fancy dinner like we did, or take a more casual approach with any number of sandwiches, burgers, salads and flatbreads. Entree prices range from $12 to $31, so there are lots of options, regardless of your budget. I've got my eye on a few different dishes, like the aged sharp cheddar biscuits and gravy for breakfast, or the classic Reuben for lunch. Looks like I'll need to head back again soon (for science, of course).
Chinuk Restaurant
Four Points by Sheraton Bellingham Hotel and Conference Center
714 Lakeway Dr.
Bellingham, WA 98229
360-671-1011
www.fourpointsbellingham.com/bellingham-restaurant
Sponsored