Guided by dedicated teachers and led by the students themselves, Sehome High School's Science Olympiad teams learn and compete in a variety of science-based events at the regional level while also learning valuable life skills and having a whole lot of fun. They were recently successful at the regional level, advancing two teams to the state competition in April.

Now-retired Sehome teacher Craig Ferguson first started the Science Olympiad at Sehome about 15 years ago with just handful of students. They were very successful competitors for many years, at times winning at the state level and advancing to the national competition. When Sehome physics teacher Mark Toney and chemistry teacher Amy Hankinson joined in helping about eight or nine years ago, the approach changed. "Our style is totally different," Toney explains. "We're not as focused on winning at the state level. We're more excited to include more students."
Eight teams of Sehome students competed in seventeen events at the Northwest Regional level on March 5 at Seattle Central College. That's more teams than any other school in the state. "The next largest participating school in our state only has four teams," Toney notes. "We tried to get two more teams because we had so many interested students," Hankinson adds.
Each team consists of fifteen students and one alternate. A team leader is designated and each member competes with a different partner from their team in two or three of the seventeen possible events spanning all aspects of science — computer science, statistics, engineering, environmental and forensic science, physics, biology, chemistry and geology, to name a few.
Every event is slightly different, involving demonstration of a combination of skills from written and laboratory performance tests to hands-on activities such as designing and building objects in advance or on-site engineering construction. Most students have a general idea of what they'll be asked to do but won't know exactly until the event begins. For example, senior Kate Cunningham knew that she would be competing in the fossil identification event. "I know that the test will be based on specimens from a list of 100 possibilities, but not which ones so I'm currently trying to learn them all," Cunningham explains, laughing. Students are scored by judges in each event and then individual scores are totaled for each team to determine which schools will advance to the state competition.
The students are successful because of the tremendous support they both give and receive. In addition to the multitude of hours — and pizza — Toney and Hankinson donate to help guide and supervise the exuberant teams, students that have attended previous competitions also mentor first-timers. Many students also help with aspects other than competing in science events, including graphic design, social media, photography and filmmaking. Eight other Sehome science teachers also showed their support by attending the out-of-town event in March.
When you ask students what they love about Science Olympiad you get a wide range of answers that explain why this year's gender-balanced, free, inclusive team has over 140 students participating. Some see it as an extension of their high school learning experience.
"Science Olympiad events envelope the relevance of the textbook science we learn in class, so it's a great application for what we're learning," junior Zoë Dietrich shares. "It gives us a look into the real world. And you don't have to be amazing at science to participate."
Some appreciate that it might help them figure out the future. "You also learn about different career choices, which is important for high schoolers," junior Eric Newcomer adds.
Others see it as an opportunity to stretch their limits. "There are so many people here who wouldn't necessarily be a big part of science, but we have such a relaxed culture that everyone wants to be involved, so we have a giant team," senior Ali Morrow explains.
"I think one of the coolest aspects is the interaction between students. Freshmen work with seniors, sophomores with juniors — you're working with people you might never talk to otherwise," junior Jackson Schroyer adds. "We meet new people and learn from other students or figure it out together."
Many of the students are there simply because they enjoy exploring science. "People get excited about science who don't usually consider it something they like to do. We have fun doing it and that's the best part," senior Katrina Dank says. "There are a lot of things I would never do ordinarily, like make a wind turbine out of balsa wood…. It forces me to learn about it and it's kind of cool," senior Elias Hargadine adds. "It allows people to come out of their shell and embrace their nerdiness. Everybody has that inside of them," senior Nick Bourlier explains.
The teachers help, but the students lead the way. "Science Olympiad is nearly completely student driven," Toney explains. "Team leaders have to collaborate to form the teams and manage communication, lead the events, and get forms filled out and turned in," Dank adds. "The competition is pretty chaotic. We also have to figure out what times people have their events, resolve time conflicts for partners, and then schedule all the building events," Dietrich says. "It's a lot of work, but it's fun."
These teens also seem to be learning about perseverance, improvisation and bouncing back after failure. "The best stories are when things don't work out," Dank explains. "We've had some hilarious moments and those are what I remember most about Science Olympiad."
"For one event, another captain and I spent 18 hours making something in advance that was supposed to fly and then we got there and it broke," Morrow recalls, laughing.
Students pin their successes on hard work and the dedication of their teachers to the student science community built at Sehome. "Honestly, the reason, in part, why we have so many students involved and coming back each year is because the science department here is spectacular," Newcomer notes. "We have arguably the best teachers. They are fun and interesting, they teach well, and everyone just loves them." That dedication is felt by each of the students. "They honestly care so much," Dietrich adds. "They want us to do well and have fun."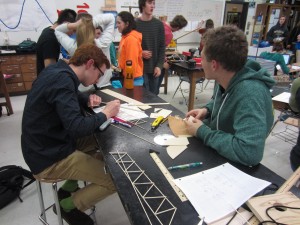 Two teams of fifteen students plus a few alternates will head to the state competition on April 16 at Eastern Washington University to compete against the top seven teams from each region.
"Amy and I choose students from our eight teams who did best at the regional competition to form two new teams," Toney explains. Only the top team from each state competition will advance to nationals, this year held in Menomonie, Wisconsin at the University of Wisconsin-Stout.
For Sehome, it's not as much about winning as it is about having fun while learning. "The competition to go to nationals is pretty steep. We love Science Olympiad because it's super fun and it gets kids that weren't already tuned into science excited about it," Toney says. "It gets the kids working on their own, as much or little as they want. It offers them something at whatever level they're at."