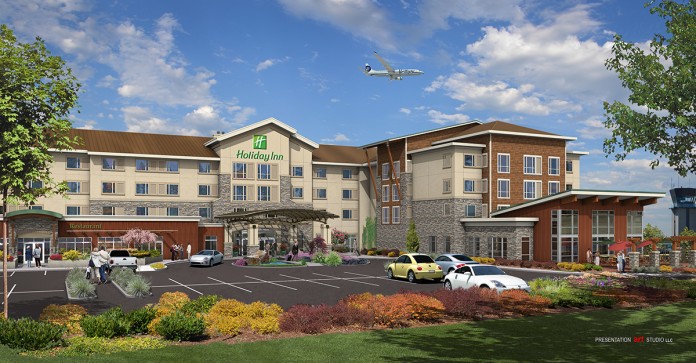 Submitted by Holiday Inn and Suites — Bellingham Airport
Holiday Inn and Suites — Bellingham Airport is pleased to announce two important hires:
Therese Lundvall, Director of Hotel Operations
Randi Axelsson, Director of Sales and Marketing
Ragan Humphrey is currently managing pre-opening activities for the project, and will assume the hotel's General Manager role when the hotel opens (currently slated for mid-October, 2016).
Humphrey, with over 40 years in Food and Beverage (F&B), is currently assembling a management team and developing the food and beverage operations for the property to ensure that quality and service comes first and foremost. Humphrey's extensive F&B background includes the development and launch of Johnny Carino's restaurant in Burlington, as well as numerous years in operations of regional restaurants and resorts.
Lundvall is currently General Manager at the Candlewood Suites hotel in Burlington, WA; and has demonstrated all the key characteristics required in her new role. "She is an IHG award winning General Manager! She is passionate about service excellence, highly regarded with InterContinental Hotels Group (IHG)'s Candlewood Suites brand leadership team, and we're very excited to see her develop another award-winning team in Bellingham", exclaims Humphrey.
Axelsson has over 20 years of hotel sales experience, most recently at the Silver Reef Hotel Casino Spa. In her new role, Axelsson will be responsible for the sales and marketing of the hotel's guest rooms, its ample meeting/convention space and the new Northwater Restaurant and Bar. Humphrey adds that "Randi has a tremendous amount of knowledge and experience. We're thrilled about her passion for the community and our shared excitement about getting us off to a great start. Her focus will also be to bring new business to Bellingham by continuing to show external markets the amazing place they can visit to change their pace and relax, or be productive."
Having worked on the concept since mid-2015, Humphrey is especially excited about the new Bellingham F&B experience. He notes that "Northwater will be a hip and comfortable-casual, full-service restaurant with locally sourced and sustainable fare on our progressive menu that highlights the best of the Pacific Northwest. Travelers and locals alike can relax and unwind in our lively bar area, or enjoy patio dining."