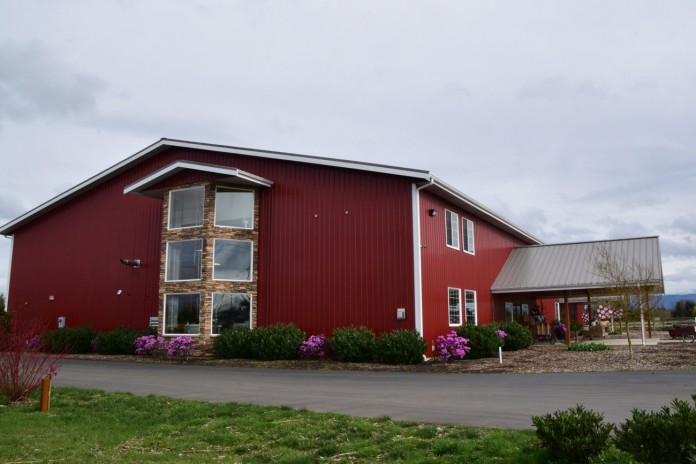 Everyone naturally makes a beeline for BelleWood Acres when it's harvest time: apples, pumpkins, the corn maze — all the usual autumn suspects are in high demand.
But BelleWood Acres is a wonderful spot to stop at every day of the year, offering fantastic breakfasts and lunches daily and a variety of scratch-baked goodies you can take home to enjoy. Have friends in town? Take them to BelleWood. Need a place where children can run while moms enjoy the dinner, store, or distillery? BelleWood is your place.
There's also an overflowing farm market, marvelous gift items, and fun décor galore to be had. And BelleWood Acres hosts regular farm tours and events, local art shows, distillery dinners, holiday celebrations, and much more.
BelleWood Acres' 14,000-square-foot building — the unmistakable red barn-like structure perched on the Guide Meridian right between Bellingham and Lynden — is regularly rented out for weddings, business events, and other community gatherings.
But first came BelleWood Farms.
The BelleWood beginnings
Wisconsin natives John and Dorie Belisle moved from Florida to Whatcom County in 1995, where they bought a 30-acre farm on the Ten Mile Road.
"Whatcom had everything we wanted," says Dorie. "A great ag community, great university and culture, and God's playground. What more could you want?"
At that time, the apple industry was looking for more Jonagold growers. (Jonagolds thrive in Western Washington's climate.) The couple planted its first 10 acres of trees in 1996, followed by five more in 1998. Their original plan was to work with packing houses in Eastern Washington, where the apples would be packed and sold.
But as big plans often do, they changed, and the Belisle's added Honeycrisp and other varieties to their orchard and switched to handling their own sales.
"We started putting out boxes of apples," says Dorie, "and people would stop by, grab some, and put money in a cigar box."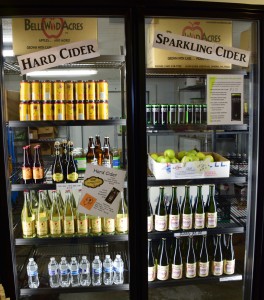 As more people came to the farm, the couple realized it was fun to teach others how they grew their apples.
"Our hearts are with people," says Dorie who, with John, had owned an automobile repair shop and gas station in Florida. "So it was a natural transition back to taking care and being part of the community. We love it."
"Yeah, you're nothing without that touch to customers," John continues. "Dorie and I do it in very different ways, but the customers are key to this. People come up and hug you; they come in every day and say, 'Don't stop.'"
The couple's combination of local retail and wholesale took off.
Once BelleWood Farms started packaging apples, they had seconds left over — so a cider line made sense. A wholesale kitchen followed, churning out delicious homemade pies, pastries, cookies, and more.
In 2008, continued growth convinced the Belisles to purchase neighboring land from friends, along the Guide Meridian. They secured a grant to help install a bridge over the creek dividing the two areas, and suddenly they had access to more acres — plus space for retail and plenty of parking.
"We pick 1.5 million to 1.7 million pounds of apples a year now," says John with a chuckle. "It's insanity."
The expansion into BelleWood Acres
Sitting in the Country Café as we talk, Dorie and John can see around them the culmination of all they've built since those early days.
"We knew if we were going to build this building that we couldn't make it on apples and fresh cider alone," says Dorie. The couple decided to create a true community farm, ready to host any type of event, with a full kitchen, fantastic caterer — they team with Pamela Felke and Thomas Sandblom's mouth-watering Crave Catering — a retail shop, and more. BelleWood Acres Distillery and Event Center opened in July 2012.
The retail space alone is worth a visit to BelleWood Acres, with its colorful collection of gift items and lovely décor pieces. Dorie carefully curates each piece they sell. "I only purchase things I think I can give to my six sisters for Christmas," she says. "If I look at something and can't think of anyone I'd give it to, I don't buy it."
Dorie says many people peruse the store while waiting for their food to be served. "Or when the guys want to do distillery tastings and the women aren't interested, there's something else for the ladies to do."
Distillery tastings? Yup. Folks are welcome to stop in every day between 10:00 a.m. and 5:00 p.m. to sip the variety of spirits made right on site from BelleWood apples, from vodka and gin to brandy and pumpkin-spiced liqueur.
The distillery itself is a sight to behold, as it rises up, up, up in all its copper glory, the centerpiece in the building's stories-high front window.
"From growing the apples and making the cider to fermenting the cider and then taking that hard cider and distilling it — it's all done here," says John.
"We love telling the story of the distillery," Dorie continues. "So when people come here, there are free tastings, but they'll also learn where their spirits are coming from."
Year-round events
BelleWood Acres' biggest challenge is letting people know that they're open all 12 months of the year.
"We welcome families year round," says Dorie. "There's so much going on all the time."
The farm celebrates every season — from Easter to Christmas, there's always some special event on the calendar.
The Apple Blossom and Honey Bee Festival takes place on the last weekend in April, when the trees are in full bloom. "It's so neat to have families come out and take family pictures in the orchard," says Dorie. "Or if you're a photographer, just come out and take photos of the bees. Celebrate the beginning."
Mother's Day celebrates moms everywhere with a country brunch and mimosas, orchard tours, free massages for moms, a pop-up flower shop from Pozie by Natalie and more. Dads get their special day too, with a big car show every Father's Day.
"We try to celebrate with something special in the café for every holiday," says Dorie.
Summer means creating a living flag on Memorial Day and a Fourth of July celebration the weekend before the big day (BelleWood Acres closes on the holiday so their employees can celebrate with family and friends).
Wedding season is always busy at BelleWood Acres, offering a spectacular spot under Mount Baker's watchful eye for brides and grooms on their big day.
And then it's harvest season again, a two-month celebration with live music on the weekends, u-pick apples and pumpkins, and a cavalcade of fun family activities.
"Harvest weekends are always jam packed with music and good food," says Dorie. "It's just a big party — because that's what harvest is all about."
Regular and annual events at BelleWood Acres also include All Apples Farm Tours, Farm to Glass Distillery Tours, a 5K Family Orchard Run, a Hard Cider Festival, and much more. Check BelleWood's website for upcoming events.
What it all comes down to for John and Dorie Belisle is that it's been a privilege to create BelleWood Acres and share it with Whatcom County.
"To coax food from sunlight and soil is the biggest honor on earth," says John. "Everything else we've done by comparison is pale."
Dorie agrees. "It's a new miracle that happens every spring and you never get tired of it."
BelleWood Acres
6140 Guide Meridian
Lynden WA 98264
360-318-7720
www.bellewoodfarms.com
Country Café and Store hours:
8:00 a.m. to 5:00 p.m., daily
Distillery hours:
10:00 a.m. to 5:00 p.m., daily