Submitted by Pickford Film Center
You are invited to join us again on the red carpet, sip and schmooze, and mingle with the who's who of Bellingham at Pickford Film Center's 7th annual Academy Awards viewing party — The Red Carpet Affair. This swanky benefit event sponsors Pickford Film Center's Education Fund, which provides innovative Media Literacy courses and Doc-ED documentary screenings, free to local middle school students
The Cause
All proceeds from the evening will go to benefit Pickford Film Center's Education Fund. The Pickford Film Center is expanding K–12 education initiatives by continuing to create new programs that serve our community, and build a new audience of future filmgoers. The Mary Redman Foundation and Pickford Film Center's Board of Directors have generously presented a $10,000 Challenge Gift for the evening. Come prepared to join together with fellow attendees, and rise to meet this challenge!
The Scene
Start your evening by making a grand entrance on the Red Carpet — be sure to pose for the flashing cameras of the paparazzi along the way! You'll be welcomed by our glamorous volunteers who will give you two drink tickets and guide you into the lobby of Pickford Film Center, which will be dressed to the nines itself. Visit the professional photographer to have your gorgeous mug photographed in front of the Pickford Film Center backdrop.
The Flavors
Enjoy a decadent cheese board, passed appetizers and gourmet hot dinner bar by twofiftyflora, featuring an eclectic northwest inspired menu with primarily locally sourced ingredients. The dessert bar will delight both your eyes and your taste buds, and a premium coffee service will round out the evening perfectly. The bar will be stocked with special edition wines and sparkling selections, and creative cocktail queen Sara Galactica will be mixing exclusive themed cocktails, available for a donation.
The Entertainment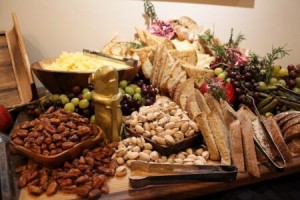 The broadcast of the 88th Academy Awards will begin at 5:00 p.m. and this begins the evening of entertainment. The awards ceremony will be screening in both cinemas and in the lobby, so grab a seat or feel free to roam around. Intermezzo fun will be dispersed throughout the commercial breaks — so be ready to win prizes with some interactive games, enjoy some live entertainment, and learn more about the story of Pickford Film Center.
Tickets available online at www.pickfordfilmcenter.org.