Nicole Bishopp is an illustrator and painter who never expected to draw or paint. Her passion for years — and first foray into selling her art — was ceramic sculpture, which she studied in college.

But after her son was born five years ago, Bishopp's sleepless nights turned into inspired doodling with a Sharpie and a new creative obsession.
Those drawings evolved into designing and hand-painting skate decks, snowboards and surfboards. Today, her creations can be purchased on wall panels, textiles, jewelry, phone cases, puzzles and much more. Bishopp also regularly creates custom, commissioned pieces.
Last summer, Bishopp moved to Bellingham from Wenatchee with her husband and son.
"I'd been kind of manifesting the move for awhile," Bishopp says with a laugh. "I was living in Wenatchee, selling my art there online because there was no art outlet, and I just kept thinking there's got to be a better place."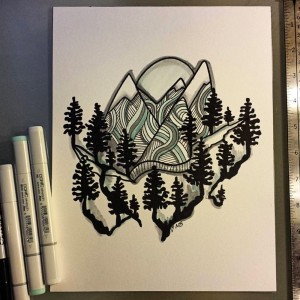 Bellingham and Mount Baker beckoned, a perfect place for Nicole and her outdoor-loving family.
"It's been phenomenal," Bishopp says. "I put out so many intentions that this was the place for me that when I got here I was just full of happiness."
Before moving to Bellingham, Bishopp completed a degree in fine art and opened a pottery business.
"That worked out well until my husband and I started traveling and moving around a lot, and that put everything on hold," she says. "I stopped art for awhile and didn't get back into it until I had my son."
Bishopp didn't like drawing or painting in college — in fact, she thought she was terrible at both. "I've always been three-dimensional, more hands-on creative," she says.
But when she struggled with postpartum depression, Bishopp bought a pack of Sharpies and began to doodle as a form of relaxing therapy.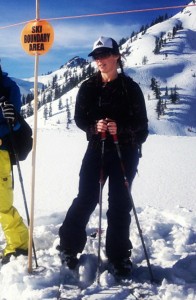 "The Sharpie art came about because Sharpies are really cheap. They're a hard marker and they just last," she explains. "And they're fun to use because it's a nice contrast and you can really get a dark dark."
Bishopp's detailed, swirling doodles — which she describes as inspired by the ocean, mountains and concrete waves — began to get noticed.
"People were like, 'Oh my gosh, that's amazing. Can I buy it?'" Bishopp says, laughing. "I was like, 'You want to buy that?'"
She didn't truly see the appeal of the work until a friend told her to really look through all her drawings — and start adding color.
"I started with digital coloring," Bishopp says, "and then I won a graphic contest for Revolution Snow and Skate in Wenatchee and decided to hand paint. I needed to get dirty."
As soon as Bishopp completed that first skateboard, she knew it was the direction in which she wanted to go.
"I love skating and snowboarding and thought I might as well put surfboards in there too," she says. "Todd Fischer, surf artist and friend, asked me to sell my stuff over in Westport, and I sold everything. It was amazing. He showed me that I could do this and it was completely possible."
Seattle group RAW Artists took on Bishopp and set her up with a show in San Diego.
"As soon as you hit California, everybody thinks you're somebody," she says. "But I was just starting out! One guy wanted to license t-shirts. It just went crazy."
The ensuing years have seen her name recognition grow, with designs popping up for Colorado's OZ Snowboards, Heckler Magazine, Avalon7, Paul Jensen Surfboards, and more.
"But I'm not here to just design snowboards for a living," Bishopp says. "What makes my living are my collectors and my commission work."
Ask if Bishopp is pleased with where her art has brought her today and she doesn't hesitate: "I'm completely satisfied," she says. "This is a dream come true!"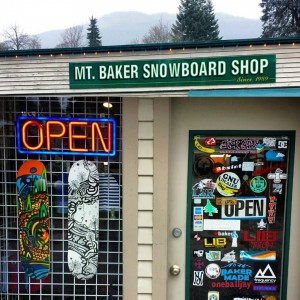 She's confident that if she puts the intention out there — for further inspiration, more clients, bigger challenges — it's going to happen.
"I have to be careful what I ask for because I don't want to be overwhelmed," she says. "And I think that's true for anybody: If you really want it badly enough and you ask for it, it will happen. You just have to know you're ready."
You can currently find Nicole Bishopp's painted skateboards and other items locally at the Mt. Baker Snowboard Shop. Visit her online store to peruse an array of products or contact her directly for custom commissioned pieces.