If you haven't been down to Bellingham's newest late-night venue, Café Bouzingo, you are missing out. Located downtown on the south end of Cornwall, across from the Leopold, the café is broaching new territory for Bellingham's lounge music scene. This dazzling spot is a haven for music lovers (and those who appreciate amazing acoustics), great conversationalists, and those who just want a comfortable place to hang out with a hot beverage or hookah in hand.
When you walk into Bouzingo, the first thing you notice is the dramatic floor-to-ceiling gauze drapery that's reminiscent of a 19th-century French-bohemian lounge. The venue has struck the perfect balance between elegant and cozy. The long, spa-like curtains are balanced by plenty of down-to-earth furniture and even pillows, to really get you into relaxation mode. The menu currently consists of fine, locally-sourced items, such as coffee from Lettered Streets Coffee House, tea from Great Horse Teas, and a variety of aromatic shishas: Standard, Herbal (non-tobacco), and Premium. Live entertainment is part of the experience nearly every night, too.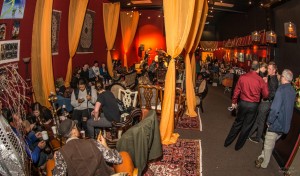 If you are unfamiliar with hookah, it is an instrument, also known as a water pipe, through which people smoke or vaporize flavored tobacco called shisha. It has been a social, community building activity, similar in practice to a coffee shop or peace pipe, for thousands of years. It creates a way for people to relax together, discuss, and perhaps even solve, the problems of the world. Hookah was invented in either India or Persia and has settled mostly in Turkey and Egypt, though hookah bars are gaining in popularity and can now be found in countries all over the world.
For those concerned about being around smoking, Café Bouzingo is the opposite of a smoky bar. Because the hookah works through vaporization, the environment is smoke-free. If you were to smell anything at all, it would be a subtle, sweet aroma, akin to incense. If hookah still hasn't piqued your interest, Shannon McLaughlin, Café Bouzingo owner and executive director, encourages everyone to "come on down anyway, enjoy some live music, and sip on delicious coffee or tea."
McLaughlin opened Café Bouzingo about three months ago. Aside from Bouzingo being a great place to connect with friends, study, or just relax, McLaughlin's hope is that it can serve as a gathering place for open-minded discussions. Her original vision was to "make a place where people can gain perspective and learn and grow together."
McLaughlin graduated from Western Washington University in 2010 with degrees in English Literature and Art History. She went on to work in Seattle for a stint at The Triple Door, which is well known for its fast-paced, upscale restaurant and bar. It is commonly heard, "Once you've worked at the Triple Door, you can work anywhere." The trifecta of McLaughlin's experience in art, perspective, and great service, gave rise to her new business dream.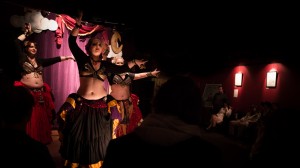 McLaughlin explains that among the most important parts of her planning phase, opening, and continued success have been her mentors and the strong bond of Bellingham's business community. "I hope we can continue to band together to make each other stronger," she says. "I even included a list of emotional support people in my business plan, and that has turned out to be the most important part."
Finding the building where the café now resides was a pure stroke of genius for a performance-focused business like Bouzingo. The Amadeus Project — a music school that invested in upscale acoustic architecture for the building — previously occupied it. "The acoustics here are out of this world," McLaughlin shares. "A few bands have done completely unplugged sets, and they sound amazing."
This luck in the world of acoustics has segued perfectly into Bouzingo's goals for the future. Bouzingo already hosts a wide variety of nightly entertainment, but the café's ambition is to move toward being an even more performance-oriented venue. "We would like to host bigger names moving forward, and maybe even try our hand at dinner theater someday. I'd say a long-term goal is to reframe the way the citizens of Bellingham view music and the arts — as intrinsically valuable and an important stimulus to our economy."
Check Café Bouzingo's events calendar for its upcoming acts. Recurring weekly events include an Artist's Open Stage, which could be dance, spoken word, or music (every Tuesday); Lounge Culture, an evening of relaxing house music by locally grown artist, DJ Rashaan (every Friday); and Band Night, taking place every Saturday, which brings together a local act with an out-of-town act for an exciting evening of musical talent.
The café can be reserved for private events as well. It's a great place for business events, holiday parties, and even weddings. One of Bouzingo's biggest hits so far has been its New Year's Eve fundraiser, benefitting DVSAS. The packed-house event was hosted by performance group The Deacon's Ruse and included burlesque, belly dancing, comedy, puppets, and a raffle. More than $1,000 was raised for DVSAS that evening. McLaughlin hopes to host charitable events on a quarterly basis.
The name Bouzingo, as you're probably wondering by now, originated around the same time as the term Bohemian, describing young artists, poets, and writers in Paris in the 1830s. Bouzingos, specifically, aimed to shake up the status quo with their stories and antics. The word Bouzingo was synonymous with noise, in the sense that it disturbed the bourgeois class, allowing new perspectives to be seen and heard. Gérard de Nerval was maybe the most famous Bouzingo, and among other things, is known for walking a lobster down the street on a leash.
McLaughlin has created a place where people of varying perspectives can come together and be heard. One of her all-time favorite stories goes as follows: "In a coffee shop one time I saw this big, grizzled old man who lived out in the woods, completely off the grid. A young punk-style kid started a conversation with him and was complimenting him on what a statement that was to be off-grid and all that is wrong with our society. The old man replied, 'No, actually I just like to be alone,' which then led to an even deeper conversation and connection over that topic." It's clear that McLaughlin likes to shake things up and bring people together. It's obvious now why Bouzingo is such a fitting name for the café.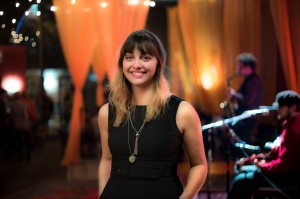 Café Bouzingo is open Tuesday and Thursday through Saturday from 7:00 p.m. to midnight. The café is located at 1209 Cornwall Avenue in Bellingham. There's a $5 membership fee to join Café Bouzingo's social club, which allows admittance for the year. For more information, visit Café Bouzingo online.