When Jeff Evans made the leap from Seattle Mariners Assistant Director of Baseball Information to Western Washington University Sports Information Director in October 2015, some friends worried it could be a step backward.
Not Evans.
In fact, he happily left what had been a dream job, all in the service of his young family.
"I look at it as a step forward," he says. "Because I'm able to do my own thing here and also raise my family in this amazing community."
After nearly a decade with the Mariners, Evans came to a crossroads: Did he want to continue down a path of living the single man/sports fan's dream or be around his family a whole lot more?
The decision was easy.
Evans grew up in Gig Harbor, watching Mariners baseball. As a freshman at Washington State University, he heard a man speak about his career as a publicist for players like John Olerud and Drew Bledsoe. The mix of journalism, public relations and sports hooked Evans instantly.
"I volunteered my freshman year with the baseball team, running the scoreboard," he says. It didn't pay, but it certainly paid off. "My sophomore year, the director asked if I wanted to oversee baseball."
While at Wazzu, Evans also got involved with football and basketball, working the events and really getting to know his intended profession.
With a couple summer internships under his belt, Evans was offered a job after graduation from Arizona State University's baseball coach.
His goal was to learn as much as he could, have fun, and ultimately get back to Washington State.
"I wanted to work for the Mariners," he says. "That was my dream."
After a five-year stint in Arizona, Evans went to the Texas Rangers for one year, before his dream position opened up in Seattle.
Evans traveled with the team extensively, writing game recaps, researching statistics, and working alongside superstars like Felix Hernandez and Ken Griffey Jr. — heroes to millions.
Eventually, Evans met his wife and started a family. With two young children in the picture, priorities began to realign.
Evans was rarely home during his tenure with the team. With 162 baseball games each season, plus spring training, Evans was at 120 — and writing about all of them.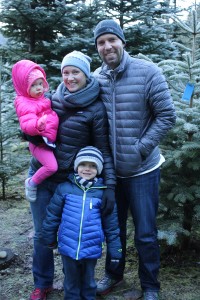 "During the baseball season, it was hard for me to be around," he says. "It came down to: How can I be at my son's baseball games?"
The rising cost of living and traffic headaches also had Evans reevaluating what he wanted to do professionally and how to balance that with family.
"I did some soul-searching, and then this job at Western came open," he says.
"I interviewed them as much as they interviewed me."
Evans took over the role of Western's Sports Information Director from Paul Madison, who left after 47 years.
"I have a lot to learn to get up to speed and look forward to learning all the sports programs and the great history," he says. "I'm taking over for someone who cared immensely about the history of WWU Athletics and I look forward to keeping that tradition alive."
Many would find Evans' current Western workload hectic — following 15 different sports requires a lot of juggling. But it's a far cry from the travel and intense schedule of working for the Mariners.
"I came in during the confluence in the fall and winter sports, where basketball was starting up and soccer and volleyball were going on," says Evans. "I was thrown definitely into the deep end, with my day-to-day making sure all my ducks are in order for all the sports."
Part of his job includes overseeing the Western Athletics website and interacting on social media.
Evans hopes to step up Western Athletics' social media game, keeping things updated and making sure every sport is covered, while also staffing events for statistics and coming up with new ideas.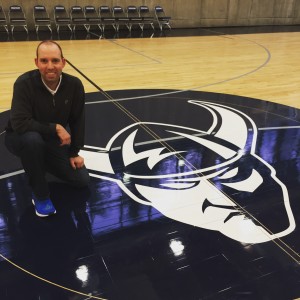 "I'm very much in the evaluation stage, just trying to produce as much content as I can for our athletic teams, for the website and social media," he says.
Evans is already a familiar sight at Western.
"I'm monitoring every event and I'm at a lot of them — that's the nature of the beast," he says. "But you can plan a lot more in advance and it's not every single day. I look at this as a nice reprieve."
He's quick to add that it's also a lot of fun. "Being around the collegiate atmosphere again is really nice," he says. "Getting to know all the coaches and student athletes has been a great experience."
Evans plans for this new position to be long-term. "I've already done this job at the highest of levels for 10 years in Major League Baseball," he says. "Now I want to take everything I've learned and implement it and hopefully grow the department."
And his goal to spend more time with family? That's been a home run.
"This job has provided all that and more," he says. "Everything being within 5 to 10 minutes away means so much when you're raising a family."
Evans and his wife have enjoyed discovering favorite running trails — bringing their son and daughter along in a double stroller — as well as Bellingham's much-loved breweries and coffee shops.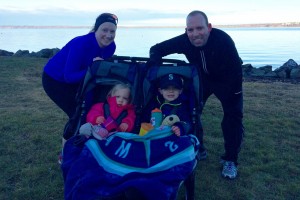 "We love craft beer, and the fact that we can bring our family to Elizabeth Station or to Kulshan Brewing or Boundary Bay and enjoy those Sunday afternoons where we just sit and talk," he says. "Or The Woods! There seems to be one on every corner and we love supporting a local business."
Evans and his wife have also fallen for the Bellingham Farmers Market and walking to Fairhaven from Boulevard Park.
"There's just so much to do here," he says. "And we haven't even gotten out to Baker yet! It's really refreshing to have so many outdoor recreation options right on your doorstep."
For all the positive changes the move to Bellingham has brought, there are a couple things Evans knows he'll miss about being with the Seattle Mariners.
"I'll miss working alongside the players and also the thrill of having my work on a national stage. "When I'd put something out on Felix Hernandez, it would often end up on Sportscenter," he says. "But I'm fine with it."
Evans hasn't looked over his shoulder since leaving the organization, but he is already looking forward to returning next summer in a different capacity.
"It's going to be great to go down to Safeco Field with my son and sit in the outfield and just watch a game," he says, smiling. "I haven't watched a baseball game simply as a fan in the last 15 years."
And though he admits there will likely be moments in the coming Mariners season where he'll be tempted to pull out his laptop and email the PR staff with a stat or two — old habits die hard, after all — he'll stop himself, because that's not what he does anymore.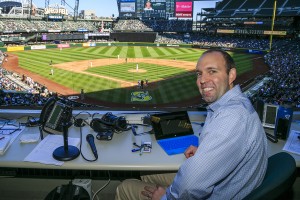 "I have a lifetime's collection of memories in my mind and on my shelf — from Arizona State and Team USA Baseball to the Texas Rangers and Seattle Mariners," he says. "And now I get to do that all over again in a town like Bellingham and at a school like Western."
Read Jeff's thoughts about his final game with the Mariners at his personal blog.
http://voiceofjeff.blogspot.com/2015/10/my-last-game-with-mariners.html