By Laura Rogers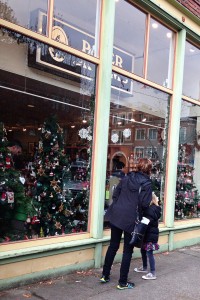 We live in a place bursting with talented local artisans peddling endless holiday treasures to behold. For those unfamiliar with shopping local for the holidays, it's easier than you think. There are holiday markets where you can check-off everyone on your list in one place, or, if you prefer holiday shopping in your p.j.'s from your laptop, you can do that locally, too. There are local artisans on Etsy (a handmade online marketplace) whose amazing products are just a click away.
Whatever your shopping style: downtown, farmers market, online, or artists market, we've got you covered with convenient and novel ideas. Your friends and family will be thoroughly impressed by your local shopping savvy!
Local Markets 
Holiday Festival of the Arts
Allied Arts' Holiday Festival of the Arts is a local favorite. Tried and true is an understatement. This stellar seasonal arts market has been going strong for 36 years. And this year it will be open for a full five weeks, showcasing more than 100 artisans and craftspeople. Katy Tolles, the artist coordinator for the event, comments that "for those who seem to have everything, you can find that special item by shopping locally for one-of-a-kind handmade items at Allied Arts!" The market even features Friday and Saturday night happy hours this year from 4:00 p.m. to 6:00 p.m., along with live music.
Holiday Festival of the Arts
4145 Meridian Street
Bellingham, WA
www.alliedarts.org/holiday-festival-2015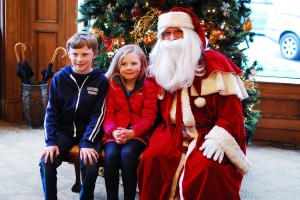 November 20 through December 24
Open 7 days a week
Hours: 10:00 a.m. to 7:00 p.m.
Fairhaven Holiday Festival
Fairhaven Holiday Festival is a two-day, fun-filled, family friendly shopping experience. And it couldn't be held in a more picturesque setting. Fairhaven's ornate, historic buildings and stately streetlights and cobblestone roads beg for twinkly lights and holiday shoppers. From 5:00 p.m. to 8:00 p.m. on Friday and Saturday nights, there will be an Art Walk including most Fairhaven businesses. Santa will be present on Friday from 3:00 p.m. to 4:45 p.m. at the Fairhaven Gazebo on 10th and Harris. There will also be a tree lighting, a high school sining troupe, horse-drawn carriage rides, and more. Find all your gifts in this picture perfect two-day festival.
Fairhaven Holiday Festival
Fairhaven, Village Green
www.fairhaven.com/event/fairhaven-holiday-festival-art-walk
November 27 and 28
Hours: 3:00 p.m. to 8:00 p.m.
Farmers Market and 2nd Annual Pop Up Gift Market
Some folks don't realize how lucky we are to have a Farmers Market that goes all the way through December. There's truly no better place get your week's dinner fixings, get your holiday shopping done, and see everyone you know. Our amazing, award-winning Farmers Market will be going strong , with more than 100 participating vendors, every Saturday through December 19.
In addition, on Friday December 4, the Farmers Market will be teaming up with Downtown Bellingham Partnership and the City of Bellingham to present the 2nd Annual Pop Up Gift Market. This will conveniently be held the same night as the Downtown Art Walk and Tree Lighting. The heart of Bellingham will be full of holiday cheer.
Farmers Market
Depot Market Square, 1100 Railroad Ave.
Hours: Every Saturday, 10:00 a.m. to 3:00 p.m.
Pop Up Gift Market
Depot Market Square, 1100 Railroad Ave.
Hours: December 4, 4:00 p.m. to 7:00 p.m.
Buy Local Shopping Guide 
Sustainable Connections is once again offering its annual Buy Local for The Holidays shopping insert, which will be available after Thanksgiving in select print publications and online. This year's guide is even more exciting, as Sustainable Connections is offering a Holiday Shopping Passport. Completed passports will be entered into a drawing to win a grand prize of 31 gift cards to local businesses, totaling approximately $775. That's one gift card for every day of the month. Now there's an incentive to buy local, if I've ever heard one!
A Few of My Favorite Things, On Etsy 
If you've not broached the handmade treasure trove that is Etsy, your hipster soul hasn't lived. But before you go and lose yourself in it's 36 million items for sale, be sure to check out these local Etsy artisans listed below. No need to get dressed to get your holiday shopping done this year.
Moss Bags 
The funky fresh purses and carrying cases that Moss Bags' creator makes are sure to please the most discriminating fashion-lover on your list. The bright pops of color, buckles, contrast stitching and even well-tailored fringe on her genuine leather bags make Moss Bags a perfect fit for the modern, yet easy-going individual.
Moss Bags' super talented owner and seamstress, Julie Simon, started her business in 2013, and when asked about this place we live, she said, "I just love my community. Whatcom County has been completely supportive since the beginning! My surroundings have influenced and helped define my style."
After looking through Julie's Etsy shop, I can see how it would be hard to narrow down the choices. Julie has given me her two current favorite items to help in this dilemma. She said, "My favorites are The Fringe Clip with Ring —I never lose my keys now that there's fringe attached. And also the Mossy Messenger Bag — It combines function and fashion. It's my daily go-to, but also my carry-on when traveling."
Moss Bags will be at Allied Arts this holiday season. Julie also sells her bags at Sojourn in downtown Bellingham.
Margotbianca 
Margot Myers creates gorgeous linens and fabrics, and her skill and dedication to tradition in the way she makes them show through immediately. In her company (and Etsy shop), Margotbianca, Margot uses the traditional hot wax style to create her beautiful batik pieces. This involves dyeing fabric in small batches, by soaking and boiling her fabric. The care she puts into her work shows through in the finished product. If you are looking for unique table runners, tea towels, napkins, and more, look no further. Margot shares that one of her favorite batik patterns right now is the new leaf pattern. "It's bold and elegant, and seems to work well with fall fruits and colors," she says.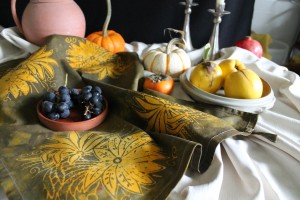 Margot began making fabrics professionally about 10 years ago. She has recently opened a downtown studio called Runway Press, which is where her fabric making happens, but also where she teaches classes. Margot works in etching and printmaking as well as batik and teaches community classes in print and fiber each month.
Margot's commitment to durables and reusables is something that stands out. It's clear she loves this area of the world and strives to keep it healthy and beautiful. "I think that the sensibility of responsible consumption in our area is the thing that I connect to most often in my daily life as well as my work. I decided to design a line of table linens initially because I think it's so much smarter to have reusable fabrics in the kitchen than disposables. As the years have gone by, I've been able to incorporate more and more organic fibers into my products, too."
Margotbianca will be at The Bellingham Farmers Market and at the Pop-up Gift Market this year.
The Nautical Gnome and Siren Silks 
Joanna Lynam is the creative genius behind both of these fabulous local shops. The Nautical Gnome is filled with whimsical sea and boat-inspired jewelry, as the name suggests, and Siren Silks is a wonderland of beautiful hand-painted silk scarves, shawls and wallhangings. Between the two shops, there is literally something for everyone. There is even a handy section for Gifts & Ornaments under $20. Joanna's work is reflective of the landscape, sea-culture, and flora and fauna all around us here in Whatcom County, which make these gifts even more fun to give.
Working as a visual artist all her life, Joanna chose Bellingham as home due to its landscape and supportive artist community. Originally from the UK and having lived all over the world, Joanna says, "The Pacific Northwest is home. I feel fortunate every day to be here for the incredible natural beauty, the vibrant community, and the mountains and sea."
At the moment, Joanna is most excited about her work on silk depicting whales, polar bears and birds. She uses silk dyes to sketch the design, then paints the background with a watercolor technique. In her newer Etsy shop, Nautical Gnome, Joanna is raising funds for sailing around the world with her family. She is making and selling nautical gifts such as leather and silver jewelry, paper pennants, and handmade gnome pins. Joanna says, "I really like the stainless shackle bracelets and keychains in particular." And, I'd have to agree. What a fun, unique gift for the boater or ocean-lover in your life. You can read more about Joanna's family sailing adventure online, which was inspired by her amazing sea-faring father and a dream.
In addition to the Etsy shops, Joanna's work can be found at the Lightcatcher Museum, the Jansen Art Gallery, the Wild Bird Chalet and the Chukanut Gallery. Her studio is also open by appointment.