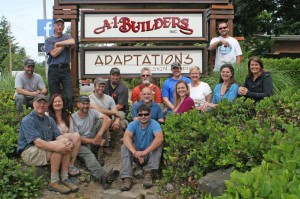 A-1 Builders' Rick Dubrow didn't come to the construction business in a linear fashion; in fact, he dabbled in aeronautics and teaching before entering the industry in a roundabout way.
Rick moved to Bellingham from the East Coast in 1975 after growing up on Long Island and securing two degrees from MIT.
"I got a van, turned it into a camper, and spent a year going through the National Park System," says Rick, who loves hiking and wilderness. "I embraced ecology and wanted to teach secondary school biology."
Rick had a secondary teaching certificate from Massachusetts, but needed additional courses to move into biology. "I wanted to be on the West Coast, near the best hiking I could find; in a small city, but near big cities," he says.
Bellingham was the perfect fit.
Rick took two quarters of classes at Western Washington University. "I loved Western," he says, smiling. "In fact, I wish I'd gone to Western instead of MIT."
No Bellingham teaching jobs came open, so Rick waited it out as a part-time substitute teacher. To make extra money, he took on handyman side projects.
One job involved replacing the rotted floor of an outbuilding — something beyond Rick's admittedly limited experience. He looked up foundation contractors in the Yellow Pages and called the first one listed: A-1 Builders.
"So I call up this really old guy to ask for advice," Rick says. "He talks to me for 10 minutes, and then he says: 'You want a job?'"
Ralph Shell convinced Rick to come work for A-1 Builders, and six months later, Rick was the new owner.
The original A-1 Builders began in 1955, headquartered in Ralph's house, a mere 100 yards from where the business now sits.
"I'm not a carpenter," Rick continues, with a laugh. "I can build a compost bin and a dog house." His goal was always to be in the office, guiding a crew of talented carpenters — something he's been doing now for 40 years.
Thirty years ago, along with his parents and brother, Rick bought the building on Northwest Avenue that A-1 Builders still calls home. For many years, A-1 used it as an incubator building, occupying just 20 percent of the space and renting out the rest to various businesses.
"We got bigger and gobbled up more space until eventually we took over the whole building," says Rick. The Craftsman-style building — originally a home — is now office space and a welcoming showroom, displaying an array of environmentally sensitive construction techniques and products.
As A-1 Builders grew, Rick found himself resisting high-end jobs. Lavish, over-the-top remodels just didn't sit well with the devoted environmentalist.
"Our success was creating what I call cognitive dissonance," says Rick. "I was getting allergic to what the market was pushing us toward, and even thought about selling."
When a friend suggested Rick try to align his values with his work, something clicked. "And that's what I started doing."
For Rick, the first step in environmentalism is: If you're going to make anything, make it to last so that the materials you've dedicated to that thing can last as long as possible.
A-1's task remains to figure out how green a client is, and then push them gently as green as they can possibly go.
"Best practices take more time and better materials," he says. "Buildings can be forever."
Common A-1 projects include kitchen remodels, expansions, aging-in-place bathroom renovations, and the like. "This Old House" magazine recently featured a lovely back porch makeover.
In 1990, A-1 Builders created sister company Adaptations Design Studio, now managed by Cindi Landreth, Rick's wife. The powerful design-build team takes remodeling projects from beginning to end — and always with the client's needs and hopes in mind.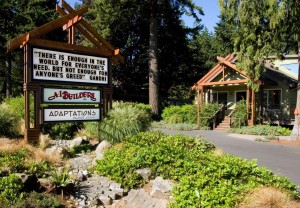 "I wanted a design division where our designers would see through the client's eyes," Rick says. "That's our goal. We want the client to come into the space and say, 'This is just what I imagined!'"
A-1 Builders and Adaptations have been lauded with numerous awards over the years — national, regional, state and local — from the Best of HOUZZ Award for client satisfaction to the Founders of a New Northwest Award from Sustainable Northwest, plus many, many more. You can read more about these accolades here.
Rick's favorite part of running A-1 Builders?
"Team-building and being a force in the community," he says. "The fulfillment of feeling like I'm helping morph what Bellingham is."
Rick and Cindi long ago joined forces with other Bellingham business owners — including Chuck and Dee Robinson of Village Books — interested in doing good things in Bellingham and throughout Whatcom County. Many years ago, they and others began to meet and regularly discuss philosophical questions of commerce and environmental concerns. "That became the beginnings of what grew to become Sustainable Connections," says Rick.
A-1 Builders and Adaptations have also long been involved with RE Sources and the RE Store. "By the nature of what we do, we generate amazing amounts of waste," Rick admits. "So that's where we cut our teeth in affecting the community, with responsible waste management."
Community has always been important to Rick and Cindi — as well as their 16 employees. If you've driven by A-1 Builders recently, you've seen one recent example of giving back to Bellingham: the Community Bike Repair and Information Station (C-BRIS).
A-1's Production Manager, Patrick Martin, dreamed up and designed the structure and was touted as an "unsung hero" in a Whatcom Watch profile for his work making the C-BRIS a reality.
Rick loved the idea from the get-go, and his employees, subcontractors, other community businesses, clients and friends donated their time and resources to create this wonderful spot for any and all passing bicyclists and pedestrians.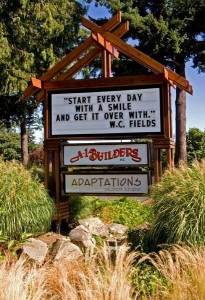 Rick and Cindi's team hopes to pull together in another big way in the near future: transitioning the company from a sub-S corporation to a worker-owned cooperative.
A-1 hopes to follow in the footsteps of South Mountain Company, which led the way in 1987.
"We have a steering committee of hopeful, potential owners, and I'm getting to watch employees morph into owners," says Rick who, along with Cindi, had begun to think about succession planning in recent years.
"Most companies sell to a stranger," he says. "We wanted a model that helps the people who helped get us here. We wanted to bring democracy into the work place."
The plan would call for Rick and Cindi to leave A-1 Builders and Adaptations Design Company one year after establishment of the cooperative. And then?
"Well, my hope is to get out into the wilderness more," says Rick, leaning back in his desk chair and smiling at the thought. "As long as my body can handle it, I want to keep biking and backpacking."
To learn more about A-1 Builders and Adaptations Design Studio, visit their website, where you'll find team bios, showroom and project photos and details, an in-depth frequently asked questions section, and much more.
A-1 Builders and Adaptations Design Studio
3310 Northwest Avenue
Bellingham WA 98225n
360-734-5249