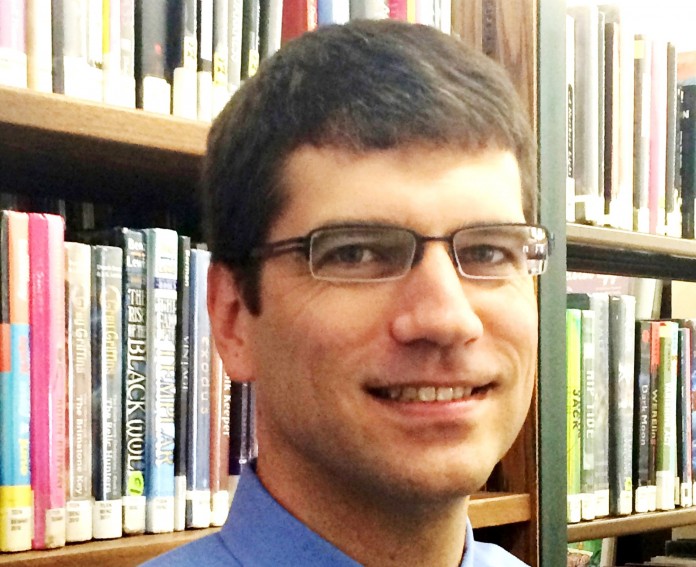 Submitted by Whatcom County Library System
Whatcom County Library System (WCLS) is pleased to welcome David Austin as the new library manager at the North Fork Community Library.
A woodworker, a graduate from Western Washington University (WWU), and a family man, Austin grew up in Moses Lake, moving to Bellingham to get his bachelor's degree in English and working at WWU's Wilson Library as a student assistant. With his passion for woodworking, Austin created custom residential cabinets and casework at Visser Cabinetworks for seven years.
Austin found his career path in libraries after moving to Seattle and working at a small university library. He applied and was accepted into the University of Washington's Information School, then worked as a librarian for four years in Seattle. "I became a librarian because I love seeing the light that comes on in people's eyes (and lives) when they realize the worlds of possibility that are available through the library's collections and resources," Austin said.
Having a young son reminded Austin and his wife about their long-term plans to return to Whatcom County. So they sold their house in Seattle and Austin returned to work as a cabinetmaker for a time before being hired as the manager at the North Fork Community Library.
When asked why he believes libraries are important in this age of electronic access, Austin had a ready answer. "Public libraries are a place of refuge, discovery, and community," said Austin. "Library staff are also important because their knowledge and expertise helps library users access the wealth of electronic resources available through the library (many of which aren't available elsewhere or incur an additional fee), as well as aid users in navigating the extensive materials available on the open web," he continued.
What's on Austin's list of current reading? "Mistborn" by Brandon Sanderson; "Quiet, The Power of Introverts in A World That Can't Stop Talking" by Susan Cain; "The Design of Everyday Things" by Donald Norman; "You are Not a Gadget" by Jaron Lanier; and "The Ruins of Gorlan," first in the "Rangers Apprentice" series by John Flanagan, to name a few. Austin loves to read whatever his son brings home from his weekly trip to the library — books about cars, trains, dinosaurs, cats, dogs, boys, girls, diggers, rockets; the list is as endless as what the library has to offer.
Welcome Austin to the North Fork Community Library on your next visit.  The library is open regular hours during construction of the roundabout at the intersection of SR 547 and the Mount Baker Highway (SR 542) in Kendall, right in the library's front yard. Regular hours are Mondays 10-6, Tuesdays and Thursdays 10-8, and Saturdays 10-5.