Submitted by Port of Bellingham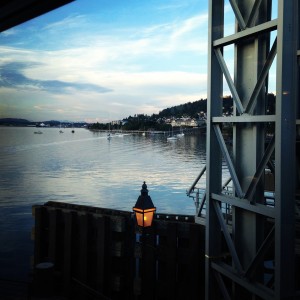 The Port of Bellingham is poised to change the layout of 7.66 acres of industrial property in Fairhaven and build new infrastructure to support the expansion of two major waterfront employers, All American Marine and Fairhaven Shipyard.
"All American Marine and Fairhaven Shipyard provide over 150 family-wage jobs to our local community" said Port Commission President Dan Robbins. "We are pleased to make the upgrades necessary for these successful marine trades industries to expand and create new jobs for Whatcom County residents."
The Port worked closely with both tenants to develop a strategy for improvements which better supports existing operations and plans for future expansion. The entire site is impacted by historic industrial contamination and is scheduled for a major cleanup effort so any suggested changes required additional analysis to ensure compliance with state cleanup regulations.
"This was a very complicated transaction" said Port Executive Director Rob Fix. "We needed to develop a cleanup plan for the upland and in-water property, modernize infrastructure and improve the work areas for two active industrial tenants in a way that minimized business disruptions. I'm glad we were able to accommodate the needs of our industrial tenants and position the marine trades sector for growth over the next 25 years."
Changes to the industrial property will set a path forward for All American Marine to double the size of their existing operations. The Port is scheduled to build All American Marine a new 39,000 square foot, state-of-the-art manufacturing facility allowing the company to build larger vessels and hire an additional 27 employees. The cost of the building will be repaid through a new 25-year lease with the Port.
"There continues to be strong market demand for our cutting-edge catamaran design because of proven advantages in fuel efficiency and vessel stability" said Matt Mullett, President and CEO of All American Marine. "We need a bigger manufacturing facility and an expanded workforce to meet customer requests for larger vessels."
Site improvements also include the $7.6 million replacement of a wooden pier which is utilized by Fairhaven Shipyard but is now under heavy load restrictions. The removal of the existing pier will allow for the comprehensive cleanup of contaminated sediments underneath followed by replacement with a new pier with an increased load capacity to better meet the needs of Fairhaven Shipyard.
"We are looking forward to the replacement of the wooden pier and an improved site layout which will allow us to expand Fairhaven Shipyard's services and capabilities" said Neil Turney, president of the shipyard parent company Puglia Engineering.
The Port plans to apply for funding support through Whatcom County's Economic Development Investment Program, a revolving loan and grant program designed to encourage the creation or retention of private sector jobs, to help offset the significant demolition and site preparation costs necessary to reconfigure the deep water industrial area.
Fairhaven Shipyard provides full dry-docking capabilities and support services to a variety of public and private vessels, including Washington and Alaska State ferries, US Coast Guard vessels, and NOAA vessels, among others. The shipyard is equipped with a 3,200 ton capacity dry dock, a 20,000 ton lift capacity semi-submersible dry-dock barge, a 400 ton lift capacity marine railway, a 140-ton capacity land crane, a 65-ton capacity floating crane, and a number of other mobile cranes.
All American Marine specializes in the construction of custom tailored aluminum boats and has become a leading builder of high speed passenger catamarans, excursion boats, and research vessels. All American Marine is the exclusive builder for Aukland, New Zealand based Teknicraft Design Ltd. catamarans in North America.
Marine trades industries have a vital role in providing family-wage jobs and growing the local economy. According to an economic impact study of Port operations, marine trades tenant activity in Whatcom County supports over 2,600 direct jobs, $122 million in direct income and provides over $18 million in taxes.