By Stacee Sledge

No doubt about it: Whatcom County residents love their great outdoors—emphasis on great: just look around at our beautiful corner of the country!
Recreational activities abound here in Bellingham and Whatcom County, including 5K races and walks that folks of all ages can take part in every month of the year.
Looking for a fantastic 5K event you or your whole family can sign up for? WhatcomTalk asked Whatcom Family YMCA Healthy Living Director Tammy Bennett to share some of her favorite area 5Ks—and then we added in a few of our own. Read on for a little running inspiration. 
July
For two days every July, Lynden celebrates the largest harvest of raspberries in North America with its Northwest Raspberry Festival celebration—and part of the fun includes a 5K run and walk. This year's festival runs July 17 and 18, Friday and Saturday, with the 5K taking place on the second day.
The 5K course has traditionally been flat and fast, winding through the Homestead Golf and Country Club community, quiet residential streets, and Lynden City Park. The course starts and finishes along Drayton Street near Lynden Christian High School. Find more information here.
August
This year marks the 15th for Blaine's Run To The Border 5K and 1-mile Kids Fun Run, all a part of Drayton Harbor Days. Taking place on Saturday, August 1, the 5K goes right through the Peace Arch and benefits the Let's Move, Blaine! Coalition, a nonprofit that works to improve healthy lifestyles for the community of Blaine.
For something a little different, indulge your childhood desire to play in the mud with the annual Muds to Suds race. Perfect for all ages with different divisions and heats, Muds to Suds includes eight mud pits (twice as many as last year) and 22 dirty obstacles to overcome. Participants also get a free 5-minute massage by Massage Envy after they've finished the race and enjoyed an on-site shower.
Muds to Suds takes place on Saturday, August 29 and Sunday, August 30 at Hovander Homestead Park in Ferndale. The first race starts at 9:20 a.m., followed by waves every 20 minutes after that until the last heat at 4:20 p.m. A kids-only race is set for 1:20 p.m., though young ones accompanied by adults can participate in any heat. More details and registration information available here.
And one more we must mention is The Color Run, which lands in Bellingham for the first time on August 16. This race has become the single largest event series in the world since its launch in 2011. Dubbing itself "the happiest 5K on the planet," the Color Run hosted more than 300 events in more than 50 countries last year—and now Bellingham is included in that growing list. The Whatcom Family YMCA is partnering with the Color Run to bring the fun right here. Learn more and register for the race right here.
September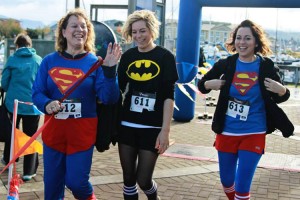 The Bellingham Bay Marathon offers a full or half marathon option—plus a 5K fun run and walk. There is something for every runner! This year's 5K takes place Sunday, September 27 and includes a scenic course with convenient start and finish in downtown Bellingham, a short-sleeve unisex tech shirt for all participants, and a finish area festival with live music, food, and a beer garden. Runners and walkers of all ages are welcome.
October
Bennett shared several of her favorite 5Ks in our earlier article covering the first half of 2015. Another much-loved race comes complete with superheroes and capes. "Everything is better with a cape," she says with a laugh.
The Everyday Superheroes 5K Run & Walk takes place Saturday, October 10. Proceeds go to Behind the Cross, an organization that helps caregivers in their time of need.
"It's at the marina," says Bennett, "and my favorite part last year was Wonder Woman race director Michele Medlin. There were lots of great photo opportunities of local superheroes by the bay."
November
Head to Whatcom Falls Park in Bellingham on November 21 for the annual Greater Bellingham Running Club's Turkey Trot. You can benefit the Bellingham Food Bank and burn a few extra calories so you can dig into your Thanksgiving meal with guilt-free gusto.
Registration is changing this year, taking place at Whatcom Falls Park's main picnic shelters, and beginning at 7:30 a.m. The Kids Fun Run starts at 8:30 a.m., followed by the 9:00 a.m. 5K. Results and awards will follow around 10:00 a.m.
Entry fee is an $8 minimum donation to the Food Bank per runner (maximum of $20 per family). Kids under 12 are free.
December
The Jingle Bell Run/Walk for Arthritis is a fun and festive 5K race that benefits arthritis research. Participants get in the spirit by wearing holiday-themed costumes and tying jingle bells to their shoelaces.
This year marks the 28th Annual Bellingham Jingle Bell Run/Walk, sponsored by Wilson Motors, and takes place on Saturday, December 12 at Bellingham High School.
The event will include a 5K run or walk, Kids Fun Run with the Elves, and 5K Dog Trot (walk only). This annual tradition hosted over enthusiastic 3,700 participants in 2014 and raised over $194,000!
"The Bellingham Jingle Bell Run/Walk event success is an example of the wonderful community we live in," says Lori McKnight, Development Manager for the Bellingham Office of the Arthritis Foundation. "The annual support is truly amazing."
With over 50 million people nationally suffering from arthritis pain—and 1.2 million in Washington State alone (6,100 of those being children)—arthritis effects the entire community.
"We encourage everyone to get involved and learn about the impact of arthritis on our community," says McKnight. "We're the largest non-profit supporter of research for a cure and focus on education supporting those with arthritis, including families of kids who have arthritis. Come and jingle with us!"