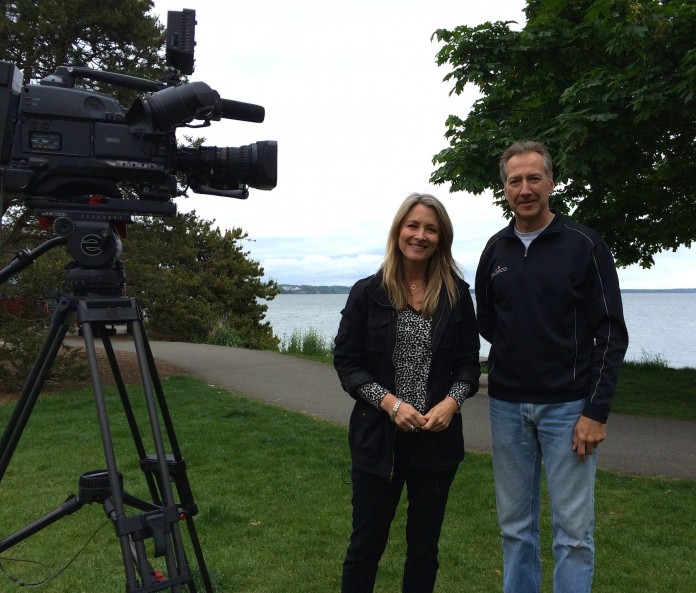 By Lauren Fritzen
I've lived in Bellingham for 15 years now, and feel like I have a good handle on our fine city's many attractions. But seeing it through the lens of Comcast's film crew as they spent the day here shooting an upcoming segment for their "Comcast Neighborhoods" show really freshened my perspective.
Comcast Neighborhoods airs monthly on Comcast's On Demand menu, focusing on the neighborhoods and towns of Comcast viewers in western Washington. Ed Hauge, video production manager at Comcast, has been filming the show since its inception. Originally called "My Hometown," and centered in Pierce County, it evolved into Comcast Neighborhoods in 2009, when host Sabrina Register joined the team. Register, an award-winning veteran TV broadcaster, was a news anchor at KOMO and Northwest Cable News for more than a decade before becoming a freelance broadcaster. She currently reports and produces for various media outlets, including KCTS 9, the PBS channel based in Seattle.
Hauge, who's been with Comcast for 32 years, handles their video production needs for the state. He sees Comcast Neighborhoods as a way to spotlight neighborhoods and towns in their service area and show what's unique about each of them. "This is a service we provide to our customers," he says.
With just one day to film the show, legwork is key. Register begins her research weeks in advance, building connections with local government, organizations and businesses. When choosing what to include in the ten-minute show, she approaches it from the perspective of a visitor wanting to know what they should do while they're here – what's special and unique about this place? "I like to give a shout-out to museums. I think they're wonderful at preserving a town's history. I also like to focus on locally-owned, community-oriented businesses," says Register.
I meet up with Hauge and Register at the Downtown Bellingham Partnership, where they interview executive director Nick Hartrich, who speaks about our thriving downtown core. Hauge and Register work together with the ease of experienced professionals, and indeed, this will be the 71st segment of Comcast Neighborhoods. Their relaxed, upbeat vibe quickly puts the show's guests at ease too, allowing them to share their insights into what makes Bellingham shine.
At the Spark Museum, director of education Anne Bargetz gives us a fascinating tour of all things electrical, complete with a dramatic demonstration of the "MegaZapper" Tesla coil. As we reluctantly pull ourselves away to make our next appointment, I can see that staying on schedule is one of the challenges of filming the show. I vow to return on my own very soon – as Hauge says, "The Spark Museum is a hidden gem."
Our next stop is Boundary Bay Brewery, where Register interviews operations manager Casey Diggs and Hauge gets some footage of the brewing facility. You won't find a more community-minded local business, and as a regular, I'm proud to see Boundary Bay get a well-deserved shout-out.
Between destinations, Hauge shoots some "b-roll," an industry term for additional footage to supplement the interviews. "Bellingham is blessed with million-dollar views," he says. And he finds some great b-roll material from the rooftop garden of the Lightcatcher Building before Register interviews Christina Claassen, marketing and public relations manager for the Whatcom Museum. We could easily spend the afternoon here, but we're off to Boulevard Park and a chat with James King, director of the city's Parks & Recreation Department.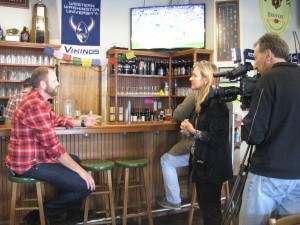 A stiff breeze and threatening clouds greet us at the park, but Hauge and Register take it in stride, finding a protected spot for the waterfront interview and learning about Bellingham's many green spaces from King – even after the camera stops rolling. Their interest in the people and places they document is clearly genuine, and this shines through in their show. "It's exciting for us to hear a resident say 'Wow, I didn't know that,' when they talk about something they saw in one of our segments," says Register.
Staying flexible and open to unexpected finds makes for a better show, and as I bid Hauge and Register farewell, they're headed back downtown for an unscheduled stop at the Bureau of Historical Investigation before calling it a wrap.
Once filming is complete. Hauge gives the video to Register, who chooses the footage she wants to use and writes the script. Final editing is completed by Nancy Johnson Productions, sometimes using still shots provided by the local contributors.
My behind-the-camera perspective makes me prouder than ever to live in Bellingham, and I'm looking forward to seeing the final product on screen.
The Comcast Neighborhoods Bellingham show will appear on the Comcast On Demand menu on or about June 1. To watch, go to On Demand > Get Local > Around the Sound > then Neighborhoods.  The segment will be available exclusively On Demand for three months.
Then, on or about September 1, the segment will be posted on YouTube. We can all share it with neighbors and friends around the world. Past Comcast Neighborhoods shows (like about West Seattle, Raymond, Shelton, and Vashon Island) can also be seen by clicking here.