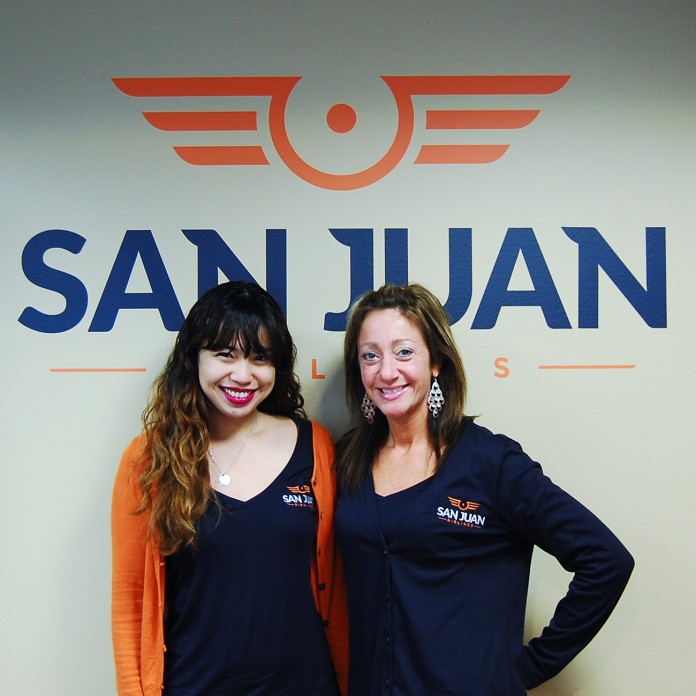 San Juan Airlines owners Skip and Katie Jansen never expected to own an airline. The couple has owned and operated JIJ Corporation, a construction and development company, since 1990, and wasn't looking to move into a new industry.
"But it was like that old Gillette commercial," Skip says with a smile. "We liked the company so much, we bought it."
The road to owning San Juan Airlines (which went by the name Northwest Sky Ferry when the couple purchased it) began with their search for the perfect summer getaway on Crane Island, in 2005.
"We decided we would like to have a place in the San Juan Islands, because we love it out there," says Katie. "We were both born and raised here and it's been a favorite spot our whole lives."
The couple expected the search to take years. "But we actually found it right away," Katie says, with a laugh. "It was one of the first places we looked at."
"We've always been boaters, so we purposely picked a place with no ferry access," says Skip. There's nothing commercial on the island, just private residences, and the trip from Bellingham to Crane Island takes about an hour, in good weather.
The family primarily used it as a summer home, but as their children got older and became increasingly involved in school and sports and activities, it became difficult to get back and forth.
"That's when we got to know the Northwest Sky Ferry people," says Skip. "We knew all the pilots on a first-name basis."
Strictly a charter airline at that time, Northwest Sky Ferry often found a space for one of the Jansen kids when a Saturday sports practice or school activity called.
"They would work them in with other flights, so it was really economical," says Skip. "It wasn't like we had to pay for the whole plane."
The Jansens had been regular users of Northwest Sky Ferry for several years when the airline came up for sale.
Skip and Katie became the new owners in 2009, and set about making some changes. Bellingham's only locally owned airline service, Northwest Sky Ferry had long offered chartered flights, but not a regular schedule of service to the San Juan Islands – and beyond.
The Jansens understood the importance of a daily schedule, and as the saying (sort of) goes: if you build it, they will fly.
"When we bought it, it was much smaller and was only an on-demand charter service," says Katie.
The couple spent a year working with the FAA to upgrade its certificate and become a full commuter airline, with eight daily departures between Bellingham and the San Juan Islands, and another eight between Anacortes and the San Juan Islands.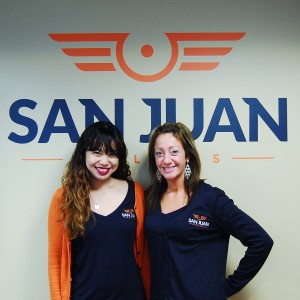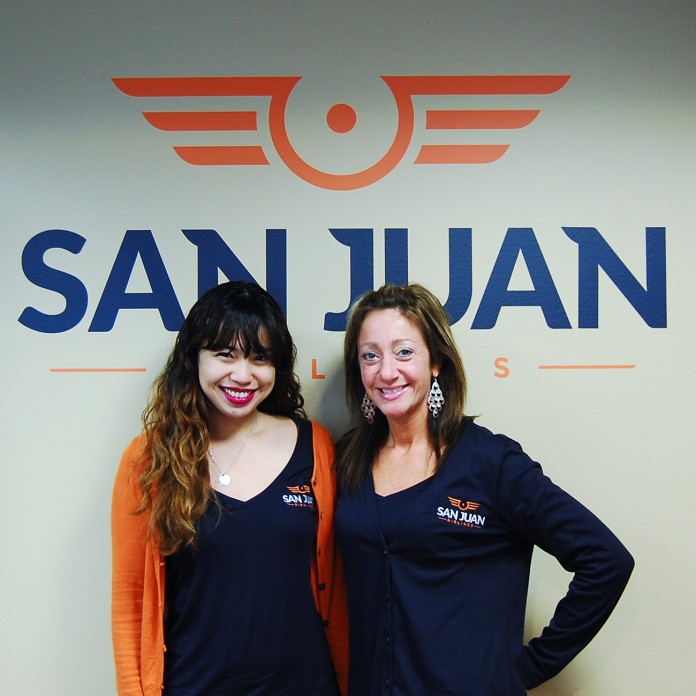 San Juan Airlines still offers chartered flights, taking individuals or groups wherever they need to go within a long list of destinations, and now also offers six scenic flight tours.
Initially, the company rented a counter from the flight museum and shared its space. They moved into their current digs – which used to belong to FedEx – in February of 2010 and, in 2014, changed the name from Northwest Sky Ferry to San Juan Airlines.
"It describes better what we do, since our primary business is flying to the islands," says Skip. San Juan Airlines also flies north into Canada and south into Oregon – with regular stops in Port Angeles and Port Townsend, and elsewhere.
In fact, San Juan Airlines offers the only scheduled service in and out of Point Roberts – taking just 20 minutes, and with no border crossing hassle.
Other regular San Juan Airlines destinations reach as far north as Port Hardy on Vancouver Island in British Columbia and south to Portland, Oregon.
The airline is currently exploring the possibility of adding regularly scheduled flights from Bellingham to Victoria, British Columbia.
Prices are clearly listed on the San Juan Airlines website, and include a $59 orange tag special for certain flights at specific times. When you factor in driving time with gas and ferry costs, that price quickly begins to look like a bargain.
The scenic flight tours have become extremely popular, with six different options, from Mount Baker to the islands.
"We do an Island Explorer Tour, which takes people around the islands and basically anywhere in the area that they'd like to go," says Katie.
When headed to the San Juans, a lot of folks ask to look for whales, and pilots are happy to oblige.
"Where the whales are is always a hot topic," Katie says.
There are four lighthouses on the San Juan Islands, and all can be viewed from above with a San Juan Airlines-tailored Lighthouse Tour.
"The Mount Baker tour is fascinating because you can see the craters and the steam coming out, even the skiers," says Katie. "It's just fabulous – it goes on forever."
"And on the way back, on a clear day, you come over Mount Baker and see all the islands, as well," says Skip.
Anyone can schedule an aerial tour – and for a lower cost than you might imagine. "Just call us up," says Skip.
Ask Skip and Katie what their favorite thing is about owning and operating an airline, and neither one hesitates to answer. "It's the people – the customers and the relationships with the people on the islands," says Katie.
"We want to go the extra mile for them," Skip says, nodding in agreement.
As airlines become increasingly automated and impersonal – online reservations, electronic check-in – San Juan Airlines strives to do the opposite.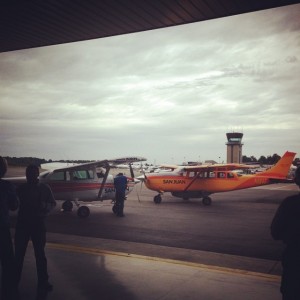 "We book flights with a real person and try to be flexible to fit their needs," says Skip. "Sure, it's labor-intensive, but I think that's one reason our customers are so loyal to us; we take care of them."
Future plans for San Juan Airlines include adding a twin-engine plane to its current fleet of five Cessnas, enhancing the ability to fly people over the mountains.
"It would be nice to get people where they need to be, regardless of weather," says Katie. The cabins would be pressurized and could go as far as southeast Alaska and California.
The entire San Juan Airlines team values its community and gives back in many ways, including donating flights and working in other ways to support the Festival of Music, the Boys & Girls Club and Ski To Sea, among many others. They even donate the transport of wild animals – seals, eagles, fawns – who need to get to Wolf Hollow Wildlife Rehabilitation Center in Skagit County.
Although he's long left it to the professionals, Skip also used to fly; he got his solo license when he was just 19. He's no longer behind the controls, but being the owner of an airline that can land on a grass airstrip just a few minute walk from your island home is pretty darn convenient.
After a day at the office, Skip and Katie choose to either drive the 13 minutes to their Bellingham place – or fly 15 minutes to their Crane Island home. "We either walk out to the pickup or to the airplane," Skip says with a laugh.