Submitted by Red Boots Design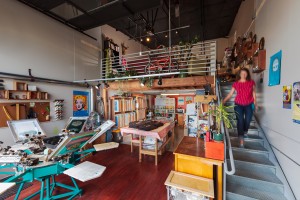 Red Boots Design, an independent, Bellingham-based custom screen printer serving local companies, is celebrating ten years in business with an inventory blow-out sale. Red Boots Design was founded by Erin Boyd in 2004. In addition to a production facility and online retail shop, Red Boots was a mainstay of the Bellingham Farmers Market for nine years.
Red Boots focuses on quality, and sources American-made shirts, sweatshirts, hats and home goods whenever possible. Original Red Boots designs and customer logos are custom-printed on tees, hoodies, baby clothes, hats and home goods, like bottle openers and coat hooks.
Local companies that sell Red Boots Design clothing as part of their marketing outreach include Kulshan Brewery, The Local Public House, Old World Deli, The Idiom Theater, and Village Books. Original Red Boots Design clothing is sold locally at Kids Northwest, Kulshan Cycles, Bellingham Baby Company and Four Starrs Boutique, and in boutiques from San Francisco to Philadelphia.
"Red Boots strives to produce high quality, American-made clothing that businesses are proud to sell to their customers," said owner Erin Boyd. "My mission is to ensure that people love their shirts, hats and hoodies, wear them often, and wear them for years. I'm proud of the 200,000 or so American-made shirts I've produced over the years, and that Red Boots clothing does not end up in the landfill."
The Red Boots Design story began in a basement location on a Downtown Bellingham alley, and the business has since expanded twice. Boyd recently purchased a building on Grant Street with plenty of room for screen printing and sublimation equipment, some of which was purchased after a successful Kickstarter campaign, supported by her customers.
"Bellingham and the Farmers Market are wonderful incubators for independent businesses," said Boyd. "I really enjoyed having my Farmers Market booth for so many years. Now, I'm excited to start a new chapter, focusing on commercial screen printing for local businesses that want to expand awareness and advertise in a fun way. It's all about creating signature clothing that represents their identity."
Red Boots Design is celebrating its 10th birthday with an inventory blow-out sale at Make.Shift's holiday event, Make.Sale, which features local businesses and handmade goods. The event takes place at Make.Shift, 306 Flora St. in Bellingham, WA on Saturday, December 13, from noon to 6:00 p.m.