By Stacee Sledge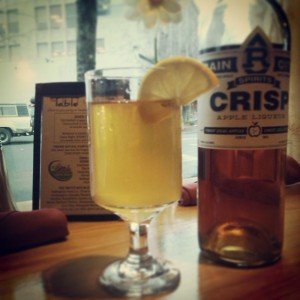 Earlier this year, WhatcomTalk supplied you with a lengthy list of spectacular spots to grab a cup o' Joe in Bellingham. Those coffee shops – and many more – are happy to bring the buzz when you're in need of a java jolt. They also bring the warmth, and right now in Whatcom County, that's a must-have.
Now that colder weather has descended, sometimes one simply wants a hot drink (with or without alcohol) to warm one's hands – and spirit. We've got you covered there, too. Following are just a few examples of delicious, steamy sips that can be had in Bellingham during the colder months.
Temple Bar
Downtown Bellingham's Temple Bar brings you its Apple Ginger Toddy, a warm concoction of Cloud Mountain Farm cider, bourbon, ginger, and spice. Talk about everything nice.
"We wait for this every year," says Temple Bar owner Chelsea Farmer.
Why? Because the Everson-based Cloud Mountain only produces its small-batch cider for a few months in the fall.
"It's the best in our region," says Farmer. "We love this cider for its deep, unfiltered apple flavor that holds up to a healthy pour of bourbon and the bite of fresh ginger."
A few drops of Temple Bar's homemade pimento dram – an allspice liqueur – takes the warmth of this drink a step further.
"We love it and can't get enough before it's gone," Farmer continues. (And once the cider stops, the toddy does, too).
"An extra special year is when the cider production overlaps with the first snow day," she says. "Fingers crossed!"
Pure Bliss Desserts
Frosty weather simply screams for eggnog, and Pure Bliss Desserts can do you one even better than that – combining the seasonal favorite with fantastic coffee.
"It is officially the best thing ever," says Pure Bliss owner Andi Vann, with a laugh. "Every afternoon, I treat myself to an eggnog latte."
Using Fresh Breeze Organic Eggnog from Lynden ("Because it's the best!" says Andi) and organic, fair trade Moka Joe espresso, Pure Bliss blends two fantastic things into one cozy, cold-busting delight.
Pure Bliss also offers eggnog americanos and Lond Fogs through December. Pair one of them with their eggnog cheesecake, because you simply can't have too much eggnog this time of year.
"Let's just embrace this season for all that it is," Vann says. "Delicious!"
The Redlight
Bubbling away in a crockpot behind the bar, the Autumn Sweater is the Redlight's answer to warming up your insides on those chilly days. Whiskey and mulled cider – how could you possibly go wrong? Even better: It's named after a Yo La Tengo song.
Fresh-pressed cider and hard cider are mixed with mulling spices and whiskey, and then served piping hot.
"It makes the place smell amazing," says Redlight bartender Dan Vee. "I had one last night and it warmed the cockles."
Uisce Irish Pub
When Uisce Irish Pub owner Molly McGarry was recently under the weather, she knew the secret to pushing through and staying productive – and it arrived in a tall Uisce glass, garnished with a slice of citrus and clove.
"I had a hot toddy and it helped," McGarry says. "It always does."
When you have the sniffles, have spent a day up on the mountain, or simply feel chilled and want to warm yourself from the inside out, the hot toddy is always McGarry's recommended warm-up.
"I almost think it would fit under general 'health tonic' depending on who you asked," she says with a laugh.
Hammerhead Coffee Roasters Hot Drink Round-Up
Hammerhead Coffee Roasters co-owner Mary Burwell knows hot drinks (especially the caffeinated kind).
She also knows Bellingham inside and out. Talk with nearly any small business owner around town and there's a good chance they're friends with Mary, a vocal supporter of the Bellingham Farmers Market, Allied Arts Holiday Festival of the Arts, and really any business or organization that helps make Bellingham so unique.
She shared with us her list of favorite cold-weather sips – while enjoying a mug of Hammerhead's new Holiday Brew, naturally:
Hot (or cold) BelleWood Acres Cider, offered by Supreme Bean in the fall and winter.
Mount Bakery makes a wonderful bittersweet mocha called a 'Moliere,' with Belgian chocolate ganache. So Good!
We enjoy lattes every Saturday from the Bellingham Farmers Market's Festival Espresso. They use our Hammerhead Stout espresso with (steamed) local, organic Breckenridge Farm milk.
I also like Holy Basil tea, also found at the Bellingham Farmers Market.
The Black Drop makes a mean hot chocolate.
Sara Galactica is our favorite private bartender.
Post-holiday rush, we'll also be hanging out at Aslan from time to time, enjoying their food and drinks, including our drip coffee
Start Sipping
Feeling a bit warmer already? Fantastic! Now pull on a coat and head out into the brisk air – ever so briefly – before ducking into any of these lovely establishments for some stave-off-the-cold deliciousness.