By Marla Bronstein
We are already well into the month of October, otherwise known as "Doctober" at Pickford Film Center (PFC.) Michael Falter, Program Director of PFC, is once again filling the screens chock full of documentaries on various subjects from all over the world. This year marks the 8th showing of the film festival, the largest on the West Coast.
Falter is bravely bringing 50 different documentaries to Bellingham audiences over the course of the month-long event. He knows that successfully running a movie theater depends upon the ability to place butts in seats. And even though some films might play to only a handful of attendees, it's a gamble he's willing to take. It can be frustrating to see a program that is complete with a great variety of engaging, well made, and even – dare I say it – educational and informative films, play to less than full houses. Every one of these handpicked movies deserves a sell out.
But even a house that is small is fulfilling to Falter, knowing that all those who show up appreciate the movie. Be warned, some of the more popular films do sell out. "Pelican Dreams" filled the entire theatre for its world premiere screening. "Return of the River," "Expedition to the End of the World," and the 1st Annual Documentary Center Student Film Festival also filled every available seat.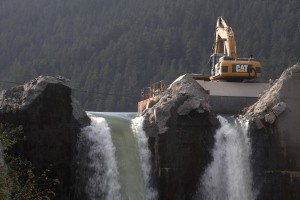 Jeff Pike, a Bellingham resident since 1991, has been a fan of Doctober since the beginning. Pike doesn't watch trailers, so he doesn't always know anything more about the films prior to their showing other than the blurbs on line and in the Pickford newsletter, or from the movie posters. He says he attends as many films as possible because he always learns something, from ballet to green burials.
"It's more fun than watching a movie at home," says Pike, who has also met new people in the community at the theater, and on occasion enjoys great discussions after a particularly interesting film.
Last year, he saw "Blackfish" for the second time at a Doctober matinee. There were children in the audience, he said, accompanied by parents who did not appear to know the film included a graphic scene with a sperm whale. He said the discomfort level in the theater was palpable. (Spoiler alert, parents: "The Final Member," on the schedule for this year's Doctober, also requires some discretion.)
Pike has already seen 16 docs out of the first 17 that have played this year. Moviegoers have the opportunity to win prizes if they see a minimum of eight documentaries over the course of the month. Patrons who attend 16 documentaries are awarded a "Smartest Person in the Universe" certificate, suitable for framing. Last year, Pike saw more than 32 of the more than 45 Doctober films, which earned him two certificates. That's a lot of wall space.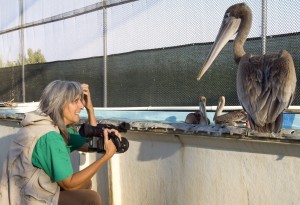 You still have time to fill out your own Doctober punch card (or two.) There are movies remaining on the schedule for any particular interest. Stop by the theater and pick up all nine of the "cheat sheets" made by Lindsey Gerhard, Marketing Manager for PFC. For your convenience, Gerhard has catalogued all of the documentaries by their various (and sometimes crossover) genres, as well as those with local ties to the Pacific Northwest and staff picks.
Concerned about Human Rights? There are more than a handful of films in this genre. "The Overnighters" is getting lots of festival buzz.
Are stories about, and by, powerful women important to you? I hate to highlight only one of the many films that look enticing in this subject, but "Advanced Style," sponsored by Mi Shoes (who will offer a prize to the best dressed), will definitely drag me to the theater. Lots of films cross over to Family Friendly fare; check out the Australian film, "I Am Eleven."
"Lady Be Good," presented by What's Up Magazine falls under a few categories, including Music Documentaries. What's Up also did a full two-page spread detailing every single one of the music films. Pick your favorite – or go to all of them.
Art and Style films include "Art & Craft," presented by The Hive. For those interested in films that focus on Mind and Body, there are films about yoga, sound healing, and the search for eternal youth. Environment and Nature are popular topics for documentaries, and "Expedition to the End of the World" documents an adventure to the last uncharted areas of the globe.
For the full list and description of all movies in the upcoming schedule, visit Pickford Film Center's site. While some movies sell out, some you can easily buy tickets at the door. Pickford Film Center is located at 1318 Bay Street. The Limelight Cinema is at 1416 Cornwall Avenue.