It's that time of year again. When the fog rolls in and the temperatures begin to drop. It's official: Jacket weather has returned. It's time to slip on your favorite boots and head out to our area pumpkin patches and apple orchards.
You can go big, with an all-out harvest experience that includes farm animals, tractor rides, mazes and games. Or you can keep it smaller, just grabbing a mug of warm cider and picking out a few perfect pumpkins and gourds to decorate your homestead.
BelleWood Acres Farm
BelleWood Acres Farm has become another popular October outing for area families, with more than 25,000 fruit trees and a plethora of pumpkins in its patch for folks to pick from.
Visitors can jump aboard the "Apple Bin Express" for a train ride through the apple orchard on the way to the pumpkin patch, all under the watchful eye of magnificent Mount Baker.
BelleWood Acres also offers an impressive farm market, gift store, bistro and bakery – with everything from artisan cheeses and specialty honey and jams to non-alcoholic sparkling cider and handmade spirits from BelleWood Distilling.
Hours: Open daily from 10:00 a.m. to 5:00 p.m.
BelleWood Distilling also hosts a life "Brat & Bonfire" Friday music series in October. Celebrate All Hallows' Eve with a free show by Pacific Heights on October 31 from 6:00 pm. to 9:00 p.m., complete with brats and Moscow mules. Learn more at the BelleWood events page.
Address: 6140 Guide Meridian in Lynden
Phone: 360.318.7720
Cloud Mountain Farm Center
Tom Thornton started Cloud Mountain Farm in Everson in 1978. His wife Cheryl Thornton joined him in 1985, and they grew it into what it is today: a nonprofit community farm center dedicated to providing hands-on learning experiences to aspiring farmers and home gardeners.
Cloud Mountain's big annual events are its Summer Harvest Day and Fall Fruit Festival. But they always welcome guests to explore the farm's orchards and vineyards – and they still have a selection of seasonal u-pick fruit and produce for you to procure. Cloud Mountain also sells ornamental landscape plants.
Hours: Open Wednesday through Saturday through October from 10:00 a.m. to 5:00 p.m. and Sunday from 11:00 a.m. to 4:00 p.m. November through the Sunday before Thanksgiving, Wednesday through Saturday, from 10:00 a.m. to 4:00 p.m. and Sunday from 11:00 a.m. to 4:00 p.m.
Address: 6906 Goodwin Road in Everson
Phone: 360.966.5859
Apple Creek Orchards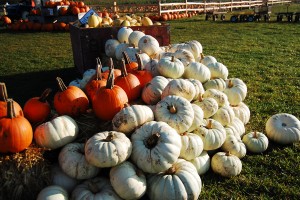 Looking to fill a five-gallon bucket or two with beautiful Washington apples? Apple Creek Orchards has you covered. They also have honey, winter pears and eggs for sale. Bundle up your little ones and head to Ferndale to explore Apple Creek Orchards.
The price for apples is $.75/pound or $15 for a five gallon bucket. They ask that visitors please bring cardboard boxes to carry home their finds, as they don't always have enough to supply everyone.
Last year's season ended in early October – when the apples are gone, they're gone – so you may want to check in with Apple Creek Orchards before you arrive.
Hours: Open daily, except Wednesdays, from 10:00 a.m. to 5:00 p.m.
Address: 5367 Barr Road in Ferndale
Phone: 360.384.0915
Gordon Skagit Farms
Heading south? A favorite nearby destination is Gordon Skagit Farms, which offers a plethora of kid-friendly autumn fun, with u-pick pumpkins and Jonagold apples, plus a seven-acre crop circle corn maze, haunted barn, pumpkin carving contest, and more.
The Gordon family has farmed in the Skagit Valley since 1932, surrounded by mountains, snow-capped volcanoes, and stunning sunsets. Products for sale include carving, cooking and specialty pumpkins, plus squash, gourds, apple cider, cornstalks, and ornamental corn.
Address: 15598 McLean Road in Mount Vernon
Phone: 360.424.0363
Cramer's Western Town
Head north to Lynden and travel back in time at Cramer's Western Town. Owner Dan Cramer gives kids and families wagon rides out to the pumpkin patch where they can choose just the right ones to take home.
There's also an array of special activities for the the little ones (and their grown-ups) during pumpkin patch season, including a hay maze and jump, petting zoo, duck races, cow-milking, pony rides and more. Cap off your visit by nibbling on yummy baked goods, available for purchase.
Hours: Open Friday through Sunday in October from 10:00 a.m. to 5:00 p.m.
Address: 956 Vandyk Road in Lynden
Phone: 360.510.7466