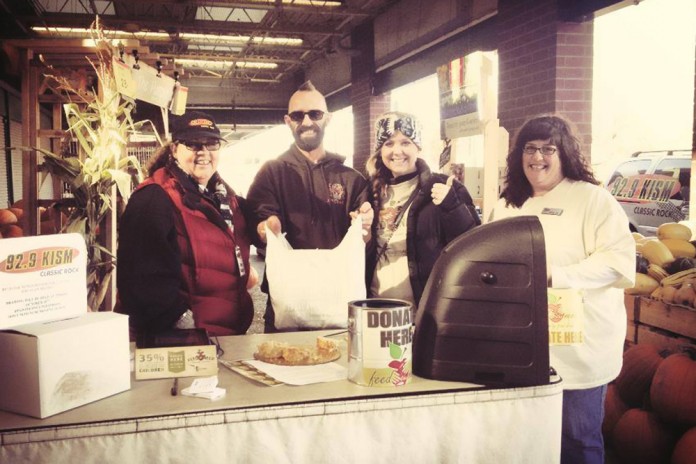 By Stacee Sledge
For Industrial Credit Union, supporting the entire community is a way to support its members. One of the many ways Industrial CU lives by that value is with its annual Feed the Need Community Food Drive.
Last year, Industrial CU raised over 300,000 pounds of food for Whatcom County food banks. This year marks the 20th anniversary of the Feed the Need Community Food Drive, which has collected over two million pounds of food since its inception.
Feed the Need takes place every October – and Industrial CU wants this year to be bigger than ever. To increase donations, last year they pulled together an array of fantastic area food trucks to serve up mouth-watering eats as a fundraiser to help feed those in our community who don't always have enough on their plates.
"Last year we held our first Food Truck Round Up, the first event of its kind in Whatcom County – in an effort to make a greater impact with our donation," says Industrial CU Marketing Coordinator Amanda Ager. The popular event raised over $5,000.
This year's second annual Food Truck Round Up, proudly presented by Ben Kinney and Keller Williams Realty, will take place on Saturday, September 27th, from 11:00 a.m. to 3:00 p.m. at the Civic Stadium parking lot. The popular (and delicious!) event kicks off Industrial CU's official food drive season.
The Rotary Club of Whatcom County North Beer Garden will feature beer donated by Kulshan Brewing Co. and SpaceBand will be keeping the crowd energized with live covers all day long. Proceeds benefit Whatcom County food banks.
Ager says the goal is to double last year's donation.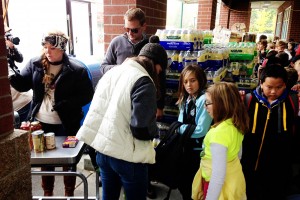 Take a look at Whatcom County food bank statistics to be reminded why it's so important to help, if you're able:
Whatcom County Food Banks distributed more than 6 million pounds in 2013.
500,000 pounds are distributed each month, the equivalent of 15 fully loaded semi-trucks.
Since 2007, visits to local food banks have increased by 80%.
There are 30,000 visits each month.
1 in 6 households in Whatcom County use a food bank.
35% of recipients are children.
60% of food bank families skip or cut the size of their meals on a weekly basis.
44% have at least one family member working.
52% have some college education.
It's for all of these reasons that Kim Sutton, Executive Vice President of Industrial CU, has led the Feed the Need Community Food Drive for the past 20 years.
"Our Board of Directors has always believed that we needed to be stewards to our community, place of business, and home," says Sutton. "It's one of the ways we can truly be local and be true to our roots."
Two decades ago, Industrial CU saw the growing need of the local food banks.
"We decided that collecting food and bringing awareness to the need was within our abilities and mission," Sutton says. "We can all relate to being hungry and the negative impact it has on people when they don't get enough to eat."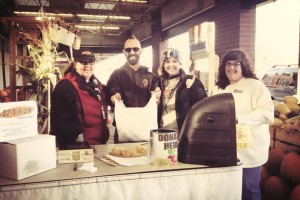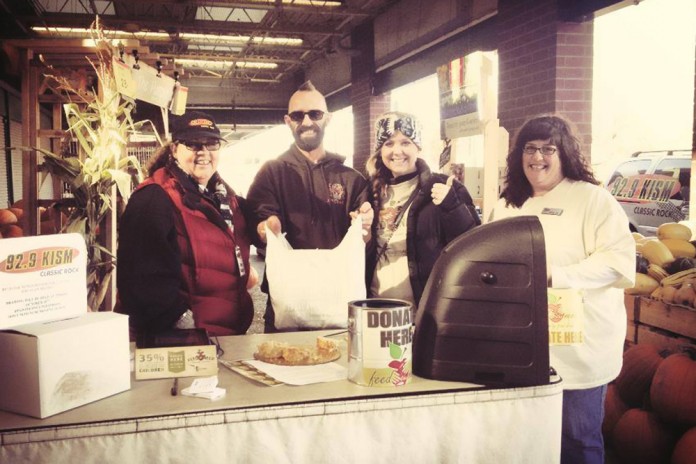 The food drive started as a joint effort between all Whatcom County credit unions, but quickly became an Industrial CU passion.
"The staff's commitment, passion and understanding of the impact feeding people has on their ability to do anything else in life is what has made it the community event it is today," Sutton says.
The goal in the first year of Feed the Need was to fill a bus with 10,000 pounds of donated food items.
"If we collected 10,000 pounds in one week, we could stock the shelves through the holidays," Sutton says. "Now we're striving to reach 300,000 pounds in that week – which won't even account for one month's worth of need in our local food banks."
For years Industrial CU did gimmicks to try and draw the attention of the community to the need and the event, such as living on a bus in the parking lot, drives across the county, and so on.
"We found that while many enjoyed the gimmick, it wasn't necessary to get people to give," Sutton says. "They willingly gave to help a neighbor in need."
Sutton stresses that Dave Walker of KAFE 104.1 has long been one of the strongest voices for Industrial CU's Feed the Need. "There are many others at Cascade Radio Group that have been a part of it as well," she says. "Mike Cohen, Executive Director of the Bellingham Food Bank, will tell you the impact we have."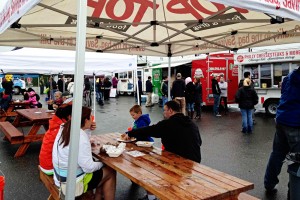 "The Feed the Need Community Food Drive is the most important food drive of the year," says Cohen. "It's the biggest, supports food banks across Whatcom County and comes at a time when many food banks are desperately short of food and funding. By donating food – or, even better, money – you will directly help get food to hungry families across the county."  Because of the Food Bank's ability to purchase items at significant discounts, they are able to stretch cash donations the furthest.
Sutton points out that the Community Food Drive and the opportunity to help a neighbor feed their child or themselves is something the Industrial CU team thinks of year-round. "It brings emotions to the surface and inspires more dedication and commitment than any other donation we do," she says.
Tickets for this year's Food Truck Round Up are available at any Industrial Credit Union location for $10, which includes $5 in food tickets and a free raffle ticket. For other food drive event updates, follow the Community Food Drive on Facebook and visit www.CommunityFoodDrive.com.
Food trucks at this year's Food Truck Round Up will include: Bellingham Sliders, Cicchitti's Pizza, El Tapatio Taco Truck, Goat Mountain Pizza, Grant's Burgers, Hot Mess Food Truck, Just Philly, Kurly's Kart, Mountain Acres Bakers, B&B Sweet Treats, Northwest Kettle Corn, Sugar Shack Ice Cream, and Deli'cious Mischief. Additional event supporters include: Ideation Design Group LLC, Lithtex NW, 92.9 KISM and KAFE 104.1.
Food Truck Round Up
Saturday, September 27 from 11:00 a.m. to 3:00 p.m.
Civic Stadium parking lot
$10 Presale tickets include entry, a raffle ticket and $5 in Truck Bucks
Kids 12 and under get free admission, but will still need Truck Bucks
If you do not pre-purchase your ticket, a $5 donation to the Food Bank will be collected at the entrance.