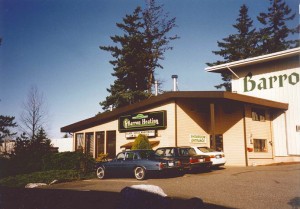 The Barron Heating & Air Conditioning you know today – with its eye-catching facility just east of I-5, between Bellingham and Ferndale – was a long time in the making.
Dan and Vivian Barron began the company in 1972, with Dan Barron initially operating his new business – and living – out of a motel room.
With hard work and a passion for getting things right, Barron grew into – and continues to be – one of Whatcom County's most respected businesses.
"My dad lived in north Seattle and worked for a heating and air conditioning company that was traveling up to work on a big development boom in Sudden Valley," says John Barron. "He commuted up here from about 1968 through 1971; that's how he really got to know this area."
Dan was an avid outdoorsman and fell for the Whatcom County lifestyle: from fishing and hunting to snow skiing – and everything in between.
After three years of traveling up and down I-5 every day, Dan sold the family's home, put what little life savings he had on the line, and started his own business.
The early years: From commercial to residential, installation to showroom
The first employee was Dan Barron's father, Orie Barron, who came out of retirement from his own heating and cooling career to help his son.
When Barron Heating and Air Conditioning began, the work was primarily in new residential heating and commercial heating and air conditioning.  But after a few years, Dan noticed more and more builders asking where to find fireplaces for their new builds.
"So we got into the fireplace business as well as service, which launched us into the showroom and retail side of things, with wood stoves and gas and propane fireplaces," says John Barron.  "Dad was a maverick in a lot of ways; one of the originators of heating contractors that offered retail hearth sales in the Pacific Northwest."
When new construction took a nosedive in the late 1970s and early 1980s – thanks to 23-percent interest rates – the business had to adjust.
"We started doing a lot of service work and weatherization, through the utility companies, on existing homes."
That economic downturn helped launch Barron's into more of a service/retail entity.
"We were still doing what little new construction there was," says John, "but we really started getting known in the existing home market, too."
Barron would see this pattern return again in this most recent recession.
"My dad was really driven," says John. "He was very passionate and loved what he did." And whereas Dan Barron was the visionary, Vivian Barron was the glue that held things together.
"From the customers, homeowners, and contractors to the employees," he say, "there wasn't anyone in our company who did not know how much they were loved and cared for by my mom."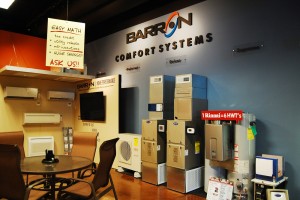 After many successful years, Dan and Vivian Barron retired in 1998. Five years prior to that, Dan had approached John and Bill Pinkey – the company's financial manager who has been considered family since joining Barron in the late 1970s – to discuss forming a partnership to eventually buy the company.
New ownership
Barron has continued to innovate and grow under the guidance of John and Bill, who are still driven by many of the central philosophies instilled by Dan Barron.
"My dad told me to get excited when I run into a problem on a job," says John. "When you're positive about a challenge, you're way more creative in solving it."
When a challenge occurs, John stresses, Barron gets to prove the kind of company it is by taking care of the problem and, ultimately, the customer.
"We carry these philosophies with us to this day – why we do what we do," says John. "My dad empowered Bill and I to solve problems and put the customer first."
Learn more about the company at www.barronheating.com or by calling 360-676-1131.