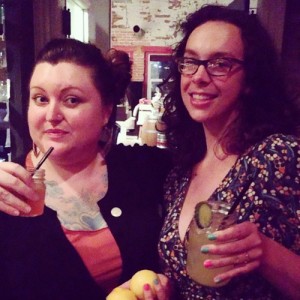 It's not a challenge to find fabulous drinks downtown. What is a challenge is to narrow it down to just three places to write about. As I mulled over the myriad of fantastic libation options, my mind jumped to one person: Sara Holodnick.
Not only does she know Bellingham inside and out – she co-owns downtown's Bureau of Historical Investigation with Marissa McGrath, both of whom have given historical walking tours of the area since 2011 – but Holodnick is also a self-taught cocktail-creator extraordinaire.
You may have heard about her recent sold-out A Study In Drink events at Temple Bar, where she created and shared cocktails inspired by episodes of the smash BBC show Sherlock.
You may have read her fantastic blog at www.saragalactica.com, which marries cocktail recipes and television characters; think 'The Lady Mary,' inspired by Downton Abbey or 'The Lorelai,' based on the character from one of my all-time favorite shows, The Gilmore Girls.
Holodnick even has a cocktail stage name, going by the moniker Sara Galactica, an homage to Battlestar Galactica. A cocktail stage name? Obviously, she was the perfect person for the job.
We met up on a recent night with a game plan dreamed up by Holodnick: We'd hit three delightful downtown bars serving up refreshing cold cocktails fit to cool off even the hottest customer.
And it seemed appropriate that this Good Time Girls steered us into three fabulous women-owned establishments – all with patios just outside their front doors, perfect for catching the breeze.
Temple Bar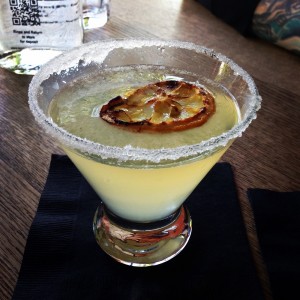 We began at Temple Bar, a favorite spot of mine since its early days, a dozen years ago, as a cocktail-less wine bar that occupied just half of its current space. It now makes some of the best cocktails around, as well as delicious nibbles.
Our server, Anna Mortimer, directed us to a couple of cold warm-weather cocktails, both wonderfully unique.
The Santa Anna combines bison grass vodka, mescal, curaçao and – a delightfully unexpected twist – a slice of burnt lemon, giving a slightly smoky flavor to the otherwise bright cocktail.
The second drink we sampled was the Sun Drowsy. Temple Bar team member Will Canepa had taken over server duties at our table and gave us a little scoop on the drink, which also touts a surprise.
Whereas Mortimer had started with the burnt lemon inspiration for the Santa Anna, and Canepa built the rest of the drink around it, with the Sun Drowsy, Canepa had a distinctive idea that Mortimer ran with.
"I wanted to do something with a curry salt rim," Canepa said. "So I started there, and Anna said, 'Maybe we can do something on the sweeter side, really clean.'"
Mortimer combined gin, sweet vermouth, and dry curaçao, for a result Canepa adores. "It's so great. And it's not a salty drink; it's subtle."
"It's a balance thing," said Holodnick.
"Yeah, yeah," Canepa agreed. "It's really simple but all the flavors work so well. I just love it."
The curry salt initially caught us by surprise, but we were both delighted to discover something utterly new.
Uisce Irish Pub
Holodnick and I then made the short walk to Uisce on Commercial Street, another place for which I have a soft spot, thanks to my love of all things Irish and nostalgia for a trip taken there nearly two decades ago.
Uisce owner Molly McGarry greeted us and suggested a Pimm's Cup as the perfect summertime sip.
"It's a classic summer cocktail in the UK," she said. "And if made right, it almost reminds me of a refreshing iced tea – only better."
Our bartender Julie Chavira was a dream, quickly serving up our drinks with a smile, and then checking in with us periodically to make sure we had everything we needed.
The reddish, dark-tea color of the Pimm's tinted the tall, sweaty glass. A long, thin, rolled slice of cucumber garnished the drink.
So often, the simplest things are the best, and a Pimm's Cup certainly lives by that rule. Just squeeze half a lemon into a tall glass and fill with ice. Next comes a shot of Pimm's No. 1, a gin-based liqueur that's a floral, herbal mix of sweet and slightly bitter. Stir and add ginger ale, and then garnish with one thin slice of cucumber rolled and placed on top of the drink; the cuke gives a refreshing blast.
"We used to add a little bitters but that's not really the traditional recipe," said McGarry, for whom tradition is clearly important. In fact, she insists on ginger ale in Uisce's Pimm's Cups, rather than the sometimes-used soda. "I've traveled extensively around the UK, and ginger is more common there."
McGarry recently brought on a new employee, Luke Shifflette, who spent 10 years in San Francisco doing craft cocktail and mixology. "He's bringing a sophistication to Uisce that's really fun," she said. "It's an exciting time here in town, but it's also become more competitive and you have to up your game."
Jonny Lambert fills out the rest of the Uisce bartending team. "Together we make Uisce what it is," said McGarry. "Not one more than the other, us all together."
McGarry asked us where else we planned to go on our cold-drink excursion and we told her our itinerary.
"The Redlight and the Temple are where I go when I go out," she said, laughing. "I love both of those places."
The Redlight
We ended our night at the Redlight on State Street, just a short stroll south of the downtown core. We were happy to find Holodnick's fellow Good Time Girl and business partner Marissa McGrath sitting at the bar.
So not only was I introduced to Dan Vee – whom McGrath tells me is the bartender to know in town – but I also got a fascinating history lesson from two of Bellingham's best-known history buffs. McGrath excitedly showed me the 100-year-old meat hooks lining the ceiling in the private party space dubbed "the meat locker."
But back to the bar.
Vee created two summer-friendly drinks for us and also pointed out that the Redlight patio is perfect on hot days because it's always in the shade. "It stays cool all night long," he said.
The drinks at the Redlight are named after bands and album titles. The first cocktail Vee pushed across the bar to us was a cucumber paloma dubbed the Last Splash, in honor of the 1993 Breeders album.
"Traditionally, a paloma is just grapefruit soda and tequila," Vee said. "Last summer I really wanted a paloma on our menu, but we didn't have grapefruit soda yet – so I just made it up."
Vee combined grapefruit juice, sugar, soda, and a squeeze of lime to create the balanced sweet-and-sour substitute. "Once I got the grapefruit soda part down, I thought about adding cucumber," he said.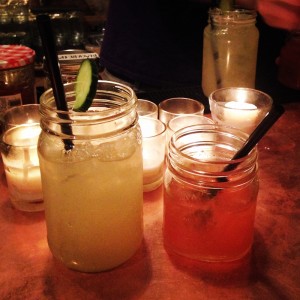 Redlight bartender, booker and marketing person Michelle Schutte described the Last Splash as "tall, tart, and bubbly – kind of like Dan himself. It has just a touch of smoke-and-sweetness and the perfectly refreshing amount of sour."
The second drink we sampled, the Ozma, was created by Schutte and is an off-menu item – but anyone can ask for it by name and it shall appear.
Made with strawberry- and black peppercorn-infused vodka, fresh lime juice, and sugar, the Ozma is straightforward to create: just mix all ingredients with ice in a shaker, shake, pour over ice, and serve.
"It's named after a Melvins album and tastes like summertime," said Schutte.  "The fresh berries and lime make for a deceptively smooth and strong cocktail. A new customer a few nights ago said, 'I just cannot think of a more perfect summer drink.'"
We took sips from each delicious drink, served in short and tall mason jars.
"It has an essence of a Jolly Rancher," McGrath said of the Ozma.
"Yeah, it feels like a summertime-flavored Jolly Rancher," Vee agreed. "It's also my favorite shot to make."
Picking Favorites 
After five hours of talking and laughing over our summer-friendly drinks, Sara and I finally parted ways. I gave her a couple nights to sleep on it before telling me her favorite drink of the night.
"I think that Sun Drowsy was my favorite," she said. "That curry salt rim took me by surprise. It was so tasty!"
I can be terribly indecisive, so it was harder for me to pin down my favorite. I loved the cucumber flavor of both the Pimm's Cup at Uisce and the Last Splash at the Redlight. I also adored the smoky and bright balance of the Santa Anna at Temple Bar.
In the end, after changing my mind several times, I decided on the Redlight's off-menu Ozma. All the drinks were delicious, but maybe the tipping point was that Jolly Ranchers remind me of childhood summers running around at dusk, just as the temperatures start to cool. Nostalgia for the win.
One thing is certain: I'll definitely return to all three places to enjoy even more icy concoctions. Happily. And, if I'm lucky, with a couple of Good Time Girls in tow.
Temple Bar
306 West Champion Street
Bellingham WA 98225
1319 Commercial Street
Bellingham WA 98225
Redlight
1017 North State Street
Bellingham WA 98225