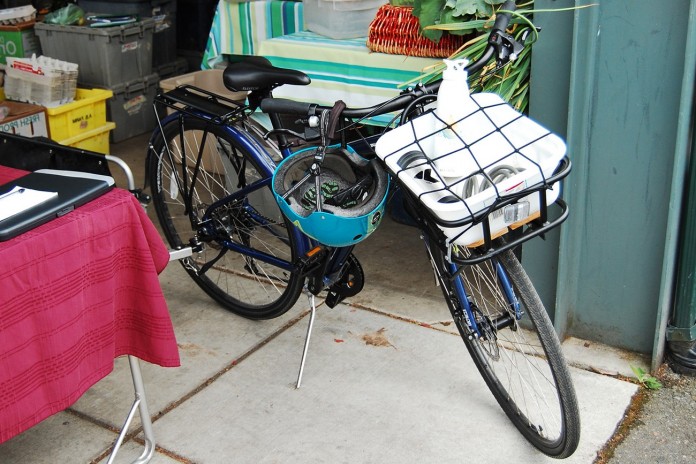 Whatcom Smart Trips has joined with the Bellingham Farmers Market to encourage more folks to bike, walk and ride the bus to the popular Saturday market – and two randomly chosen participants who do so will win big.
The winners of two drawings – one for August and September – will each win $500 in a combination of Market Bucks and farmers market merchandise.
With nearly 17,000 Whatcom Smart Trips program participants making more than 3 million Smart Trips over the past eight years, it's safe to say that a lot of area folks already know about – and love – the program.
But many won't yet have heard about this new collaboration between Whatcom Smart Trips and the Bellingham Farmers Market, which kicks off on Saturday, August 2 and runs each Saturday through the month of September.
"We're excited to partner up with the Farmers Market," says Susan Horst, Smart Trips Program Manager with Whatcom Council of Governments. "It's a perfect place to promote easy, Saturday Smart Trips."
"We're also thrilled to be partnering with Whatcom Smart Trips and WTA to encourage shoppers to try using the bus system, walking or biking to get to the Market," says Caprice Teske, Market Director. "Not only do customers avoid dealing with parking, they enjoy the benefits of exercise and more time with family."
When people hear "Smart Trips," many think about their commute to work. But often, according to Horst, work trips aren't the easiest ones to convert.
"We like to get people thinking about walking, bicycling, and riding the bus when they're out enjoying themselves on evenings and weekends, too," she says. And one of the most popular, iconic summertime events around these parts is the Bellingham Farmers Market.
Walk, bike and bus are all the eligible modes for the contest. And participants can enter multiple times – once for every Saturday they make a trip to the Market.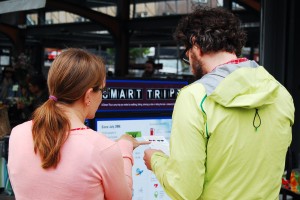 Whatcom Smart Trips expects the program to have an impact on local bike shops, with folks who choose to bike looking for ways to easily transport their Market finds.
"You'd be amazed how much you can comfortably carry on a bike, with the addition of just a little gear," she says. "We've asked local bike shops to help people outfit their bikes with racks, baskets, and panniers."
If you're a Bellingham Farmers Market regular, you've likely noticed Whatcom Smart Trips staffers manning a booth, where they answer questions about the program for interested market goers.
Mary Anderson, everybodyBIKE Events Coordinator with Whatcom Council of Governments, is one of the staff members helping folks learn more about the program. She also helps spread the word about this August and September partnership with the Market.
"We'll be getting the word out on our Facebook page," Anderson says. "We're hoping people will post photos of themselves walking, biking, and riding the bus with backpacks and bike bags stuffed with beautiful fruits and veggies. It will really help inspire others to try it."
Smart Trips participants often tell Horst and her colleagues how good it feels to walk, bike and ride the bus; they save money, get some exercise, and feel connected to their community.
"But until you try it for yourself, that's all just theory," Horst says. "That's where encouragement comes in. It may be a friend who says, 'If I can do it, so can you,' or—this August and September—it could be the chance to win $500 in Market Bucks and merchandise."
Enter at the Farmers Market information booth every Saturday in August and September. More contest details found at whatcomsmarttrips.org.