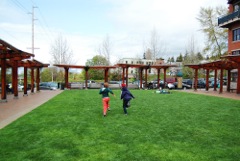 Summer is here! For many of us, that means the kids are home – and the lack of school-day structure can test everyone's sanity. For others, it simply means the consistently sunny season is upon us and it's time to play outside without rain gear.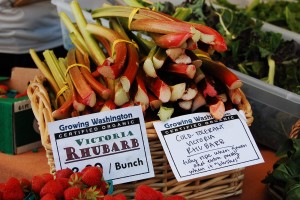 Here is WhatcomTalk's roundup of 25 free things to do with the kids this summer in Bellingham and around Whatcom County. How many of these activities can you check off your list this summer?
1. Downtown Sounds happens every Wednesday night from July 9 through August 6 with a great line-up of free, family-friendly live music.
2. To market, to market. Whatcom County is awash in fabulous farmer's markets. Take the kids and stroll through the Bellingham Farmer's Market, Fairhaven Market, Ferndale Public Market, Lummi Island Farmers Market, Blaine Gardeners Market, and Lynden Farmers Market.
3. Explore Sehome Arboretum. Walk the trails and through the tunnel – and then climb the observation tower for stunning water and city views.
4. Take off on one of the Summer Rides offered by Whatcom Smart Trips.
5. Walk the boardwalk from Boulevard Park to Taylor Dock – stopping to throw rocks into the bay halfway across. Want to push along further? Continue on the trail to Fairhaven and let the kids run around the Village Green, followed by a bit of browsing at Village Books.
6. The Bellingham Public Library always has fantastic, kid-friendly events in the works, from movie matinees to builders club, with LEGO bricks and other building toys.
7. Fly a kite at Zuanich Park and climb around the playground equipment. Look at all the beautiful boats in the marina.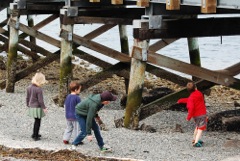 8. Celebrate the 119th annual Whatcom Old Settlers Pioneer Picnic July 25-28 at historic Pioneer Park in Ferndale with parades, live music, fun runs, and more.
9. Visit the Family Interactive Gallery at Whatcom Museum – yes, for free! – by reserving a pass through the Bellingham Public Library.
10. When the temperatures soar, cool off at the Cornwall or Fairhaven spray parks, open from 1:00 p.m. to 7:00 p.m. daily through Labor Day.
11. Go fishing! Cast in your line at Derby Pond in Whatcom Falls Park; free for kids 14 and under. Stop by the fish hatchery while you're there.
12. Bellingham Pride is a family-friendly parade that floats through downtown Bellingham on Sunday, July 13 along Cornwall Avenue.
13. Search around town for a Little Free Library. They're popping up in several neighborhoods. Take a tome, and leave one.
14. Pick from our area's plethora of parks and plan a picnic. Maybe think outside the usual picnicking box and opt for a camping breakfast or a stargazing dinner.
15. Return to the days of the drive-in movie with the second annual Birchwood Drive-In on July 11 and August 8.
16. Enjoy outdoor music concerts in Boulevard Park and Elizabeth Park.
17. Visit one of our area state parks for free on August 25.
18. Take a dip in Lake Padden, Lake Samish, or in Lake Whatcom at Bloedel Donovan Park. Area watering holes will bring sweet relief on those summer days when the sun feels sizzling.
19. Haggen partners with the Port of Bellingham and the Bellingham/Whatcom Chamber of Commerce to throw its 14th annual Haggen Family 4th of July celebration at Zuanich Park and the Squalicum Boathouse.
20. Set up camp in your own back yard. When you run out of marshmallows or nature calls in the middle of the night, you'll be glad the comforts of home are just a few steps away.
21. Tour the original Hovander House at Hovander Homestead Park on Fridays, Saturdays and Sundays from 12:30 to 4:30 p.m. through Labor Day.
22. Tour the spectacular outdoor sculpture collection spread across Western Washington University's campus. Itching to see even more? You'll find great outdoor sculptures scattered through downtown Bellingham and Fairhaven, too. And don't forget Big Rock Garden!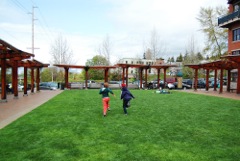 23. Find an elementary school playground you've never been to and let the kids run loose in a new-to-them space.
24. Visit the Marine Life Center and let the kids learn about marine life and habitat in Bellingham Bay – as well as get their hands wet in the touch pool.
25. I'd argue that the sunsets over Bellingham Bay are nearly unparalleled. Watch the sun spectacularly dip below the horizon from Marine Park.
We know there are hundreds more fabulous, free, family-friendly activities available all across Whatcom County. If you have one to share, drop us a note at submit@whatcomtalk.com.