There's more than one way to get in shape – and you don't have to do it alone. Bellingham businesses offer an array of options for anyone looking to get motivated by group workouts and fitness classes.
Bellingham Jazzercise
1326 Commercial Street, Bellingham, WA 99225
360.440.5611
The Jazzercise workout program combines jazz dance, resistance training, Pilates, yoga and kickboxing movements into one 60-minute, total-body, music-driven workout. Class members burn up to 600 calories per class.
Owner Heather Shaughnessy took over the business last year, which has been in its spacious downtown studio, across from the Public Market, for eight years.
"You don't just get a great work out when you come," says Shaughnessy, "you become part of a wonderful community. A book club was created, we participate in Relay for Life, have food drives, family events. It is a great way to get connected and make friends."
Bellingham Jazzercise has eleven instructors in regular rotation, including Shaughnessy.  Another instructor, nearing certification, will join the roster soon. They also offer kids classes and birthday parties for the small set.
Zumba at Love To Move Studioz
311 E. Holly Street, Bellingham, WA 98225
360.483.8027
Alicia Kennemer opened the Love to Move Studioz just over three years ago. Her Zumba fitness classes were such a hit that she had to move to a bigger space.
"We outgrew our studio space and needed a bigger dance floor," she says with a laugh.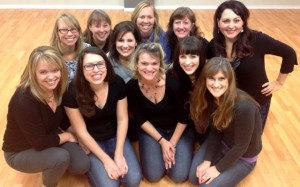 Zumba is a dance-based workout that mixes hip-hop, samba, salsa, merengue, mambo and martial arts with great music, fun routines, and innovative dance moves geared for total body toning and sculpting.
"Each and every person who walks through the door is important to both me and my staff," says Kennemer. "We care about their experience, both during and after Zumba. They know they'll be made to feel like they can let loose and – like our motto says – leave it on the floor."
Trailhead Athletics
712 Coho Way, Bellingham, WA 98225
360.224.8999
Trailhead Athletics provides group strength and conditioning classes for people with a wide variety of goals and fitness levels.
In business since 2010, Trailhead Athletics has a well-appointed workout facility but also uses outdoor workouts to challenge clients.
"We started Trailhead to provide a more personalized approach to group workouts and to bring endurance athletes into the gym to improve their performance," says co-owner Nicola Mann, who also stresses that what they do is not Crossfit; they choose a low-risk program to help clients reach goals and prepare for outdoor activities.
Mann says Trailhead workouts are hard. "You always work harder in a group." But they're also social, with fun energy, and time-effective.
Each workout is scaled for an individual's fitness level or goals, whether for general health, recreation, or competition. And if a client has a weekend event planned, Trailhead alters their workout so they're fresh and ready to excel.