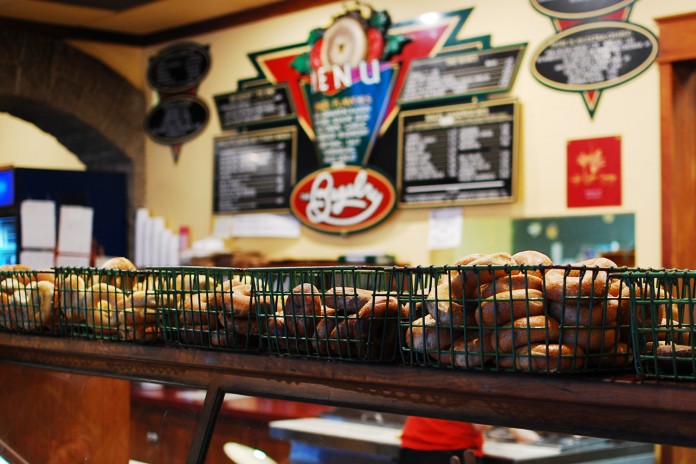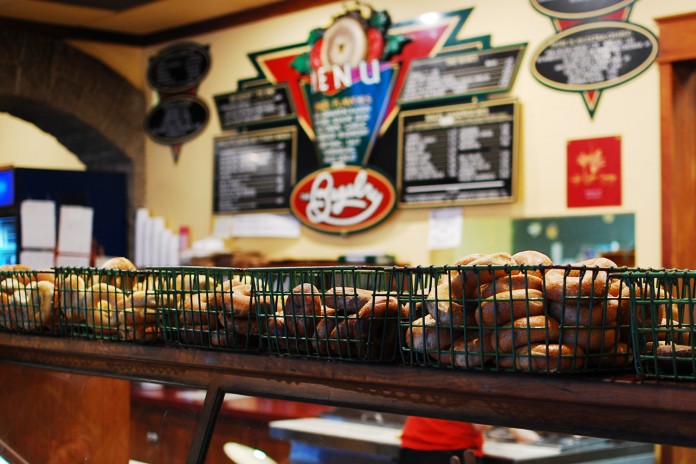 Bagelry co-owner Ken Ryan hopped a freight train in 1975 and moved from his native New York to the Northwest. An apple-picking stint in Eastern Washington was followed by a memorable ride hitchhiking in the back of a pickup truck along Highway 20, headed to the Skagit Valley.
"It was one of those five-star days and I was just looking at all the mountain peaks," Ken says, recalling the breathtaking landscape rolling out all around him. He jokes that, until that moment, he'd believed the photos he'd seen of such scenery must have been fake.
He ultimately gravitated north to Bellingham. "Once I got here," he says, "I never really left."
When Georgia-Pacific closed the board mill Ken worked at, his wife, Marguerite, nudged him to do what he'd always wanted: open up his own business.
In 1984, the couple created the Bagelry, moving into one half of the Railroad Avenue location the eatery still occupies today.
For nearly four decades before the Bagelry's inception, the building housed Wallace Poultry. A couple other businesses came and went before Ken and Marguerite took over the lease.
"We gutted that place," Ken remembers of the hard work they put in, which even included putting in new plumbing lines. He rented a jackhammer and Marguerite followed behind him with a pick.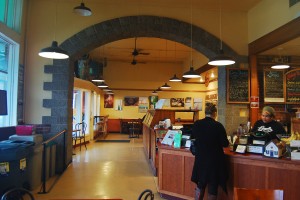 "So many friends chipped in and helped and I'm still really grateful for that," he says.
Wainscoting was removed, unearthing a horrible stench left over from the room's poultry days. "We opened everything up, had fans going like crazy. Once we sandblasted and cleaned everything out, the smell was gone."
Every single thing in the existing building was removed save for a heater, which still hangs from the ceiling.
In 1992, the Ryans bought the neighboring building (they would later buy the original building, as well) and joined the two by knocking five holes between them.
"The ones in the front are the archways," Ken says, looking up at the distinctive stone arches that soar above and between the two spaces.
The couple found the one worker in town who could take on the project. "It was amazing," says Ken. "He had to brace it all up, knock the wall down, build the arch, and then take the braces out. It was a really neat thing."
After construction was complete, Ken says, one customer proudly proclaimed: "I eat under the gray arches."
Ken didn't always dream of running a bagel shop – though he did work in one as a kid. But his shifts at Georgia-Pacific changed each week from days to swing to graveyard, creating a "crazy lifestyle." So when the board mill closed and the couple committed to creating their own business, bagels beckoned.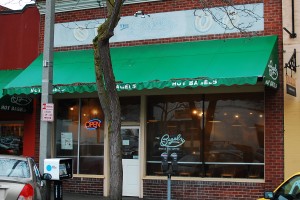 "And it's worked out," Ken says with a smile.
The Carter administration had opened up a lot of money for small businesses in years prior, many of which failed. So the Small Business Administration had stopped giving loans to restaurant start-ups.
"Ron Vander Yacht at Peoples Bank said, 'Let's go down and personally present it,'" says Ken. "The guy says, 'Why would I give you money when I'm not giving any restaurants money?' And I said, 'We're not really a restaurant,' to which the man replied: 'Do you serve food?'"
Ken didn't have a comeback for that, so he paused for a moment and then said, "I'll do what it takes."
That's exactly what Ken and Marguerite did. "I had to cut out the bagel machine [from the budget], so we hand-rolled bagels for the first 18 months," he says.
Within two or three months, the Bagelry was turning a profit. "We were helped by a really good review in the Bellingham Herald by John Doerper," Ken says, remembering the food critic who, in Ken's words, was blistering. "People would shake when he walked in the door," he says, laughing. That fantastic review still hangs framed in the eatery's front window.
The Bagelry crafts New York bagels – not New York-style bagels, Ken is quick to point out with a laugh. It's an important distinction.
"When I see New York-style this or New York-style that, it throws up a red flag for me," he says.
The Bagelry's bagels are, indeed, the real – some might say old-fashioned – deal. In fact, its bagels are created on equipment that is simply no longer available.
"We do things in a way that nobody can duplicate," Ken says. "If somebody opens up a bagel shop now, it's just going to be different; they're going to taste more like supermarket bagels."
"These are bagels you can hardly find in New York anymore," he says. "When old-time New Yorkers who remember these kinds of bagels come in, they're like 'Wow!'"
Ken likes doing business directly on the street, as opposed to in a mall, and enjoys the close proximity to the college. "We enjoy being downtown," he says. "And I enjoy the relationships we have with our customers and staff.
You won't find any day-old bagels for sale at the Bagelry, as each day's extras are sent to the Lighthouse Mission, the Bellingham Food Bank, Home Port Learning Center, and the Rainbow Recovery Center.
What you will find is an array of bagels made fresh daily – 250 to 300 dozen sold every day, in 13 different flavors – and a slew of other fantastic breakfast and lunch eats, from muffins and other scratch-made baked goods to omelets, sandwiches, deli salads, soups, and more.
The Bagelry also makes all of its spreads, including nearly a dozen flavored cream cheeses, from Italian and jalapeno to strawberry and cinnamon walnut raisin.
"Coffee is a big part of what we do too," says Ken. "We like to say that we wouldn't put just any coffee next to our bagels. We're very proud to serve Lotus Coffee Company coffee."
A tour of the kitchen uncovers the assortment of impressive machinery used to create these very special bagels.
A Bagelry baker comes in and starts baking at midnight. The bagels are then rolled by the early shift, and stored in a sizable walk-in refrigerator.
"Whatever bagels will be eaten tomorrow, we're rolling today," Ken explains, as he walks me through the back rooms. "The ones we're baking today were rolled yesterday."
Throughout the day, bagels are boiled in a kettle and then scooped out and lined up on long, narrow boards. The boards go in the oven for two minutes before the bagels are flipped off and left to bake on the oven's shelf for an additional 10 minutes. They're then tipped, piping hot, into wire baskets near the ordering counter where they quickly get snatched up by hungry Bagelry patrons.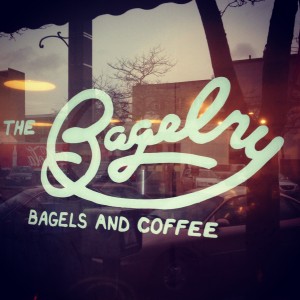 Ken continues our tour, stopping at an imposing metal mixing machine and pushing a combination of buttons. A large door slides open to reveal the largest dough hook one can imagine.
"This is designed specifically for bagels," he says, "with stainless steel arms, real strong. Bagel dough is very stiff so you need to have a lot of power."
He then opens the side of the machine. "The gears are run by motorcycle chains," he says, as he exposes an enormous link of interlocking metal.
"That's a serious piece of equipment," he says, laughing. "They're going to bury me in this when I die."
The Bagelry
1319 Railroad Avenue, Bellingham, WA 98226
360.676.5288