Submitted by: Peoples Bank
Peoples Bank announced the appointment of new lenders at its branches in Snohomish and Whatcom countries. These new hires represent ongoing growth of the community bank which offers full relationship banking, commercial lending, personal investment services, and online and mobile banking products at its 23 branches in Washington state. Founded in 1921, Peoples Bank currently employs nearly 450 full-time employees, including 285 employees in Whatcom County and 42 employees in Snohomish County.
Corey Willard
Peoples Bank announced the appointment of Cory Willard as Vice President and Commercial Loan Officer for the Snohomish Commercial Banking Group. Based at the Peoples Bank Everett Financial Center, Cory brings nearly 15 years of experience in banking in Snohomish and Skagit counties, having previously served as a Relationship Manager at U.S. Bank, a Commercial Lender at Skagit Bank and a Commercial Lender and Branch Manager at The Bank of Washington. He specializes in commercial real estate and commercial and industrial (C&I) loans.
"My goal is to always make each client relationship as personalized as possible," said Cory. "It is an honor to work with customers one on one to help them achieve their dreams of operating a successful business, and to represent a community bank that prioritizes giving back to the local community through dedicated financial and volunteer support."
Born and raised in Bremerton, Cory volunteers as a coach for North Snohomish Little League and Snohomish Junior Athletic Association Youth Basketball League. He holds a bachelor's degree in business administration from Eastern Oregon University and enjoys serving as a fly-fishing guide.
Tiffany Blair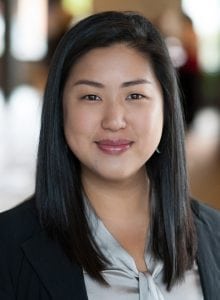 Tiffany Blair was appointed Retail Branch Manager of the Peoples Bank Downtown Bellingham Office, located 1333 Cornwall Avenue. Tiffany brings expertise in consumer lending, training and staff development, and is focused on helping customers make wise long-term financial decisions.
"I am passionate about helping small businesses succeed, and I strive to be a one-stop-shop for business owners seeking guidance on all business-related matters," said Tiffany. "As a resident of the Bellingham area for the past ten years, I have experienced firsthand the many positive contributions Peoples Bank makes to the community. I am excited to be a part of the Bank's ongoing commitment to supporting its customers and giving back to the communities it serves."
Tiffany holds a bachelor's degree in International Business Administration with focus on economics and Mandarin Chinese from Western Washington University and is a 2016 graduate of the Executive Development Institute of Bellevue. She volunteers for Junior Achievement and serves as a board member with Habitat for Humanity of Whatcom County.
Lisa McGriff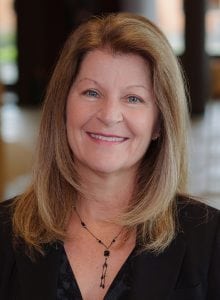 Lisa McGriff joins People Bank as a Senior Real Estate Loan Officer at the Bellingham Home Loan Center, located at the at the Peoples Bank Barkley Financial Center. Lisa brings more than 22 years of experience in the financial services industry and is passionate about helping customers realize the benefits of homeownership.
"Owning a home is an important step towards financial stability and feeling connected to the community," said Lisa. "I enjoy helping customers understand the benefits of investing for the long-term and the difference home ownership can make in their lives. As a locally owned community bank, Peoples Bank offers a range of flexible products and services that can help first-time homebuyers realize their dream of home ownership, or more experienced buyers purchase a second home or investment property."
A 31-year resident of Whatcom County, Lisa appreciates all the region has to offer, from its beautiful beaches to the many ski areas and world-class wineries. She comes from a racing family and enjoys NASCAR, sprint car races, drag racing and riding motorcycles. With an extended family that lives across the U.S. and Europe, Lisa loves to travel, but she is proud to call the Pacific Northwest home.
About Peoples Bank
Peoples Bank is a locally owned and operated, independent full-service community bank with $1.7 billion in assets. Headquartered in Bellingham, Washington, the Bank was founded in 1921 and operates 23 branches located throughout Washington. In its most recent rating, Bauer Financial, a leading independent bank rating firm, awarded Peoples Bank its highest five-star superior rating. This rating recognizes Peoples Bank's strong financial management practices, dedicated employees and long-standing customer relationships. Learn more about Peoples Bank at peoplesbank-wa.com.