Submitted by: Jansen Art Center
You're invited to the Jansen Art Center's annual block party and benefit concert Art in the Alley! On Saturday, August 4 from 5:30 p.m. – 9:00 p.m., the J will have live music, food trucks, a beer and wine garden, art activities, demonstrations, raffle and more. It all takes place behind the Jansen Art Center in Judson Alley in Lynden, Washington. This is a fun, outdoor dance party in celebration of the arts in our community.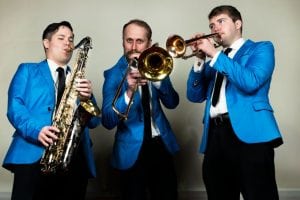 Art in the Alley features a performance by the eight-piece Seattle band, The Chancellors. Fronted by the fabulous Shaina Shepperd, armed with horns and a tight rhythm section, The Chancellors perform a wide selection of Funk, R&B, Motown, Soul and Pop, putting on an energetic performance that is fun for everyone.
Celebrating the J's six-year anniversary in Lynden, the event features activities and demonstrations from all of their art studios. "The Ceramics Studio will be selling work made from artists in our studio and have the pottery wheel on hand for demonstrations," said Vin Quenneville, Executive Director. "Each studio will have something fun for guests to observe or participate in, showcasing our continued work in providing arts education and opportunities for artists in the community."
Judith Gauthier, who oversees the Jewelry Studio at the J tells us that several jewelry artists will be on hand demonstrating soldering and metal texture techniques. They plan to have an interactive display allowing visitors to try their hand at some of the techniques students learn in the workshops offered at the J.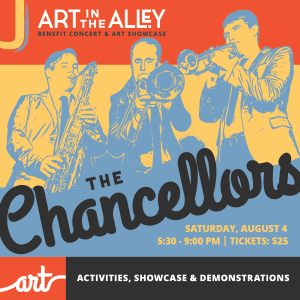 The Textiles Studio will offer spinning and weaving demonstrations and have information about the upcoming Fibers & Beyond Conference and Sale and there will be representation from the painting, dance and music studios as well. Quenneville is excited about the addition of the studio showcase at this year's event and says each studio is planning something special to highlight their artists and programs.
Delicious food will be available through Hot Diggity Dog, Tacos El Tule and The Sugar Shack ice cream truck throughout the event. The J's own Firehall Cafe will be offering Kulshan beer and local wines in the beer garden again this year.
Tickets for the event are $25 and benefit the Jansen Art Center. "Art in the Alley is our summer fundraiser," says Quenneville. "The J is able to operate because of the support of our community. This event gives everyone a fun way to support the arts." The event will also include a raffle and membership booth.
Tickets are available at the Jansen Art Center's Gallery Shop or online at https://www.jansenartcenter.org/events/art-in-the-alley/.